Samsung's Galaxy Z Series foldables are reshaping workflows, creating new efficiencies, and enhancing productivity across many industries. One of the industries at the forefront of the new foldable landscape is finance, where business leaders and particularly portfolio managers are achieving next-level productivity on the go with the new Samsung Galaxy Z Fold5.
Galaxy Z Fold5 is the best way to work anywhere, any time, all the time. The foldable tablet display gives you the screen real estate you need, but that's just the start. Galaxy Z Fold5's optimized apps and advanced capabilities make it more like a PC than a phone.
Here are 10 Galaxy Z Fold5 features and functionalities that are ideal for finance professionals.
1. Knox containers
Security and privacy are non-negotiables when working with sensitive financial information. Galaxy Z Fold5 is protected from the chip up to the cloud by the defense-grade Samsung Knox security platform. For the highest security on a Samsung mobile device like Galaxy Z Fold5, IT teams can create Knox containers to separate work-related apps and data from personal apps and data. Samsung explains the technology behind containers as a back-and-forth between established intents and trusted components, with encryption on both internal and external data paths.
Shop special offers
Find out about offers on the latest Samsung technology.
See Deals
Speak to a solutions expert
Get expert advice from a solutions consultant.
Talk to an Expert
2. Split screen
Whether you're deep in the dollars and cents of real-time market fluctuation or simply finding time on your calendar to meet with a colleague or client, Galaxy Z Fold5 gives you the power of side-by-side comparison. Multi-Active Windows allow you to split your screen with two or even three apps at once, so you no longer need to toggle between them like you may be used to doing on a standard smartphone. That perfect fold almost feels like it's meant specifically for following financial trends, keeping up on market news, and staying connected, all in one portable, expandable workspace. When you get your Galaxy Z Fold5 in hand, it's worth spending some time mastering Multi-Active Windows.
3. Bloomberg Professional
If you use the Bloomberg Professional mobile app, you'll be blown away by how streamlined it is on Galaxy Z Fold5, where the app is optimized for the foldable display. Access the Bloomberg Terminal wherever you are and log in to use messaging, IB chat, worksheets, and more, all in the palm of your hand. A large percentage of IB messaging is already conducted via the app on Samsung devices, and that trend will likely continue to grow as the foldable seems well on its way to becoming the preferred mobile device among financial professionals.
4. Hands-free videoconferencing
Fumbling with your phone to take a video call on the go is a thing of the past when you switch to Galaxy Z Fold5. Simply fold the tablet display horizontally to a 90-degree angle, set the device on any flat surface, open your videoconferencing app of choice, and adjust the camera angle as desired. This is known as Flex Mode, where your hands are free to take notes (more about that in a moment), view apps in split-screen mode, or, if you're an avid hand talker, simply emphasize your point. Popular videoconferencing platforms including Webex, Zoom, and Microsoft Teams are all optimized for a fantastic user experience on the foldable. View a quick guide and video on how to videoconference hands-free (and even share your screen).
5. S Pen
Galaxy Z Fold5 is compatible with Samsung's legendary S Pen. It's optional, but may very well become essential when you see all that it can do. One of the simplest but most powerful Galaxy Z Fold5 productivity hacks of all is to videoconference hands-free in Flex Mode with your video call in the top half of the screen while taking notes with the S Pen in the Samsung Notes app on the bottom half of the screen. You can use the S Pen to precisely tap the mute and unmute buttons as well as interact with the content being presented. There are also many other ways to take advantage of the S Pen on your Galaxy Z Fold5 and tips that quietly add up to put much-needed time back in your day.
6. DeX
Finance pros can travel light, perhaps even leaving the laptop at home, knowing they have a truly all-in-one mobile device on them at all times. Galaxy Z Fold5 is a phone, tablet, and, with Samsung DeX, a pocket-sized PC boasting unbelievable mobile computing power. DeX works wirelessly with any Miracast-enabled display, including Samsung Smart Monitors. It enables you to work across multiple apps with resizable windows, drag and drop content, use keyboard shortcuts and more — once again, all powered by your mobile device. You can pair a keyboard and mouse to free up your Galaxy Z Fold5 for separate use or turn Galaxy Z Fold5 into a trackpad to be used in lieu of the additional equipment.
7. Folia
As the first all-in-one solution to annotate any document type on mobile, Folia has already found its way into some of the world's largest financial services organizations and even government agencies. For finance professionals, Folia is especially useful to streamline collaboration during document review, research, and analysis, all of which pair perfectly with the S Pen on Galaxy Z Fold5. Using Folia with the S Pen provides the highest precision annotation with the natural feel of pen on paper but on a mobile device with enhanced enterprise security. Folia automatically adapts to a desktop interface when Galaxy Z Fold5 is connected to a monitor through Samsung DeX.
8. DocuSign
Signed agreements and contracts keep financial decisions moving daily, but those signatures don't always happen quickly when the document exchange is clunky. That's where DocuSign makes things happen much faster. DocuSign eSignature for Galaxy Z Fold5 enables instant agreement creation, editing, and electronic signature while meeting with a client or prospect in person.
What's next for the future of finance?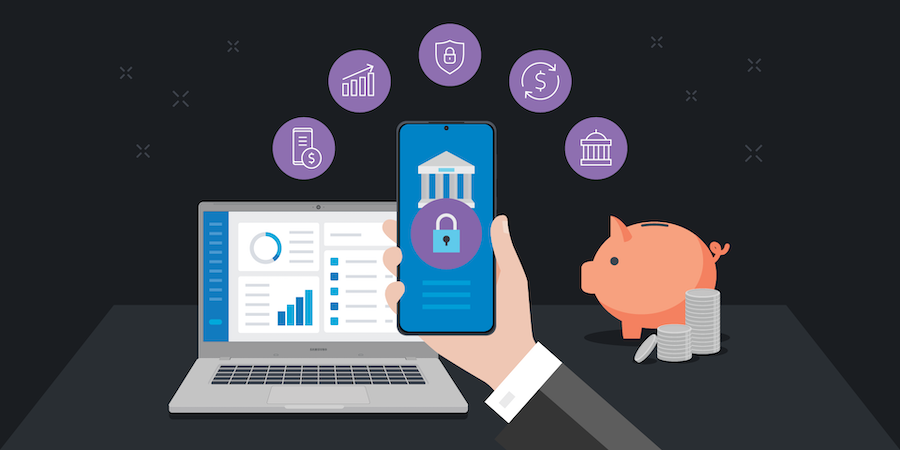 Here's how it works: Drag and drop a created agreement into eSignature. Then, fold the device into Flex Mode and set it horizontally on a flat surface. You have your contract or form in the top half of the screen and the signature field at the bottom, ready for your client or prospect to sign with their finger or, if you have one, the S Pen. When you leave the meeting, you're ready to get to work on the plan of action.
9. Wrike
One of the most robust project management platforms out there, Wrike is made for intricate, fast-paced workflows like those in finance. For example, financial auditors use Wrike daily to keep track of auditing projects, collate reports, identify process improvements, and liaise with teams internally before communicating to clients externally. Wrike on Galaxy Z Fold5 brings all of the platform's integrated tools, including Gantt charts, checklists and more, to both the Flex Mode and DeX experiences with an impressively adaptive layout that enables real-time collaboration, organization, and even automation.
10. Zoho Notebook
Need more from your notes app? Consider adding the Zoho Notebook app to your Galaxy Z Fold5. The app's Note Cards add a whole new dimension to note-taking. You can color code them, group them, move them around, and stay more organized than you ever thought possible. The S Pen comes in handy here too for handwriting, dragging and dropping, and all-around precision.
The device that can do it all, through it all
It's clear to see that you'll be using your Galaxy Z Fold5 pretty much non-stop throughout the workday, for everything from emails and meetings to notes, documents, and overall workflow. When it comes to durability, Galaxy Z Fold5 is up to the test — literally — having been challenged to over 200,000 folds and easily held its own. It's protected by Gorilla Glass Victus 2, IPX8 water resistance, and a pre-installed screen cover. So go ahead, and invest in Galaxy Z Fold5 with confidence.
Sign up for a Samsung Business Account to get exclusive offers, including volume pricing discounts, on Galaxy Z Fold5 and other devices today. And see how much your company could save by replacing legacy tech with foldables using this simple cost calculator.