While the most unique aspect of Samsung's new Galaxy Z Fold5 is its ability to transform from smartphone to 7.6-inch tablet, the foldable device has another clever trick for business users looking to do more with fewer devices — something that's become especially important for hybrid work. Samsung DeX lets you extend your Galaxy Z Fold5 into a desktop computing experience by connecting wirelessly to a smart display and pairing a keyboard and mouse.
Samsung describes Galaxy Z Fold5 as a three-in-one, and DeX is its third and final form, giving you a phone, tablet and PC all in one. With a foldable that becomes a desktop whenever you need it, you can leave your laptop bag at home. Galaxy Z Fold5 is Samsung's slimmest foldable yet and closes completely flat thanks to a redesigned hinge, so you'll be traveling lighter than ever. It's also extremely durable, with a Gorilla Glass Victus 2 screen, IPX8 water resistance rating and pre-installed screen protector.
Here's how to use DeX on your Galaxy Z Fold5:
Connect to DeX wirelessly
The DeX platform is built into your Galaxy Z Fold5, no downloads required. It works wirelessly with any Miracast-enabled display, including Samsung's new Smart Monitor range — or, for viewing presentations on a larger canvas, most newer smart TVs.
Shop special offers
Find out about offers on the latest Samsung technology.
See Deals
Speak to a solutions expert
Get expert advice from a solutions consultant.
Talk to an Expert
To get connected, first put your Smart Monitor or TV into "screen mirroring" mode. Then, on your Galaxy Z Fold5, swipe down from the top of the screen to access the quick panel. In the quick panel, tap DeX, then choose "DeX on TV or monitor" and select your display to launch DeX on the big screen.
If your display does not support Miracast, you can also run DeX by connecting your Galaxy Z Fold5 to the monitor or TV via a USB-C-to-HDMI cable or adapter. Just connect and DeX will launch immediately (if it doesn't, make sure the "source" setting on your display is the same as the HDMI port you connected to with the cable).
DeX vs. screen mirroring
DeX is not the same as mirroring your mobile device's screen to a larger display. It's a true desktop computing experience, where you can work across multiple apps with resizable windows, drag and drop content, use keyboard shortcuts and right-click with your mouse to access options menus.
Your favorite Microsoft Office tools are optimized for DeX, so you can edit, review and share documents intuitively from your mobile-powered workstation. You can also run a VDI client, like VMware, Citrix, or Amazon WorkSpaces, within DeX to access Windows desktops and apps.
Call and text on your monitor
With your Galaxy Z Fold5 connected to DeX, your calls and texts appear right on your monitor. Quickly hop on a call or respond to a message without disrupting your workflow, and access your mobile notifications on a larger landscape. DeX keeps you laser-focused on your work, yet readily available to communicate with your team and your clients as needed.
Pairing a keyboard and mouse
When unfolded, Galaxy Z Fold5's expansive 7.6-inch tablet display screen makes a comfortable trackpad — and it can also be used as a virtual keyboard in a DeX environment.
Go mobile-only with Samsung DeX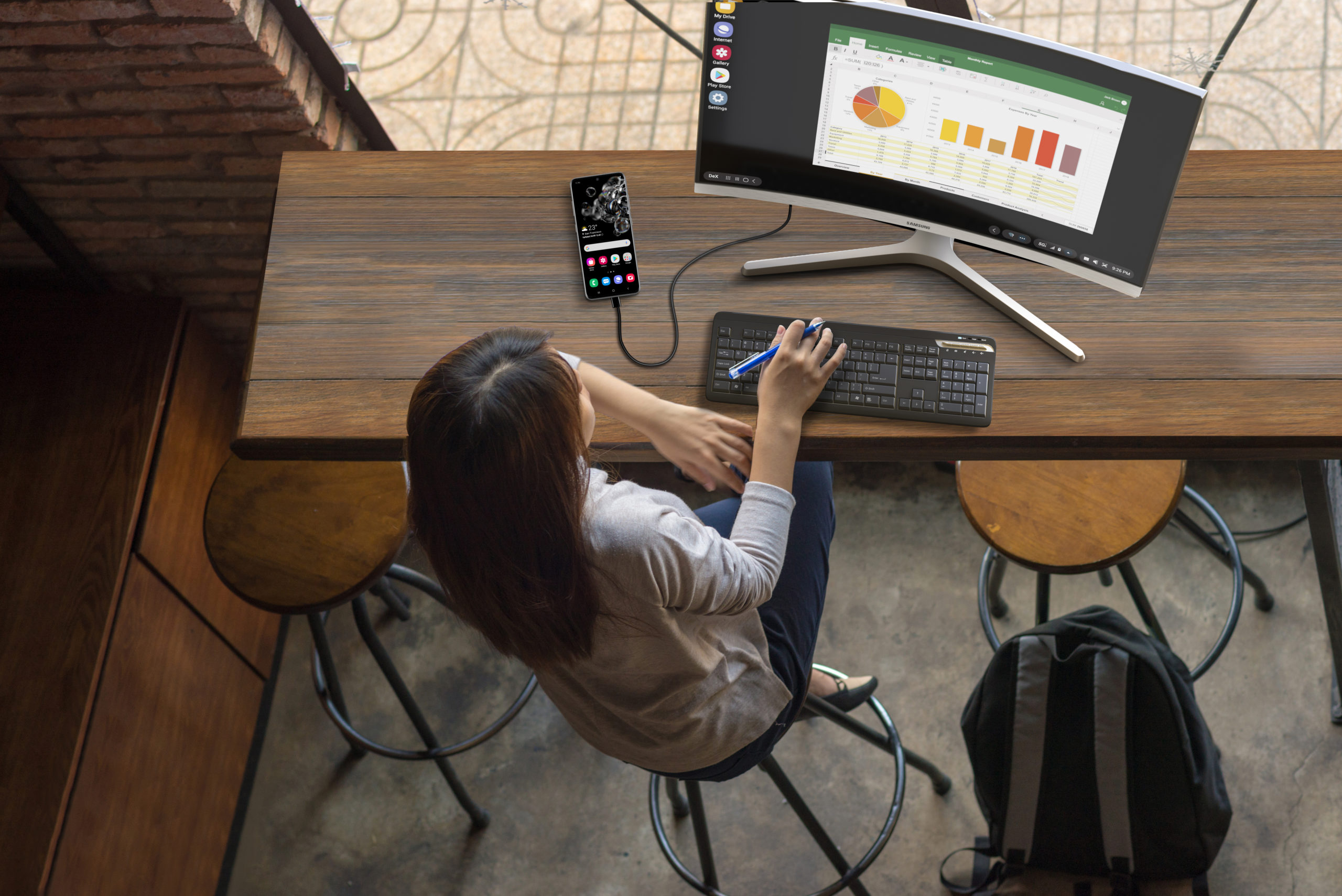 Your comprehensive guide to rolling out a mobile-only solution for your workers. Download Now
However, for longer productivity sessions, you'll probably want to pair a Bluetooth keyboard and mouse. First, hold down the pairing button on your keyboard or mouse, and then open your Bluetooth settings on your Galaxy Z Fold5 to scan for the device. Your Galaxy Z Fold5 will remember your paired peripherals so connecting again later is quick and easy.
Pairing a keyboard and mouse also frees up your Galaxy Z Fold5, so you can keep using it as a phone while powering DeX on the big screen. Checking your mobile calendar while taking a phone call and editing a presentation on your monitor? That's a serious productivity session. DeX on Galaxy Z Fold5 is also great for videoconferencing, thanks to the phone's hands-free Flex Mode.
In the age of the hybrid workplace, Galaxy Z Fold5 lets you unfold your world anywhere, with more productivity tools than you've ever had in a single mobile device. And with DeX, you can set up your workspace in seconds, carrying only your light yet durable foldable smartphone to and from the office.
Unfold next-level productivity for your business with Galaxy Z Fold5 today. And see how much your company could save by replacing legacy tech with foldables using this simple cost calculator.