Small businesses are more optimistic about their future than ever before — but realizing their potential will mean juggling content creation alongside a slew of other priorities.
As the U.S. Chamber of Commerce reported, 71% of small business owners expect their revenue to increase next year — a record high. That extra cash won't come without its challenges, however. Research from the National Federation of Independent Businesses (NFIB) found that 42% of growing firms are finding it harder to fill job vacancies. This is on top of grappling with inflation, getting their supply chain issues sorted out and more.
As a result, small businesses need to be extra productive and efficient in everything they do, from capturing information about new customers to developing marketing materials that build brand awareness and affinity.
Samsung's Galaxy Z Flip5 was designed with these small business needs in mind. It's a foldable mobile device offering a compact design, flexible connectivity and convenience for professionals whose work takes them from the office to their home, customer sites, industry events and beyond.
When you break down what small business employees do throughout the day, a lot of it involves capturing content to help them learn, pitch customers and collaborate with coworkers on critical tasks. Here's how the Z Flip5 makes those processes more streamlined and easier than you might have thought possible:
1. Super-steady shots, without the tripod
Social media platforms like Facebook, Instagram and TikTok are great marketing platforms for small businesses that want to showcase their products and services. You might want to photograph your company's presence at a festival or trade fair, for instance, or film a clip that highlights your expert team's customer-friendly service in action. When a photo is blurry or video footage is shaky, though, it's not usable on social or anywhere else.
Shop special offers
Find out about offers on the latest Samsung technology.
see deals
Speak to a solutions expert
Get expert advice from a solutions consultant.
Talk to an expert
Z Flip5's Flex Mode automatically adjusts the layout of the device's user interface when it is folded halfway to create an L-shape. This lets you shoot images at the perfect angle, including long-exposure images, by standing it up on a surface rather than fiddling with a cumbersome tripod.
A wide lens could be ideal for taking a photo for your "About Us" page featuring your entire team, while the ultra-wide lens gives you a panoramic view to capture all the customers attending your product launch or other event.
2. Hands-free filming and picture-taking
Sometimes, the content you need to capture for business purposes requires you to come out from behind the camera and get in on the action. Think about the opportunities to provide an on-demand demo or explainer video of your product for YouTube, or interview one of your most loyal customers to create a testimonial clip for your website.
Traditionally this has been difficult or impossible to do without having a coworker nearby to help. Z Flip5 provides another option with Flex Cam. It's a feature that unleashes an entirely new way to create content. Auto Framing, for instance, allows you to shift the Z Flip5's camera to ensure everyone stays in the frame. Portrait Zoom, meanwhile, lets you get the close-up you need to convey exactly what you want your audience to see, thanks to a 10x improvement in zoom power and quality based on multi-frame processing.
Flex Cam also uses enhanced AI to process your content, which means if you're shooting at home or on the street, you'll be able to add a more professional look by switching the background or adjusting the lighting.
There's also Hyperlapse, which can record at various frame rates if you want to walk through the key features of a product or service at a pace that makes it easy for your audience to take it all in. Finally, Night Mode and Night Hyperlapse will ensure your business photos and videos will look great even when the lighting is less than ideal.
3. Manage camera controls with your wrist
Galaxy Z Flip5 is not only powerful on its own but offers seamless continuity with other Samsung Galaxy devices for a connected experience.
Using Galaxy Watch6, for example, you don't even have to reach for your smartphone to push buttons when you're capturing content. Just make the right gestures and the watch will control Z Flip5 to zoom in for a better angle, crop your photos or perform other processes.
Choose the right phone for your growing business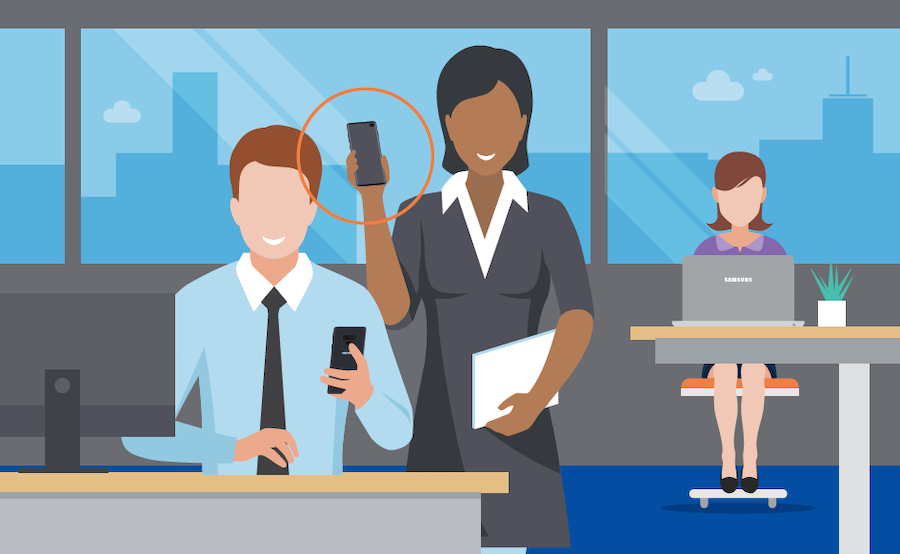 Get your free guide to matching the right smartphone with your business and employee needs. Download Now
4. Work at the speed of business
Once you get used to taking pictures or videos on your smartphone, it becomes an essential part of your routine. Attending an industry event where the keynote speaker puts up a slide with details you want to discuss afterward? You'll only have seconds to take a picture of it. Meeting with a client who outlines their key challenges and priorities on a whiteboard? You won't want to waste much time snapping that, either.
Z Flip5 includes Quick Shot, which accelerates your ability to get the images you need by taking photos even when the phone is folded.
5. Carry a studio in your pocket
You shouldn't have to wait until you get back to the office or connect to your PC to begin taking the content you've captured and enhancing it. Galaxy Z Flip5 can ensure you're always ready for your preferred way of taking pictures and videos by using Quick Setting. This is where you can select or change everything from the timer to the aspect ratio, motion photos and Super Steady settings.
Quick Viewing, meanwhile, gives you the opportunity to check what you've just captured and select the best photos or video footage to use. That can save a lot of time and hassle if you need to retake them with employees or customers.
Capturing the right content can help drive more leads, build your brand and achieve other critical business outcomes — especially when you're doing it with a Galaxy Z Flip5.
Sign up for a Samsung Business Account to get exclusive offers, including volume pricing discounts, on Samsung Galaxy Z Fold5 and Galaxy Z Flip5 today. And see how much your company could save by replacing legacy tech with foldables using this simple cost calculator.