Stay connected with colleagues, friends and family using Google Meet, the ideal video calling app. Video calls are a powerful way to stay close to others and Google Meet delivers top-quality video calling with the following features:
Cross-device compatibility: Experience group video calls on your phone, tablet or PC. Whether using the Google Meetapp or a web browser, staying connected is effortless. Just be sure to activate Google Meet on each device.
Group calls: If you're planning a meet-up, you can initiate a group video call to discuss the details. Swipe down to access the notifications panel, then tap the Google Meet icon to transfer the call to your tablet for a larger view.
Shop special offers
Find out about offers on the latest Samsung technology.
see deals
Speak to a solutions expert
Get expert advice from a solutions consultant.
Talk to an expert
Staying connected has never been simpler. Whether it's a quick chat or a longer catch-up, Google Meet's video calls help you stay in close touch with your most important connections.
Enabling Google Meet video calls
If you're looking to video chat in real time and share videos on your Samsung mobile device, such as the Galaxy Z Fold5, Google Meet makes it seamless. Here's a step-by-step guide to get you started:
1. Open Google Meet: Begin by accessing your apps and opening Google Meet on your Samsung mobile device.
2. Start a video call: Once inside the app, kick off a new video call by tapping "New call." Choose whether you want to connect with a group or a specific contact, then tap "Call."
3. Enable live sharing: As your friends join the call, tap "More options" and select "Live sharing."
4. Choose the app to share: Pick the app from which you want to share content. Google Meet has the capability to display what's on your screen or being played on your device. If you're comfortable with this, tap "Start now."
5. Start sharing: Make sure the content you wish to share is visible on your screen, then tap "Start screen sharing."
Go mobile-only with Samsung DeX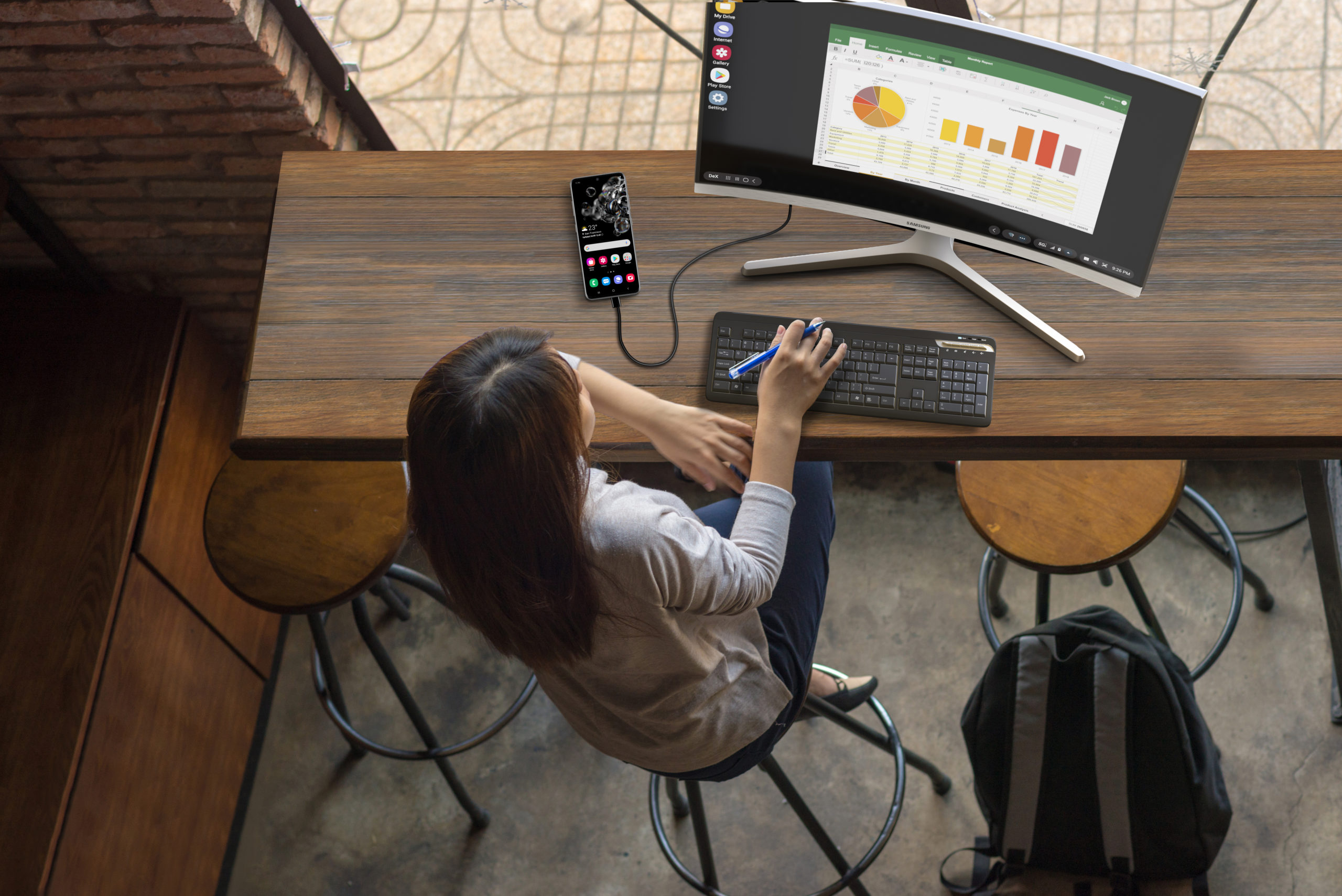 Your comprehensive guide to rolling out a mobile-only solution for your workers. Download Now
Joining a FaceTime call
If you've received an invitation for a FaceTime call on your Samsung mobile device, here's how you can join seamlessly:
1. Open the FaceTime link: Click on the provided FaceTime link to access the call.
2. Enter your name: After entering the call, you're prompted to enter your name. Once you've done this, tap "Continue."
3. Tap join: With your name entered, simply tap "Join" to enter the call.
4. Wait for host approval: Now, wait for the host to accept your entry into the call. Upon acceptance, you're connected and ready to participate.
Now you can get in touch face-to-face with friends and family anytime using the Google Meet app. Following these steps, you can make and join video calls effortlessly on your Samsung mobile device.
Sign up for a Samsung Business Account to get exclusive offers, including volume pricing discounts, on Galaxy Z Fold5 and other devices today. And see how much your company could save by replacing legacy tech with foldables using this simple cost calculator.