It's an experience many professionals can relate to — being issued a laptop, mobile device or any other pieces of equipment needed to successfully perform in your new role on your first day. And today, those tools are intended to help team members do their job successfully not only from an office, but from anywhere.
In today's evolving work environment, equipping staff with any old hardware isn't enough, however. With 60% of SMBs expected to offer hybrid work options, and economic pressures making productivity more critical than ever before, business leaders need to provide mobile devices that operate as cohesively as the team members who use them.
With that in mind, the latest Samsung Galaxy FE family — including Galaxy S23 FE, Tab S9 FE and Buds FE — could help SMBs address some of their most critical challenges.
What a connected mobile device experience means for employees
There are unique benefits to using a uniform set of devices. When your laptop syncs with your phone, which syncs with your Buds – continuity is created, and pain points are addressed.
When all of the mobile devices SMBs issue come from Samsung, in other words, employees get a connected experience. This simplifies their lives because they can easily share images and documents across devices rather than constantly emailing themselves, losing access to them or sending the wrong version. They can use their tablet to expand the display of their Galaxy Book. They can begin a call on their phone, and continue it seamlessly on their laptop – without any disruption to the clear call quality they're experiencing on their Buds all the while.
Shop special offers
Find out about offers on the latest Samsung technology.
see deals
Speak to a solutions expert
Get expert advice from a solutions consultant.
Talk to an expert
A connected experience also means employees can switch from one device to another based on what's ideal for their current task. When mobile devices don't have this kind of connected experience, it can mean important customer or team calls get dropped. If you're connecting devices to present information or complete an assignment, devices that fail to connect easily can cause employees to lose valuable time and get frustrated.
This is no small issue when you consider the fact that 40% of small businesses say they have job vacancies they're finding harder to fill as they combat the effects of inflation, according to research. Nearly a quarter of SMBs also say they're concerned about employee retention. Offering a uniform set of devices helps position you as an employer of choice, where team members are provisioned with tools that will give them the best experience possible.
What a connected experience means for IT
The benefit of Galaxy FE devices' connected approach also extends to those working within IT, who help not only provision tools but keep them up to date and secure.
Those in help desk roles, for instance, should be focusing their efforts on the most critical troubleshooting issues. Explaining why a team member's smartphone won't sync with their tablet or accessories is not one of those issues.
IT admins must be just as vigilant in managing their workload, given the number of devices they have to keep patched and secure. Galaxy FE devices are not only connected but offer the best possible protection via Samsung Knox, at both the hardware and software level. Then there's Knox Manage, which provides a single cloud-based platform for remote tracking, troubleshooting and setting up event-based policy enforcement.
A unified set of tools is a productivity game-changer
What does this look like in practice? Picture an employee in the marketing department at an SMB who uses their Galaxy S23 FE to film a customer testimonial at an industry conference. They can polish the clip using AI-powered editing tools such as Single Take, Object Eraser, or GIF Remaster directly on their smartphone.
Back at the office, though, they might want to finish up their work using Tab S9 FE's even larger display. As they do so, a call comes in from a colleague. Continuity features on the S23 FE and Tab S9 FE like Multi-Control allow them to manage their smartphone using their tablet, and the Buds FE's Easy Pair and Auto Switch features ensure they can have a seamless conversation across devices.
Some aspects of Galaxy FE are unique to Samsung. This includes the availability of Samsung DeX on its smartphones and tablets to allow employees to connect to a monitor and have a desktop-like experience. The S Pen, meanwhile, means team members can have common workflows like annotating digital reports or allowing customers to sign contracts on their tablet or smartphone.
Choose the right phone for your growing business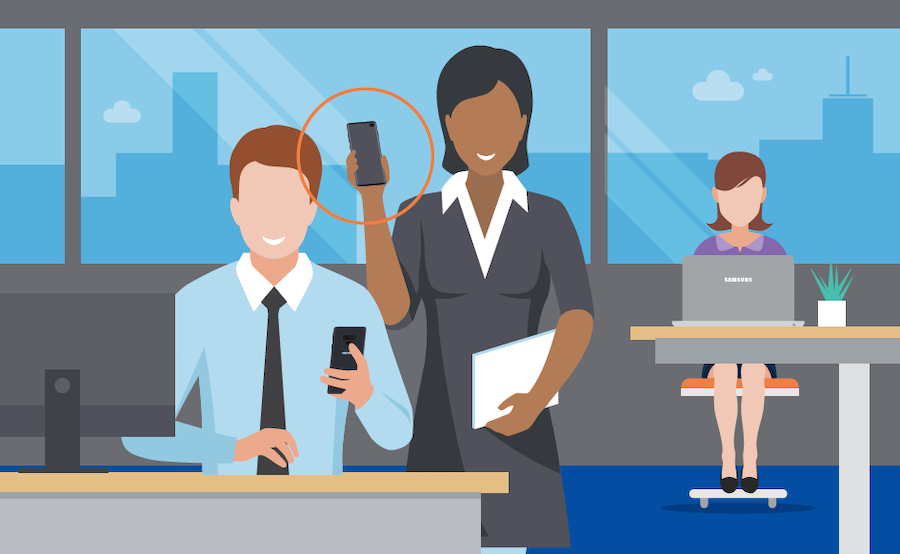 Get your free guide to matching the right smartphone with your business and employee needs. Download Now
A uniform set of tools could also be defined as maintaining a consistent standard of excellence in terms of features that help employees work smarter with business apps they know and love. Both the S23 FE and Tab S9 FE, for instance, feature integrations with Microsoft Office. Knowing everyone is working with the same tools such as Word, Excel and PowerPoint can keep employees on the same page, even if they're decentralized.
Given that work now happens both inside the office and well beyond it, IT and employees don't want to worry about whether they face different levels of risk based on the mobile device they're using. The Galaxy FE family overcomes that not only with Knox and Knox Manage but also features like Privacy Dashboard and Knox Vault, which keep user information, such as location, calendar and photos, safe. For the most critical business data, Secure Folder provides a fully encrypted space with multilayered security.
With a uniform set of devices like the Galaxy S23 FE, Tab S9 FE and Buds FE, SMBs can provide both consistent customer and employee experiences. Where they'll be differentiated is in how fast they grow.
To stay updated and ready to buy when the latest Galaxy FE devices are available, create a Samsung Business Account. With a Samsung Business Account, you can add Knox Manage at 50% off, as well as buy more and save more on Galaxy Buds FE.