Tablets are no longer just personal devices for watching movies and catching up on emails in your downtime. Many can hold their own against laptops, especially in situations where portability and touchscreens are essential. Professionals working outside the office increasingly prefer them over bulkier laptops, as they can deliver the same level of productivity with a more flexible user experience. In an age of increasing hybrid and remote work, the use case of a highly portable tablet replacing a notebook is more of a consideration than ever before.
All of that said, if you're looking to make the switch to using tablets as the primary computing device for your team, it's vital that you invest in a powerful tablet with the specs your employees need to be most effective. The Samsung Galaxy Tab S line — including the latest Tab S9, Tab S9+, S9 Ultra and the newest Tab S9 FE — fit the bill for high-powered teams, with expansive displays, powerful hardware, long-lasting batteries and the included S Pen to take notes, annotate and whiteboard. However, its true differentiator is Samsung DeX, the desktop experience software that comes built-in and allows users to transition seamlessly between mobile and desktop experiences.
Shop special offers
Find out about offers on the latest Samsung technology.
see deals
Speak to a solutions expert
Get expert advice from a solutions consultant.
Talk to an expert
Samsung DeX enables small businesses and enterprises alike to ditch their laptops and desktops, saving significant money. All professionals need to do is connect their DeX-enabled device to a monitor, keyboard and mouse, and with that, they have a complete workstation. By mirroring the display and navigation of a laptop, DeX allows you to work intuitively in multiple windows. You can even move windows around by dragging and dropping them, or right-clicking them as you would on a PC. Plus, Microsoft Office integration on the Galaxy Tab S9 series lets you create and edit documents on the go.
And with DeX's wireless capabilities, you can even mirror your device to any Miracast-enabled display.
You may already be familiar with DeX on Galaxy smartphones, but these Galaxy tablets extend the DeX value proposition further, giving users three powerful ways to work.
Activate DeX mode on your tablet
The Galaxy Tab S9 range are built to excel as Android tablets, and you may spend much or even most of the time using them that way. But when you need to crunch some numbers in a spreadsheet, write a report or build a sales presentation, you can quickly transition to a more traditional laptop-like experience with a keyboard book cover and multitouch trackpad.
You can switch to DeX mode on your tablet using the dedicated DeX key on the keyboard to kick-start your work session. You can also set your tablet to automatically enter DeX mode whenever you dock it into the keyboard case. This setup is ideal for quick productivity pit-stops when you have a few extra minutes between meetings. Try it on the latest Galaxy Tab S9 devices, and you'll see that DeX supports both portrait and landscape modes for maximum productivity.
Connect to a larger display
When you are in an office environment, whether at home or on the corporate campus, DeX lets you extend your Galaxy Tab S9, S9+, S9 Ultra and Tab S9 FE even further. Connect your tablet via an HDMI adapter, and you can launch DeX on any compatible monitor. Combined with a Bluetooth keyboard and mouse, you now have a desktop-like experience, complete with multiple resizable windows, drag-and-drop convenience and keyboard shortcuts.
Want to forgo the need for wires? You can also mirror the Galaxy Tab S9 lineup to any Miracast-enabled display. With wireless DeX capabilities, you can showcase a presentation during a meeting or merely work without worrying about bringing along the appropriate cables or hubs in your bag.
What's the best tablet for your business?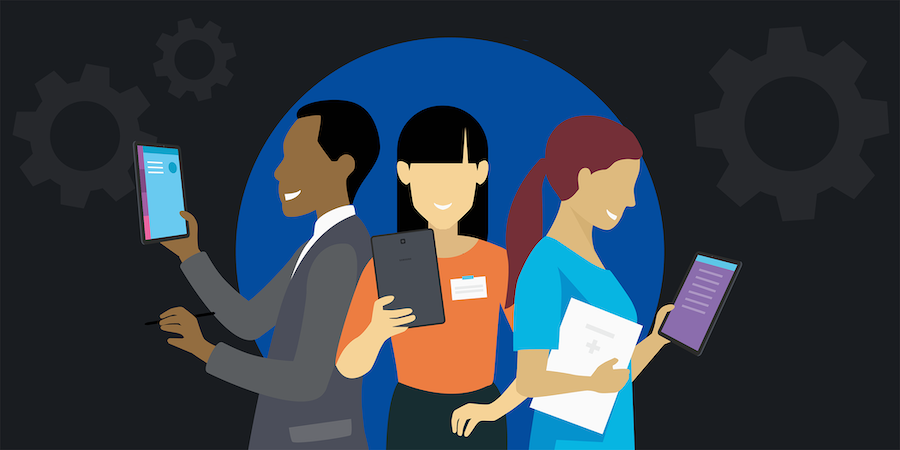 Take this quick assessment to see which Samsung tablet would best support your business needs. Download Now
What makes DeX especially compelling is Dual Mode. While you're presenting or working in DeX on the larger screen, you can still use your tablet for other tasks, such as responding to instant messages and emails, jotting down notes with your S Pen or controlling your music player.
Pocketable accessories
Professionals who work away from the office will see new productivity possibilities with DeX. All you need is your tablet and some pocketable accessories for when you need to connect to a monitor at the office or home. For a wireless DeX experience, any Miracast-enabled display will work, but try a recent Samsung Smart TV or the Samsung Smart Monitor for the best connectivity.
Mobile workers need devices that provide the power of a laptop, without weighing them down. No matter where you're working from, tools like Galaxy Tab S9, Tab S9+, S9 Ultra and Tab S9 FE with Samsung DeX offer the flexibility needed to stay productive.
There's no reason to stop here. Read 10 more tips for getting the most out of your Samsung Galaxy Tab S9. Not sure the Tab S9 is the right tablet for you? Take this quick assessmentto find the one that is.