Samsung recently unveiled its new mobile payment service, Samsung Pay, which features existing Near-Field Communication (NFC) technology and the latest Magnetic Secure Transmission (MST) technology to ensure quick, efficient and secure mobile payment transactions. But are retailers ready to adopt a new payment technology, particularly when they are already struggling with the transition to EMV (Europay, MasterCard and Visa) chip card requirements? The clear answer is "yes."
This is because MST builds upon the core magnetic stripe payment terminal technology already accepted by more than 30 million merchants worldwide. In fact, the vast majority of existing payment terminals are currently based on magnetic stripe technology, which has been used to complete payment card transactions for decades.
NFC Payments Will Rise, But Merchant Acceptance Is Currently Low
According to a 2015 report from IHS Technology, NFC-enabled smartphone sales will increase from 756 million units in 2015, which is already up from 444 million in 2014, to reach 2.2 billion by 2020. There are also several recently released mobile payment schemes that rely on NFC technology. While this sector is still in its infancy, it holds great promise for the convenience it offers consumers who will no longer need to carry actual payments cards to make purchases.
Although NFC technology is poised to be the most common service available for future mobile payments, merchant readiness and acceptance is low because there are currently not enough payment terminals equipped with NFC technology. Without the infrastructure in place for accepting NFC-based transactions, consumer acceptance and usage of mobile payment services could be seriously hampered.
Use Tablets to Convert More Customers In-Store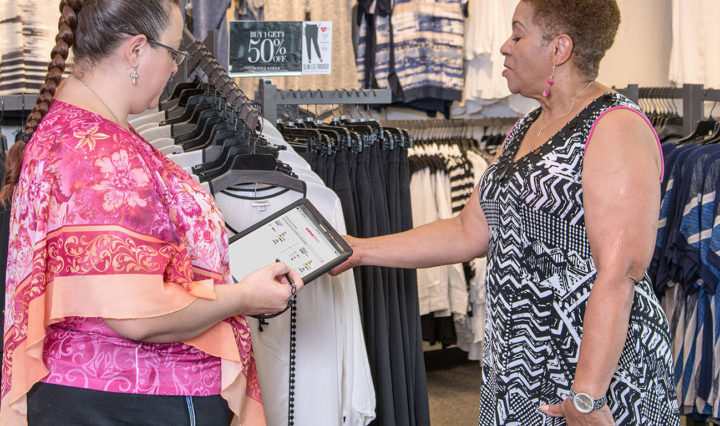 See the case study on how a fashion retailer drove customer loyalty with Samsung Galaxy Tablets. Download Now
Samsung Pay Provides Dual Payment Technology Compatibility
The Samsung Pay service helps resolve current payment terminal acceptance issues by supporting two mobile transaction technologies – MST or NFC – to complete a payment transaction. This combination will greatly increase worldwide acceptance of Samsung Pay mobile payments and enhance the overall user experience.
Samsung Pay's MST technology emulates a swipe transaction by engaging with the magnetic stripe reader on a payment terminal without actually touching it. The service also uses tokenization technology to mask card numbers for added security, ensuring that actual card information is not made available to merchants as part of the transaction. Samsung Pay utilizes biometrics as well, which requires users to apply a fingerprint to the phone's built-in sensor for authentication. Additionally, Samsung Galaxy smartphones incorporate the Samsung KNOX security platform, keeping all payment data locked and secure.
Samsung Pay Technology to Boost Mobile Payments
Samsung is building an extensive ecosystem to broaden acceptance of Samsung Pay. In the US, it is working with MasterCard, Visa, American Express and Discover, major banks including Bank of America, Chase, Citi, U.S. Bank, and key financial partners including First Data, Synchrony Financial and TSYS.
Samsung Pay will be preloaded on the new Galaxy S6 edge+ and Galaxy Note 5 and a free software upgrade will be rolled out late September, to enable Samsung Pay on Galaxy S6 and S6 edge devices in the U.S. Select U.S. users of the latest Samsung smartphones will be able to participate in a beta trial from August 25 ahead of the September 28 launch.
Mobile device usage is ubiquitous in many parts of the world, and smartphones are the device of choice for many users. The use of the smartphone as a payment mechanism holds much promise, but could be held back by the lack of merchant acceptance. Samsung Pay addresses this issue by offering dual payment technologies that align with traditional payment terminal methods to ensure quick, efficient and secure mobile payment transactions. As such, Samsung Pay is poised to achieve widespread acceptance, allowing users the much-desired convenience of paying by phone.
Learn more and get your free merchant kit on the Samsung Pay for Business page.