Today's hospital-based nurses are always on the go — moving from one room to another, caring for patients, coordinating care plans and ensuring patients have the resources they need to get and stay healthy. Thankfully, technology in nursing aims to help these highly mobile healthcare workers attend to patients more efficiently.
Mobile nurse technology including smartphones, tablets and wearables are transforming how hospital-based nurses deliver bedside care. Rather than relying on computers, pagers and landline phones to access health information and to communicate with colleagues, nurses can use these mobile solutions from any location, at any time, to deliver immediate care.
The Benefits of Mobile Technology in Nursing
By untethering nurses from fixed-location technology, these devices help to keep their focus on the patients. Mobile technology for healthcare also helps nurses:
Streamline Communication
Communication breakdowns in hospitals can lead to delays in treatment, serious injury or even death. By providing nurses with a secure communication system that includes voice, text messaging, email and videoconferencing, mobile devices enable them to communicate the right information to the right team members in real time. Nurses can also receive text-based notifications if a patient's condition requires immediate action, and these alerts can be redirected to other team members if the primary nurse is busy.
Access Real-Time Patient Data
Nurses use clinical data to make informed treatment decisions and document patient care. But because desktop computers are often shared by multiple team members, nurses might not have access to data when they need it, or they might not be able to record treatments in a timely fashion. This can lead to clerical errors or communication breakdowns. Mobile solutions, such as tablets, that are integrated with electronic health records allow nurses to generate progress notes, document vital signs, review lab results and update treatment records from the patients' bedsides.
Engage Patients
The more patients understand about their conditions and care plans, the more likely they are to adhere to prescribed treatment and avoid readmission. Rather than handing patients a thick stack of papers at discharge, nurses can use mobile devices to engage patients in their care during each bedside encounter. This could mean using tablets to show patients what they're doing and why, or providing patients with mobile devices that are preloaded with educational content about their specific conditions. Since hospitalized patients have plenty of time on their hands, this gives them a way to occupy their minds while learning more about their conditions.
These are just a few ways in which nurse mobile technology is transforming hospital workflows and patient care — and nursing professionals are eager to reap these benefits.
How Smart Are Your Clinical Communications?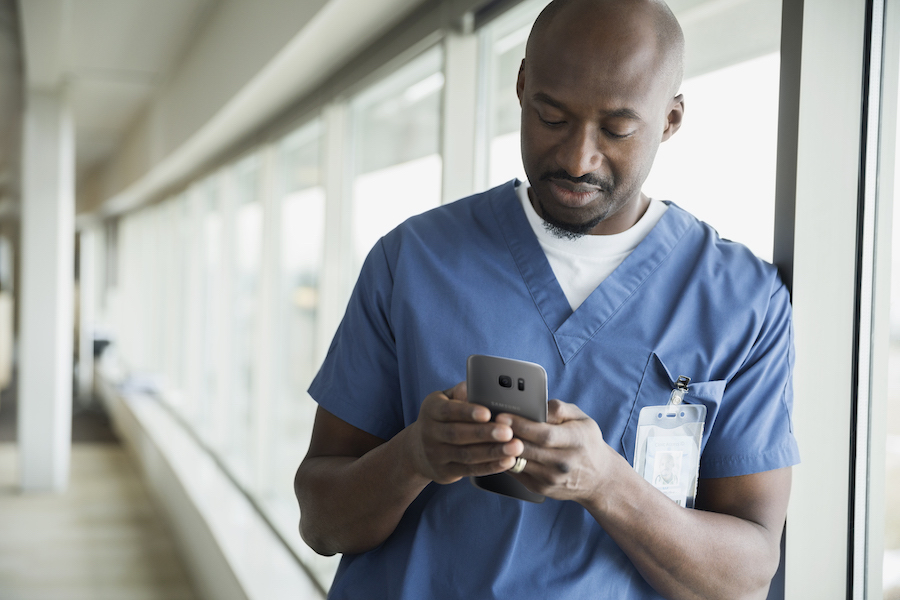 Take this quick assessment to evaluate your hospital's technology use and get personalized advice. Download Now
Securing Mobile Technology in Hospitals
As members of one of the most highly regulated industries in the U.S., today's nursing professionals don't just need more mobile devices — they need secure, trusted solutions. While most home health and hospice agencies provide workers with mobile solutions, many hospitals still haven't equipped on-site nurses with the tools they need to streamline workflows and deliver top-notch care. Lacking access to these mobile solutions, nurses often use their personal devices to access patient data, communicate with colleagues and otherwise support patient care. This makes work more convenient, but it can also compromise patient data security.
Unprotected mobile devices have the potential to introduce malware and viruses to a hospital's infrastructure, which could cause performance degradation. Even worse, they could lead to data security breaches, which can result in costly penalties.
Yet, nurses at 67 percent of hospitals use their personal smartphones to access hospital data, according to a report by the Spyglass Consulting Group. This is an obvious security concern for hospital administrators that can lead to data exposure and millions of dollars in fines. The study found that 56 percent of hospitals were concerned that nurses don't adequately protect their devices, and 71 percent of these organizations say they lacked the tools needed to secure employee-owned smartphones.
As a solution, many hospitals are turning to mobile device management (MDM) platforms. MDM allows hospital IT staff to secure and monitor all devices that are connected to protected databases, regardless of whether those devices are owned by the hospital or by individuals. If connected devices are lost or stolen, the IT department can wipe the data remotely.
Samsung Galaxy smartphones and tablets are equipped with Samsung KNOX — a HIPAA-compliant solution that separates work data from personal data on the device. This allows employees to easily switch back and forth between work apps and personal apps, and IT can monitor and secure enterprise data without infringing on workers' privacy. This way, nurses stay connected, and their patients' data stays protected.
How smart are your clinical communications? Take our five-question assessment for a personalized recommendations on how to utilize mobile technology at your hospital, or learn more about modernizing clinical communications with our free white paper.