For years now, you have heard that having a smartphone is like carrying a PC around in your pocket. And with dramatic advances in mobile computing in recent years, users can achieve an entirely new level of productivity right from their smartphones. With the introduction of Samsung DeX, mobile workers can now seamlessly switch from mobile to desktop mode using just a single device, offering improved efficiency and flexibility.
In this post we will look at some of the best mobile computing features of the DeX desktop experience, but first, here's what you need to do to get set up:
To get started, you'll need a Samsung Galaxy S8 or S8+, or a Galaxy Note8, as well as the Samsung DeX docking station, which holds your phone at a convenient angle and recharges it. You'll also need an external display, which can be a monitor, or even a TV or projector depending on your situation, as long as it has HDMI support. To power up the DeX station, plug in the Samsung fast charger that came with your phone.
You'll then want to add a keyboard and mouse. You can simply plug these into the USB ports on the DeX station, or connect wirelessly to your phone. Just be sure you connect the wireless keyboard and mouse to your phone before docking it; otherwise, they won't work when you dock.
Increase Productivity With a Mobile Desktop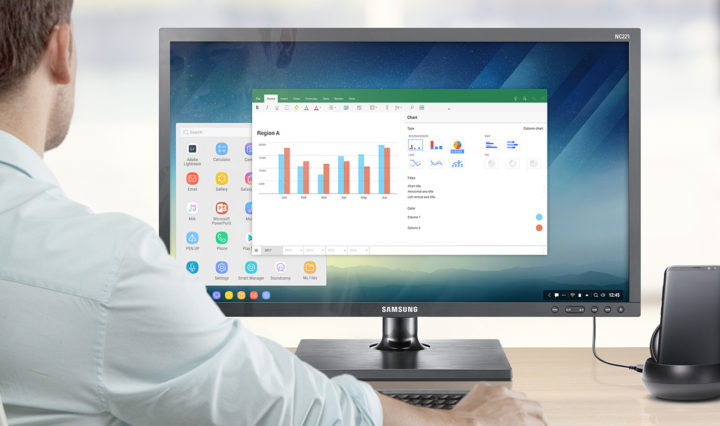 Now that you are up and running, here are five of the best features of Samsung's DeX experience:
1. DeX-ified Apps
Once you're in desktop mode, you'll be able to find all your apps in the menu at the bottom left corner of the screen, just as you would if you were using a regular Windows environment. Once the apps are running, they're found in the task bar.
To help make the most of the larger screen, mouse and physical keyboard, Samsung has optimized apps to be used in this mode. Apps like Samsung's Calendar, Internet and Email all look and feel like native desktop apps. Microsoft's suite of productivity apps, along with the likes of YouTube, Spotify and Gmail, also work nicely in DeX mode.
2. Email
Email is the lifeblood of most major organizations, and being able to respond to messages in a timely manner can make your life so much easier. While emailing on the move is great for responding quickly to queries, if you want to send a long and detailed message to your entire team, including specific formatting, images or files, then the desktop is the best place to do this.
Email on DeX is just as you would expect from a desktop email experience, with the email app having been optimized to make use of features like keyboard shortcuts. With real multitasking, you will be able to pull files into your messages without having to constantly open and close windows, helping improve efficiency and productivity.
3. Your Phone Is Still Your Phone
Even though your phone is docked and you are operating in desktop mode, that doesn't mean you should have to stop receiving and replying to messages and calls.
With DeX, all messages and calls coming into your phone will be routed straight to the desktop where you can answer them with a single click, or reply to messages directly with your keyboard, minimizing the need to constantly check your phone for message notifications.
4. Access Windows Anywhere
While the DeX system is a powerful platform, for some companies, there will be a time when you still need to rely on legacy software and systems. To this end, DeX allows you to remotely access your virtual desktop thanks to virtual desktop infrastructure (VDI) solutions, such as Amazon WorkSpaces, VMware Horizon and Citrix Receiver.
5. Organizing Files
Desktop environments are the best place for organizing files easily and efficiently, and so with DeX, it's easy to organize the files on your smartphone without having to constantly jump back and forth between apps.
With "My Files" open, you can drag and drop the right files into their correct folders. With multitasking this is made even easier, and with right-click mouse actions available, you can quickly have all your files organized without breaking a sweat.
Mobile computing is something enterprise users have been clamoring about for quite some time. With Samsung DeX and the wide array of features it promises, users are one step closer to carrying around just one computing device.
Here are three scenarios where a desktop experience powered by your phone could replace a laptop.