Modern, mobile workforces require technology that suits their specific needs, delivers substantial power and offers contemporary, professional styling. For too long, IT departments have faced a difficult choice between alternatives that satisfy some, but not all, of these business requirements. Now, the latest detachable tablets and convertible laptops can deliver desktop-grade computing power in a versatile and attractive package.
Not all mobile computers are created equal, however. Managers looking to equip their businesses have many devices to choose from, with varying degrees of power and flexibility. Not only is there a wider choice of traditional laptops with varying screen sizes and configurations, but increasingly these new hybrid form-factors are part of the decision-making matrix.
Convertible or Detachable?
Convertibles can fold back their keyboards into tent mode or rotate a full 360 degrees, so that they're tablet-like in size if not weight. This ability makes convertibles a good balance between tablet and traditional laptop form factors, but they aren't suitable for all applications because of the added weight and bulk of the keyboard. Detachables, on the other hand, can operate in true tablet mode. Small, light and entirely free of its keyboard, a detachable screen makes it easy to complete tasks like accessing patient files while making rounds or taking inventory while walking through a warehouse.
Today's workforces almost universally benefit from mobile computing solutions, and the key differences between convertible and detachable form factors are worth considering as the modern office undergoes digital transformation efforts.
Understanding How 2-in-1 Devices Work
At first glance, these two families of devices may appear nearly identical to a casual observer. However, they work very differently in real-life applications.
Convertible devices offer the user the ability to open up the 2-in-1 and work in a conventional format with screen and keyboard: The key difference from a regular laptop is the screen, which is touch enabled and flips back, turning it into something like a tablet. They can also be propped up in tent-mode to share content with a colleague or customer.
As its name suggests, the screen of a detachable device literally separates from the keyboard. The mobile worker is free to manipulate the now-liberated screen as an independent device, interfacing by touch or in the case of Samsung's Galaxy Book by using the included S Pen. This means that the device's core functional hardware lives behind the screen, in contrast with typical laptop architecture.
Avoiding Mobile Productivity Pitfalls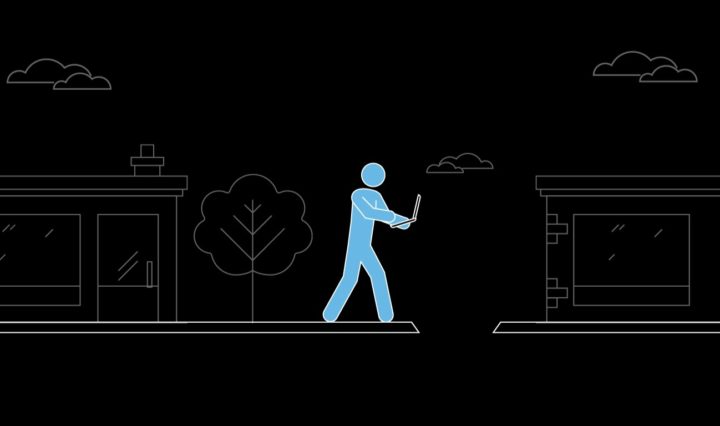 White Paper
See how a 2-in-1 solution offers the benefits of being mobile without sacrifcing productivity. Download Now
The choice of convertible versus detachable basically comes down to the type of workers being equipped and the tasks they handle every day. Generally, the more mobile and collaborative the work, the more likely a mobile worker will benefit from a detachable device, which can be held comfortably in one hand.
Who Are 2-in-1 Devices For?
Chrome OS-based convertible devices like the Chromebook Pro or Plus, or the Windows-based Notebook 7 Spin will, by their very nature, be a little bit bigger and heavier than a 2-in-1 tablet. They're not unwieldy by any means, and compared to many laptops they are highly mobile and easy to manage. But their slightly bulkier form factor can make a difference, depending on the kind of work and operating environment. In most cases, they cannot be held in one hand and operated with the other.
For a workforce covering a lot of ground on foot, for example, there's something to be said for a detachable tablet. Whether they're staffing a large retail space, covering multiple floors of a hospital facility or conducting inventory across sprawling warehouses, a lighter device is almost always going to be preferable to the alternatives.
In highly collaborative environments, the advantages of a 2-in-1 become even more apparent. A slim, styled device makes a strong professional impact and sets sales professionals up for success. Real estate agents can hand over their devices to share photos of a property or even to get signatures on key documents, then reattach the keyboard to file paperwork. Retail associates can quickly share product information with a customer on the shop floor, while healthcare professionals might use a detachable device as a convenient medium for sharing charts with patients and discussing health plans.
In each these cases, the combination of lightweight, compact size and robust computing power make the detachable form factor an ideal solution.
The Evolving Mobile Workforce
Don't conclude that a detachable device always beats out a convertible laptop, though. Intelligent technology acquisition all comes down to accurately assessing working styles and daily requirements. Properly implemented, either type of 2-in-1 device can directly improve productivity, as long as it meets essential needs of computing power and mobility.
Convertibles provide a highly functional experience for those who don't need the detachable's higher degree of flexibility. They may represent the superior solution for those workers who have slightly higher multi-tasking needs, or who have an intermediate level of mobility.
In many cases, though, the detachable offers a little something extra. Highly mobile workforces who find themselves in multiple locations throughout the day rely on their mobile devices to facilitate communication in different arenas and still need to broadcast a high degree of professional polish can benefit from the flexibility offered by the detachable form-factor.
The number of workers with these needs is on the rise as mobility evolves and people begin to spend more time out of the office than in their chairs. With a shifting workforce and a higher percentage of mobile workers, these devices fill a growing niche.
See how the Galaxy Book can bring efficiency and productivity to on-the-go employees.