We are quickly moving into an era where the mobile phone will be the primary computing device for much of the workforce. The term "mobile-first" has been around for a while, but today there's real opportunity for organizations to go "mobile-only" in their digital transformation strategy.
For IT leaders, there are several reasons to welcome this trend to mobile-only. With the proliferation of smartphones, tablets, 2-in-1s and laptops over the past decade, IT admins have been tasked with managing more and more endpoints. While there are costs to acquiring new mobile devices, another challenge for the organization is managing and securing them. The idea of one device to rule them all — a single endpoint that connects to other peripherals to create optimal productivity experiences — is something that resonates strongly with IT, corporate finance and, of course, the end users carrying these devices in their pockets.
The Samsung DeX Platform
Over the past year since the launch of the Samsung DeX platform, I've focused much of my time working with IT and business leaders to help make the potential of mobile-only a reality in their organizations. With Samsung DeX — a platform that allows you to extend your Galaxy smartphone into a desktop experience complete with monitor, keyboard and mouse — we've begun to uncover some compelling use cases where the mobile-powered desktop can streamline workflows.
As this shift to mobile-only accelerates, IT departments will need to think strategically about the computing needs of their workforce and to be willing to experiment with new technology. It may take some time, but I believe enterprises will realize that the computing power held in today's smartphones, such as the Galaxy S9 and S9+, really can do the work typically done by traditional desktop PCs and laptops.
Every single IT department, no matter the size, is under pressure to save money while simultaneously boosting employee productivity. This is not an easy task to accomplish, especially if you're in a heavily regulated industry like public safety or banking — but it is possible.
Samsung DeX lets you reimagine how your employees can work with their phone. Now, rather than needing a smartphone and a laptop, desktop PC or thin-client, employees can carry just their Galaxy S9 as their sole device, and stay productive at the office or home with DeX.
Increase Productivity With a Mobile Desktop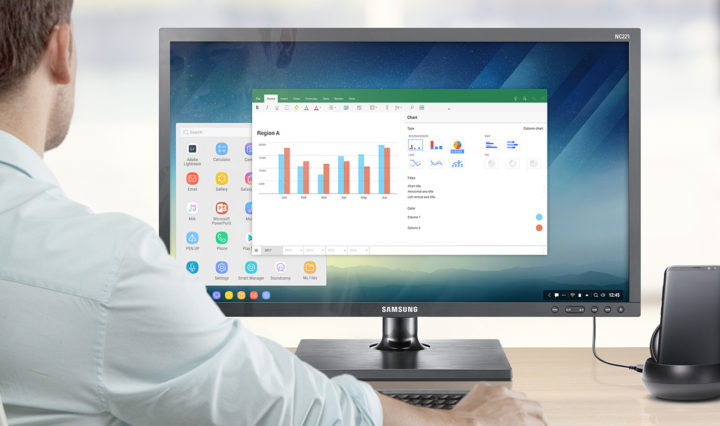 White Paper
Learn three ways you can save time with DeX. Download Now
Not only can this significantly reduce corporate asset and IT management costs — it also improves security and convenience. Rather than having two or three devices holding important information and connecting to the cloud, now it's all done from a single device that employees can carry with them at all times, and which is protected from the chip up by Samsung Knox and advanced biometric security features.
The New DeX
On its own, the smartphone is a powerful tool to get work done while on the move, but with DeX, it offers the possibility of a true desktop solution. Simply plug a smartphone into the DeX Station or DeX Pad, hook up a monitor and keyboard, and you have a full-fledged desktop computing experience.
We've refined the DeX platform to give users an even more streamlined experience. DeX now supports more monitor resolutions, including WQHD. This means users can take advantage of greater screen real estate, letting them see and do more while multitasking. Speaking of multitasking — we also added more apps, like messages and notes, that support drag-and-drop functionality while in DeX mode.
As showcased at the recent Galaxy S9 Unpacked event, the new DeX Pad will take our platform to the next level. Slimmer and lighter than the DeX Station for more portability, the DeX Pad will allow users to turn their phone's screen into a touchpad — and, with a future software update, an on-screen keyboard — as well as give them direct access to the phone's headset jack for placing and receiving phone calls.
Let's say, for example, an employee is giving a presentation to clients using their phone connected via DeX to a TV screen in the meeting room, but they realize that the figures in one slide are wrong. With DeX Pad, they no longer need to hunt down a mouse and keyboard, but can quickly update the details using only their smartphone.
A Secure Platform
For any IT department seeking new technology to make their lives easier, security will be one of the most important factors when assessing potential solutions.
Here, we have listened to customer feedback, especially those in regulated industries who want to implement DeX. Enterprises can now apply their own specific IT policies to DeX via our Knox APIs for increased protection and customization. In regulated industries where enterprises have to adhere to very strict security guidelines, this will be of critical importance. It will give administrators granular controls for DeX, including which apps can be used and when the screen should time out in DeX mode.
As businesses explore the prospect of mobile only, I believe they will quickly realize what benefits it brings. From streamlining operations to improved productivity, enterprises will want to capitalize on the power held in today's smartphones sooner rather than later. With DeX, we have created a platform for any organization that wants to jump-start these initiatives.
Discover how the Galaxy S9 and S9+ can bring a new level of productivity to your enterprise.