Samsung DeX makes it easier than ever to streamline your workstation, increase productivity and stay connected while on the go. With the announcement of the improved DeX Station and the all-new DeX Pad at the recent Galaxy Unpacked event in Barcelona, enterprises now have additional flexibility in how they deploy this platform to their workforce.
But regardless of which version you're working with, there are a few things you need to know to get the most from your mobile desktop experience. Here are five tips and tricks to leverage the DeX platform for ease and efficiency:
1. Use the right monitor. While DeX means your computer is your phone and you can bring it with you wherever you go, you need to have the right monitor, keyboard and mouse to take advantage of that capability. You'll need an HDMI-compatible monitor that supports at least HD+ resolution — the latest DeX platform supports HD+ (1600×900), FHD (1920 x 1080), and WQHD (2560 x 1440) resolution. You can also connect to meeting room displays or even TVs, as long as they have HDMI.
2. Use the right smartphone. Both DeX accessories work with the Galaxy S8, S8+, Note8, S9 and S9+. If you need to work with a large number memory intensive applications, then consider the Note8 and S9+, which both have 6GB of RAM.
Can DeX Replace Your PC?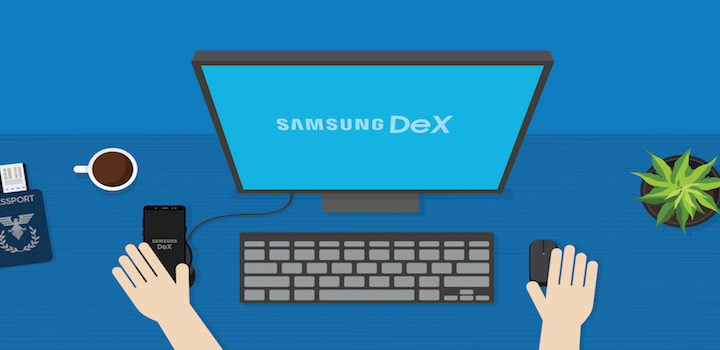 White Paper
Find out if DeX is the right option for your workflow in this infographic. Download Now
3. Use a Bluetooth keyboard and mouse. For your keyboard and mouse, you can connect using either USB or Bluetooth. If you want to minimize the clutter on you desk, go with Bluetooth. Pair the Bluetooth devices with your phone before you dock your phone in DeX.
4. Use Samsung DeX Labs. While there is a large — and growing — number of apps which support the DeX platform, not all third-party apps natively do so. This means that these apps typically open in a narrow window on the desktop. However, there is a way to get more apps to work like typical desktop windows by simply changing one setting. Open Settings on the desktop, then click on Samsung DeX. There you should see a toggle for Samsung DeX Labs. Clicking this will force all non-DeX apps to operate in full screen, and some will even be resizeable.
5. Use biometric authentication. The updates to DeX not only offer improved capabilities, but also enhanced security features, such as the ability for each company to enforce their own specific requirements. But remember, that even though your smartphone is docked, you can still use the advanced biometric security features on the phone. With the Galaxy S9 and S9+ , for example, you can access via facial recognition, iris or Intelligent Scan to make sure only the right people are accessing your most sensitive data.
With smartphones set to someday replace traditional PCs and laptops, mobile computing will quickly become the new paradigm which enterprises in all industries will need to embrace sooner or later. Learning the skills to make the most of this new technology is the best way to stay ahead of the curve.
Learn more about the security and productivity advantages of making the Galaxy S9 or S9+ your next work phone.