The original Samsung DeX allowed users to create a PC-like experience by connecting their Galaxy smartphone to a display with just an HDMI cable. It's a great way to stay productive without a PC. Just pair a keyboard and mouse with your phone and get to work.
With many of Samsung's latest mobile devices, including the Galaxy Z Fold3 5G foldable, Galaxy S22 Series and rugged Tab Active3, you can now bring this connectivity to the big screen wirelessly. You don't need any accessories — just a TV or display that supports Miracast. It works beautifully on the latest Samsung Smart TVs and our Smart Monitor range for business.
Wireless DeX on TV is a great way to share content or present slides from your phone, harnessing its power to capture a bigger picture.
Shop special offers
Find out about offers on the latest Samsung technology.
see deals
Speak to a solutions expert
Get expert advice from a solutions consultant.
Talk to an expert
Here's how to get started:
Setting up wireless DeX on TV
First, with your TV remote, open the Source menu and activate screen mirroring.
Now, on your Galaxy device, pull down the notification bar and tap on DeX in the Quick Settings panel.
Tap on DeX on TV or Monitor. You'll see a list of available devices to connect with.
Choose the display you want to connect to and tap Start Now.
You'll now see DeX launch on your TV.
To navigate within DeX, you can use your device as a touchpad. Pull down the notification bar and tap "Use phone as touchpad."
Now use your finger or an S Pen to guide the pointer and access your apps.
Since DeX on TV is wireless, you can now navigate the screen from all the way across the room.
Connecting a keyboard and mouse
As with the original DeX, you also have the option of pairing a Bluetooth keyboard and mouse to work more seamlessly. This extends your desktop onto the big screen, giving you a fuller, more expansive view of all your work.
Now your office is wherever you need it to be. If you're working from home without a laptop or could benefit from using a larger screen for editing documents, this flexibility may expand your creative capabilities.
Wireless DeX vs. screen mirroring
So what's the difference between wireless DeX and regular screen mirroring on your TV? First, the interface: DeX is a desktop experience. It doesn't just put your phone screen on a larger display. You can view multiple apps, resize windows, access keyboard shortcuts and use right mouse button functionality.
You can also see your phone's incoming notifications and calls within DeX without having to stop what you're doing to glance at your phone. When you're in the flow and at your most productive, you don't have to slow down to stay on top of timely messages.
Go mobile-only with Samsung DeX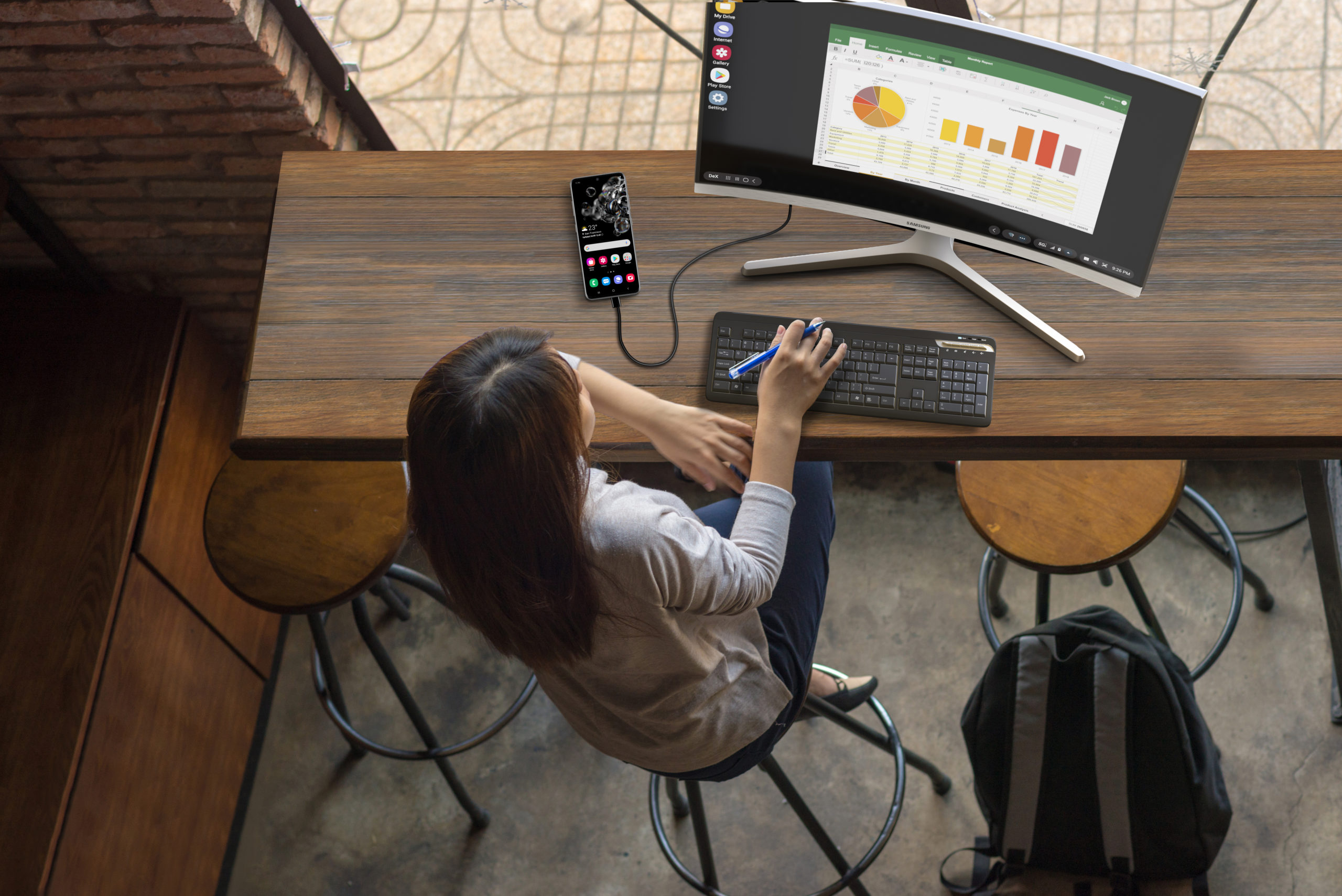 Your comprehensive guide to rolling out a mobile-only solution for your workers. Download Now
Secondly, you can keep using your phone as a phone while it powers DeX. Essentially, it's giving you a two-screen experience. You can do whatever you want on your phone while you continue to present on the TV. For instance, if you need to quickly respond to an urgent text from your coworker while you've got slides up on the screen, you can discreetly take care of it without interrupting the presentation.
Giving a presentation using wireless DeX
To give a PowerPoint presentation with DeX, first open Office Mobile and maximize the window. Then open your PowerPoint deck and go into presentation mode. On devices that are compatible with Samsung's S Pen stylus, including the Galaxy S21, Tab Active3 and Z Fold3, you can use the pen to advance slides. Just pop the pen out and press the button once to go forward and twice to jump back. You can also use your S Pen to annotate or highlight something on a slide.
Turn your TV into your wireless monitor
Samsung DeX already delivers mobile-powered desktop computing, allowing you to transform your phone into a reliable PC. Now you can connect your Galaxy smartphone wirelessly to your TV, bringing this productivity to the big screen. Whether you're working from home or delivering a high-profile presentation on short notice, you have the tools you need to get it all done with flexibility and ease.
Sign up for a Samsung Business Account to get exclusive offers, including volume pricing discounts, today. Then learn how DeX can support a mobile-only workspace with this free guide.