Mobile devices have become critical to daily operations in many industrial settings, providing real-time access to information and alerts, and replacing paper-based workflows with intuitive apps. However, the industrial environment can be harsh and unforgiving to electronic devices with exposed glass screens. From heat and humidity to exposure to water, drops, dust and more, it can be a challenge to protect your industrial IT deployment.
To better protect capital investments in mobile technology, industrial IT decision-makers are turning to the rugged tablet. According to a recent report from VDC Research, rugged tablet shipments are set to reach 517,000 devices by 2022, up from fewer than 350,000 devices globally in 2016. At the same time, rugged Android devices are forecast to begin to replace more expensive Windows-based devices.
Built Industrial Rugged
While consumer-grade tablets may cost less than rugged devices to procure, they aren't built to withstand the tough and unpredictable industrial environment. Since they are more likely to break when dropped or exposed to water or humidity, they incur greater repair and replacement costs — not to mention the resulting lost productivity — that can push the total cost of ownership much higher than that of rugged tablets.
As a rugged tablet that is MIL-STD-810G tested, the Samsung Galaxy Tab Active2 is an example of the new breed of Android devices that meets military-grade standards for durability. The Tab Active2 was put through a series of tests including repeated drops, vibration, temperature fluctuations, humidity and altitude changes, as well as blowing dust and rain. It also features an IP68 rating, which means both the device and its stylus are water resistant — up to half an hour in five-foot-deep water.
Built to Work the Way Your Workers Do
Industrial workers often need to wear protective gear such as gloves to keep themselves safe. To keep productivity high, it's important that the devices used in an industrial IT setting can respond smoothly and reliably, even to gloved operators.
21 Tests the Galaxy Tab Active2 Survived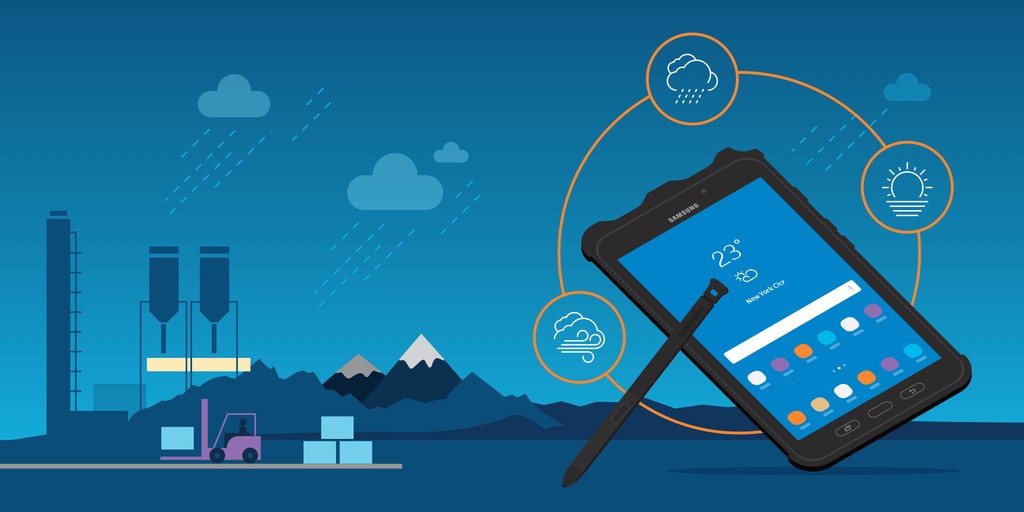 See a full rundown of the MIL-STD-810G testing the Tab Active2 passed in this infographic. Download Now
Samsung's Galaxy Tab Active2 features Enhanced Touch capability for wet screens and gloved hands, and is also equipped with an S Pen stylus — so workers can continue to consistently interact with the screen without the inconvenience, interruption and risk of exposure from removing protective gloves in the workplace.
The device also integrates biometric authentication options, including facial recognition, so that workers can unlock their devices without needing to remove their gloves.
Built with a Security-First Mindset
Security is an essential requirement in any industrial IT deployment too. Data loss, hacking and industrial espionage can be costly to any business. The Galaxy Tab Active2 is built on the Samsung Knox security platform, which protects data from the chip up.
The device is also IT-friendly, with several Samsung Knox solutions available to make configuring and managing devices easier and more secure. Knox Configure allows you to customize devices and applications for specific industrial uses. For device enrollment, Knox Mobile Enrollment makes it easy to enroll an entire fleet of devices in your MDM at once. And Knox Manage allows for ongoing management of devices through features like whitelisting or blocklisting apps as well as the ability to remotely wipe lost or stolen devices.
Built with All the Essentials
While finding a device that can withstand the high durability and security standards required in an industrial setting is critical, it's also important that the device has the right features to make work more productive. With a long-lasting and replaceable battery, a rugged case and accessories available such as vehicle mounts, rugged portable or mounted keyboards and charging cradles, the Galaxy Tab Active2 is ready to perform wherever and however it's needed.
With an industrial-ready rugged tablet like the Tab Active2, you can be confident that your mobile investment is maximized both from a durability and a longevity standpoint.
Learn more about how the Galaxy Tab Active2 can help solve your toughest business challenges.