Workers in hazardous environments that may contain volatile substances need mobile technology that's not only rugged, but also protects against the risk of explosion. These workers used to have to rely on bulky devices with specialized protective enclosures to prevent combustion in hazardous work areas such as oil and gas operations.
But now, Samsung has partnered with Pepperl+Fuchs to create non-incendive versions of its rugged smartphones and tablets that provide the same slim form factor and house all the powerful features that frontline Division 2 workers need to get more done — safely.
Pepperl+Fuchs' rugged Samsung portfolio for frontline teams
Pepperl+Fuchs ecom is the world's leading manufacturer of mobile devices rated for hazardous areas. They recently announced the launch of a new device portfolio developed in partnership with Samsung and certified for use in Division 2 environments.
The devices include the Ex-Cover Pro D2 smartphone, based on the rugged Samsung Galaxy XCover Pro, as well as the new-generation 8-inch Tab-Ex 03 tablet, based on the Galaxy Tab Active3, and 10.1-inch Tab-Ex Pro D2 tablet, based on the Galaxy Tab Active Pro. The tablets are available in both Wi-Fi-only and 4G LTE capable versions.
Shop special offers
Find out about offers on the latest Samsung technology.
see deals
Speak to a solutions expert
Get expert advice from a solutions consultant.
Talk to an expert
"The Pepperl+Fuchs devices give customers all the powerful features and the same compact form factor as original Samsung products, but we've ensured that they are safe and fully certified for use in Division 2 hazardous environments," explains Lothar Berger of Pepperl+Fuchs.
Making rugged mobile devices non-incendive
Transforming a rugged device to be non-incendive for Division 2 environments requires a specialized manufacturing process. The Pepperl+Fuchs manufacturing process builds on Samsung's rugged smartphones and tablets, modifying their hardware to prevent any potential risks for operation in environments where volatile gases may be present.
The manufacturing process itself involves identifying hardware components which present risk of sparking or thermal overheating. "Typically for a non-incendive device, you evaluate critical components like speakers or microphones, which could create arcing and sparking on the device," says Berger. "If you have a hazardous atmosphere, this could cause an explosion."
Pepperl+Fuchs applies internal modifications to ensure the devices are protected and comply with global Division 2 regulations. "There are other devices on the market where you have to add a specific case or hardened box around it," Berger explains. "But that adds weight and cost to the device. We do all the modifications internally, so they are not visible from the outside. The customer user experience is exactly the same as on the standard device."
Seamless workflows and elevated communications
Samsung's rugged mobile devices are already MIL-STD-810 certified (for military-grade durability) and IP68-rated (for water, dirt and dust resistance). They include external programmable buttons designed to remain functional while workers are wearing gloves or operating in wet conditions, as well as other features critical for frontline workers, like long-life battery.
This portfolio of devices allow frontline workers in hazardous environments to streamline their workflows and communications. Features include Samsung Knox defense-grade security to protect sensitive data stored on the device, as well as push-to-talk (PTT) communications and barcode scanning capabilities designed to streamline tasks that used to be manual and tedious.
Empower your field services team with mobility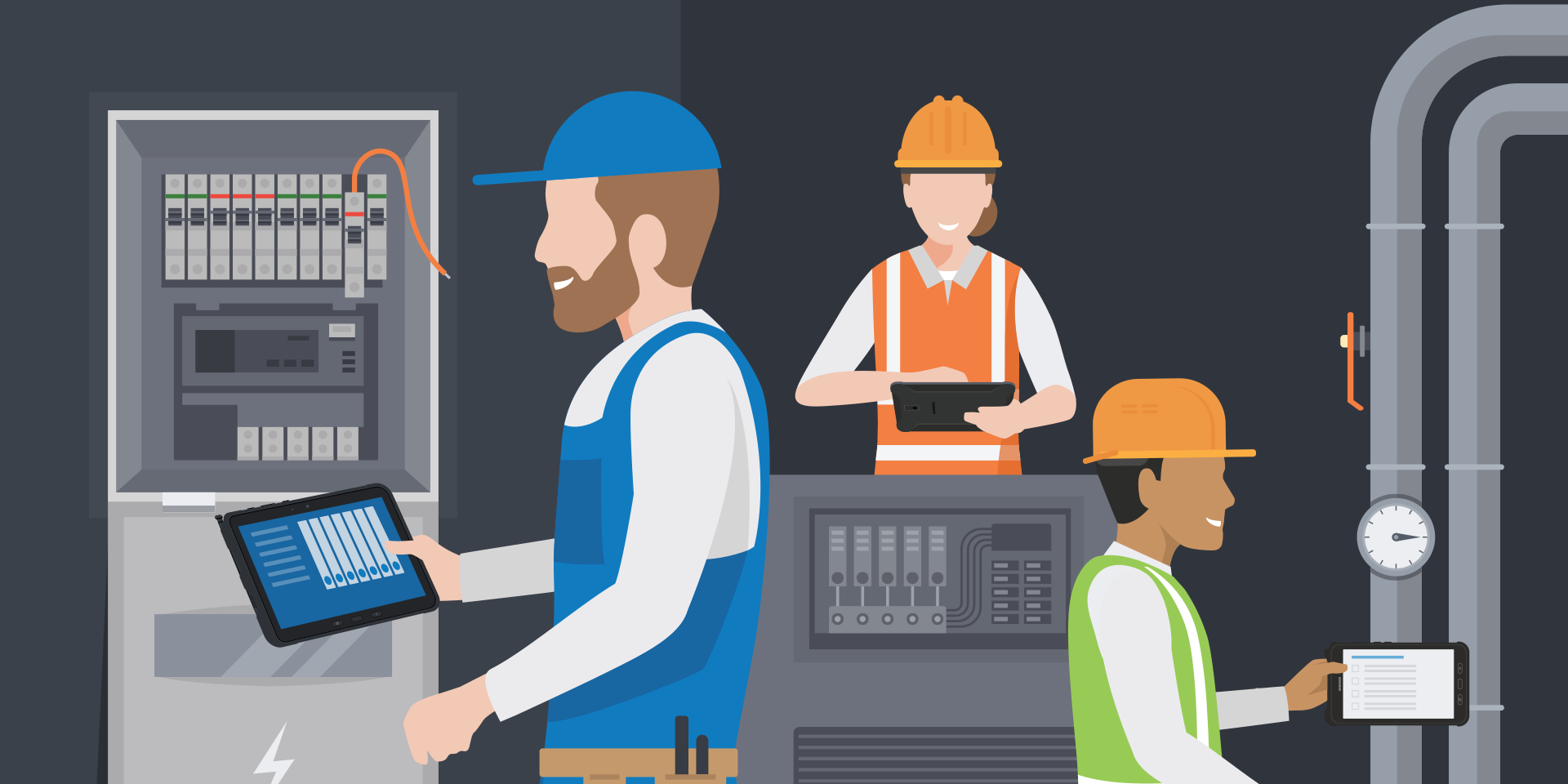 Exceed customer expectations with this free guide to improving connectivity in field services. Download Now
"Workers used to have to use pen and paper, doing everything manually," says Berger. "Now, with the right mobile device and integrated software applications, core workflows can be digitized. That's a huge step for our customers in fields such as the oil, gas and chemical industries."
The tablets also come with an S Pen for easy note-taking and support Samsung DeX, enabling the user to connect wirelessly to a display to deliver a desktop computing experience.
With the Samsung and Pepperl+Fuchs partnership for Division 2 smartphones and tablets, frontline workers can enjoy more streamlined workflows, as well as the communication and collaboration tools they need — on rugged mobile devices that are designed to operate safely in volatile environments.
Samsung's lineup of rugged mobile devices offers several field-ready options — all with proven military-grade durability. And as you strategize your mobile rollout, aim to exceed expectations with Samsung's free guide to improving connectivity in field services.