Utility fieldwork is one of the toughest, most demanding jobs in the world. Outdoor working conditions and the long hours can be rough, and the pressure is always on to get the job done.
When operating in the field, the need for accurate communications and effective information-sharing is paramount. Utility field managers have to know where their crews are and what they are doing at all times. Field crews need to stay in constant communication and respond to calls for help immediately.
And it's not just when the sun's out and outside jobs are regularly scheduled. In extreme weather conditions — snow, rain, high winds, etc. — and following disasters that destroy critical infrastructure in the blink of an eye, the demands of utility fieldwork jump exponentially.
When everything goes wrong and the public needs its utilities back online ASAP, having the right technology in hand to mobilize and coordinate a rapid response is critical.
A smarter platform for utility field communications
For decades, utility field crews have relied upon bulky two-way radios. While land mobile radio (LMR) technology served its purpose, it's a limiting approach to field communication and collaboration when compared to the possibilities presented by today's digital world.
Smartphones have increasingly made their way into use among utility crews, whether employer-issued or in an informal bring your own device (BYOD) scenario. However, when working actively in dirty, wet conditions, where accidental drops are frequent, selecting just any consumer-grade smartphone might not be the best idea.
Here's a quick look at some of the key considerations for deploying smartphones to your utility field crews, plus some rugged new devices from Samsung that tick all the boxes:
Push-to-talk is a must
Push-to-talk (PTT) is the one capability that two-way radios deliver that most smartphones do not. When utility crews are dealing with a field emergency, they need to be able to reach the right team members fast, without opening their phone's dialer and punching in a number. They also need to initiate and continue those communications while wearing gloves.
Empower your field services team with mobility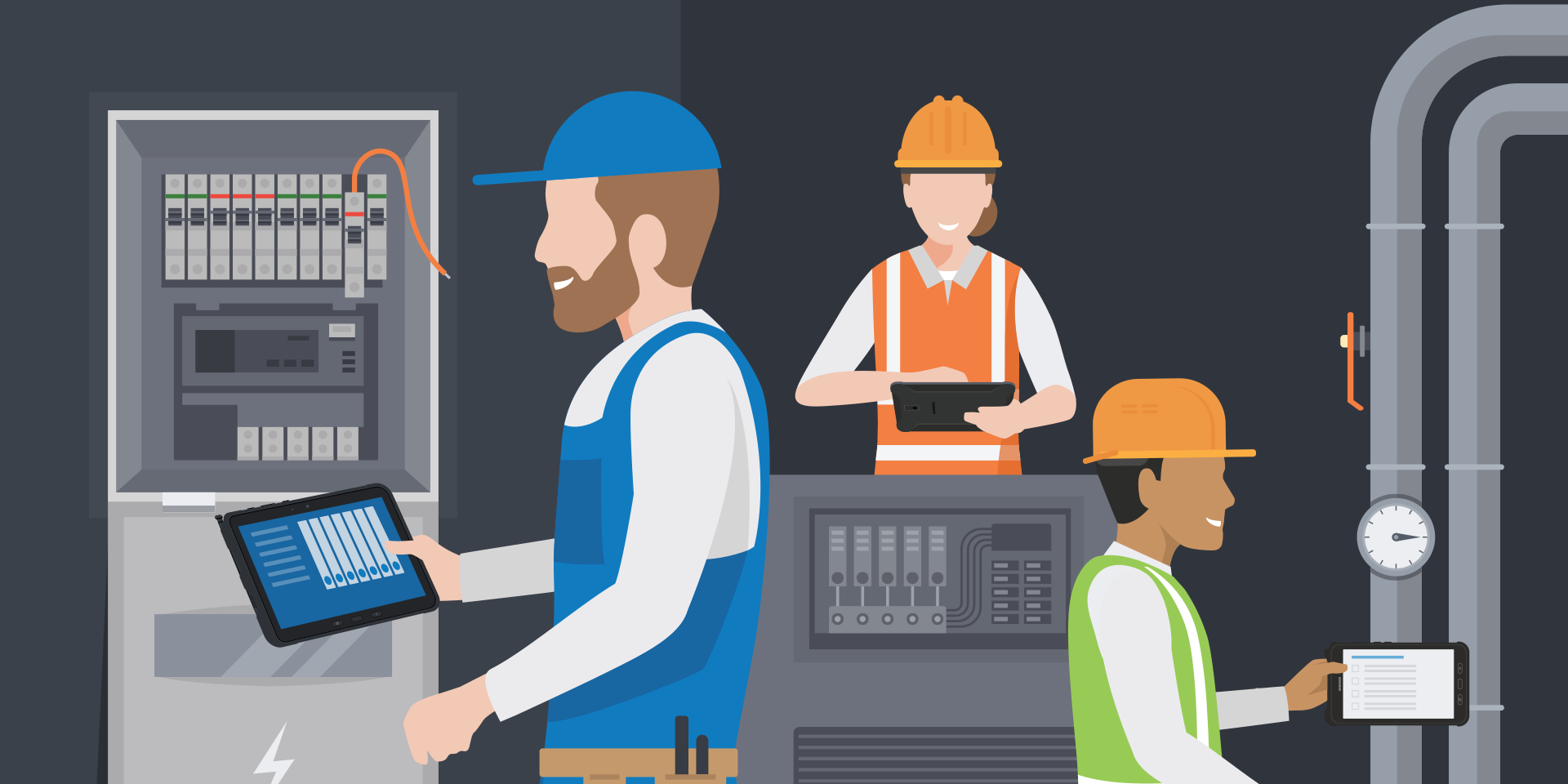 Exceed customer expectations with this free guide to improving connectivity in field services. Download Now
When identifying a smartphone for utility field use, look for a device that's built with PTT in mind. Over-the-top PTT applications can run on most smartphones, but devices with a tactile, physical button to activate voice communications will make a huge difference for your crew. A technician can simply press a single key to talk directly to the right people.
Mobile-based PTT applications also allow utilities managers to set up various talk groups as needed, a process that is much quicker and more convenient than it was with old-fashioned LMRs.
Tough enough to take a hit
For tough jobs, you need tough equipment. When it comes to smartphones, that means devices that meet MIL-STD-810 and IP68 standards for toughness and dust and water resistance.
MIL-STD-810 is the U.S. Department of Defense's standard for military-grade equipment. It encompasses a series of product toughness tests, including dropping a smartphone multiple times from a height of 5-ft. To reach MIL-STD-810 standards, ruggedized smartphones also have to operate in a wide temperature range, withstand vibrations, low pressure conditions, salt fog and more.
The IP68 standard covers dust and water resistance, including submerging a smartphone in water 5-ft. deep for 30 minutes. If a smartphone can meet this standard and MIL-STD-810, it can likely endure the extreme environments utility technicians might encounter in the field.
Applications are key
Smartphones can be the most reliable, data-rich and versatile field communications and collaboration platform — but only if you have the right apps installed. Beyond PTT communications, a ruggedized smartphone can provide your crew access to an array of workflow applications and productivity tools — both free and licensed. These can include but are not limited to:
Task management applications, which can help streamline work orders and route urgent jobs to the nearest crew based on GPS location.
Collaboration platforms, allowing technicians to download installation maps and schematics directly from headquarters and upload real-time photos and videos of what they've found on scene.
Barcode scanning apps such as Knox Capture, which can be used for inventory management and part identification off the truck.
Augmented reality (AR) apps that can enhance remote assistance and assessment of a scene in real-time.
Mobile point of sale (mPOS) solutions, which can provide payment capture in the field and signature capture on the screen.
While choosing the right device is essential, you should also invest time in reviewing your team's needs and evaluating the applications that can help them work more effectively. Moving beyond BYOD and opting to issue smartphones to all crew members puts you at a distinct advantage when it comes to your app strategy, since you can then preconfigure all devices with your apps and won't have to worry about compatibility issues.
A smartphone that's field-ready
If you want to deliver the mobile capabilities that a utility field crew needs in order to do their work, the Samsung Galaxy XCover Pro ticks all the boxes:
A rugged build that meets MIL-STD-810 standards and is IP68-certified, making it tough enough for utility work
Two programmable buttons, which can be used to activate PTT and other key apps
A large, 6.3-inch Gorilla® Glass 5 touchscreen display, powerful performance and dual cameras
A 4,050mAh battery that is rated for 14 hours of use and can be quickly swapped out with a spare when needed
Capable of connecting to the license-free Private LTE/CBRS channel, which supports short-range broadband communications
Additionally, Pepperl+Fuchs ecom, the world's leading manufacturer of mobile devices rated for hazardous areas, has partnered with Samsung to build on the strengths of the Galaxy XCover Pro with the Ex-Cover Pro D2 — a non-incendive version of the XCover Pro designed for use in Division II settings.
Security and management
Data security and effective mobile device management are often overlooked concerns for utility mobile deployments. This is where Samsung's Knox platform and services come into play.
Like all Samsung Galaxy mobile devices, the XCover Pro includes the defense-grade Knox security platform built in right down to the chip. Trusted by the U.S. Department of Defense and governments around the world, the Knox platform provides core protections against malware and other external attempts to hack into a locked device.
In addition, Samsung offers several management tools that allow IT teams to better customize, track and secure large fleets of mobile devices.
With Knox Configure, for example, Samsung phones and tablets can be customized in bulk and tailored to your specific needs, including preloading key apps and adjusting settings.
A cloud-based enterprise mobility management (EMM) solution, Knox Manage, enables you to remotely lock down and wipe data from any devices that go missing. Through its online command center, IT admins can remotely manage the company's entire inventory of mobile devices from one place and configure device apps and settings.
These solutions allow utility workers to focus on doing their work efficiently, effectively and safely, without the need to worry about device configuration or setup.
Ruggedized PTT smartphones are the smart choice for utility communications today. For utility companies looking to move into the mobile future, Samsung's rugged devices offer the complete, field-ready package, all at an affordable price point.
Learn more about how the rugged Galaxy XCover Pro can benefit your utility workers in the field. Or for a deeper dive, read a free white paper on improving connectivity in field services.