The Challenge
Hotel Alessandra is distinguishing itself with a unique, Euro-meets-Texas vibe at its sleek new 21-floor tower in downtown Houston. In keeping with the brand's quietly sophisticated ambiance, hotel executives wanted to avoid the cumbersome chains of phone calls and intrusive radio communications that can bog down service at competitors' properties. They also needed an easy-to-use management system to track and support communication devices. 


The Solution
Hotel Alessandra is leveraging wearables to enable efficient communication across the property. They're tapping Samsung Gear S3 wearables and Samsung partner Hipaax's TaskWatch software, a communication and task management system that seamlessly and silently whisks guest requests and staff communications right where they need to go. Guests access the communication platform via tablets in every guest room, so requests flow quickly and directly to the staff members who can address them, all without being tethered to a smartphone. Additionally, the solution is easily managed using Samsung's enterprise mobile management (EMM) for Tizen devices which supports and secures the device.


The Samsung Gear S3 increases request fulfillment speed
The Results
Guests and staff alike warmly embraced the new, tech-fueled communication system. Requests are fulfilled more quickly, no messages get lost or forgotten, and Hotel Alessandra maintains its ambiance of efficient hospitality, while avoiding excess staffing and shielding guests from the back-end complexity of running a hotel. With Gear S3 smartwatches and TaskWatch software, Hotel Alessandra has been able to simplify and reduce response time for guest-to-staff and staff-to-staff communication, increase efficiency and enhance the guest experience.


As they pass through the doors of Hotel Alessandra, downtown Houston's newest upscale hotel, guests step out of the Texas heat and into European luxury. Seeking to blend sophisticated European culture with Texas spirit, the Valencia Group boutique property strives to deliver elegant, effortless hospitality at every touchpoint — from a Maserati ready to ferry guests around town to concierge tablets in every guest room.
Hotel Alessandra sets the stage in the lobby, where a minimalist approach to décor and design plays with height, volume and natural light. Striking architecture and intriguing shapes reinforce a classical symmetry, resulting in an ideal placement of both indoor and outdoor spaces. Stylishly streamlined guest rooms and suites showcase a perfect complement of comforts. It's all underlined with a thoughtful approach to technology and an impeccable attention to service, ensuring guests have everything they need for a memorable and distinctive stay.
The Customer Need:

Communicating More Quickly — and Silently
Leading up to its grand opening, the proprietors of Hotel Alessandra knew they needed to complement the refined simplicity of the property's décor with an equally elegant communication solution. "As we were planning to open the hotel, we were carefully choosing technology to complement our great service and beautiful building," says Safet Dokara, director of operations at Hotel Alessandra.
"The radios used by staff in many hotels to communicate are bulky, they're not practical and they create noise on the floor. It's really disturbing for the guests," Dokara says. Another issue radios present is that most staff used the same radio channel. Often, two employees would tie up a department's dedicated channel with a long conversation, preventing anyone else in the department from communicating.
Hotel Alessandra's managers also wanted to avoid the cumbersome steps that guests must typically undertake to request services at many properties.
For example, a guest checks in and wants to wash up, but the water is not hot. In many hotels, a guest must call the operator who then logs the call and transfers the guest to maintenance. Then maintenance must track down a repair tech via radio, find out how long the wait will be and finally get back to the guest. "This second call could be disturbing the guest. It just took too many steps," says Dokara. Many services, from room service to maintenance, require multiple, time-consuming steps just to route the caller to the right department — as well as paying operators to do all of the juggling.
Instead, Hotel Alessandra wanted to free staff to focus on getting every detail right, responding quickly to guests' needs and enhancing the seamless quality of their stay. They also wanted to avoid the need to staff up just to dispatch requests from one department to another or delay communication time during an emergency. "Obviously from a security standpoint, radios are not the most discrete form of communication."
"It's exciting to have a sleek piece of technology that simplifies communication."
— Safet Dokara, Director of Operations at Hotel Alessandra
The Solution:
Leveraging Wearables for Effortless Hospitality
Hotel Alessandra's quest for subtle but efficient service led executives to equip the 21-story property with the next big trend in high-end hospitality: wearables. Hotel managers saw wearables with easy push-to-talk capability as an ideal way to coordinate staff and services, while avoiding the disrupting squawk of radios that most hotels use for staff communication.
Today, as guests step into Hotel Alessandra's serene, elegant lobby, they see no sign of the many moving pieces and intricate cross-communication it takes to orchestrate the appearance of effortless hospitality. Each staff member wears a sleek Samsung Gear S3 wearable, customized to their particular tasks and communication needs. Each device contains TaskWatch, a wearable task management software from Samsung partner Hipaax. TaskWatch allows employees to be mobile and hands-free, while keeping them connected to various hotel management systems, such as property management and dining services, via messaging and voice communications. Additionally, each wearable connects directly to the hotel WiFi for easy communication without the need to be tethered to a smartphone.
In each guest room, guests can also interact with employees with an in-room tablet which is connected into the TaskWatch solution. The guest simply touches the icon on the tablet corresponding to the service they need: room service, housekeeping services, maintenance, spa and so on.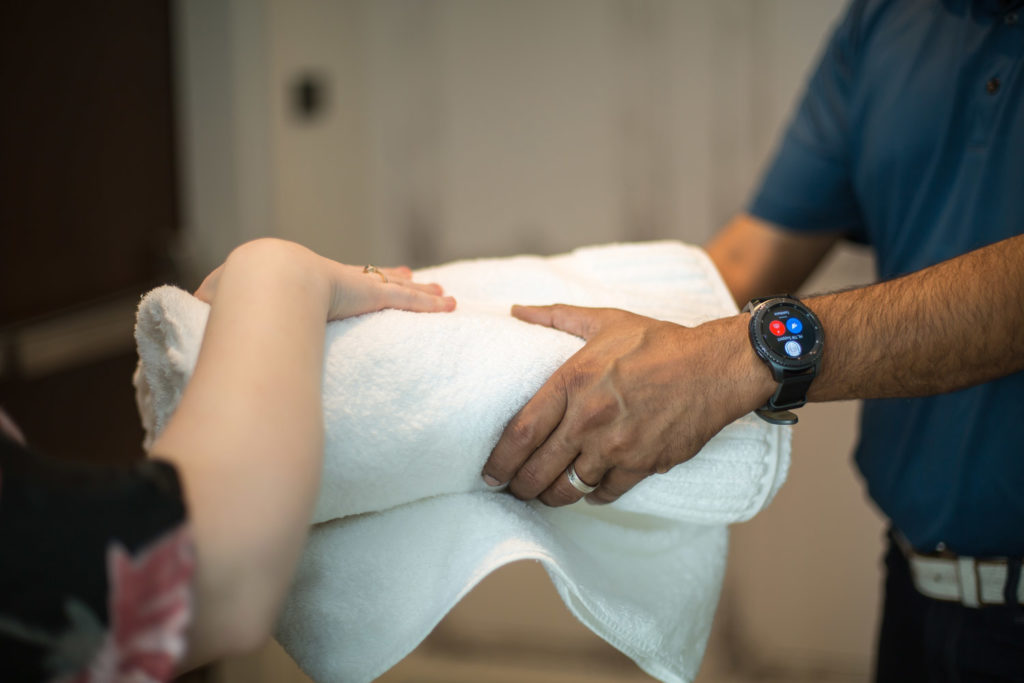 Behind the scenes, the TaskWatch software quickly sends that request to the appropriate department — no out-of-date menus, busy signals or call logging and dispatching to deal with. Then, using rules customized to Hotel Alessandra, the software monitors the status of the request, making sure tasks get completed in the desired timeframe, and escalating to a supervisor if too much time has elapsed. If a guest needs a towel, for instance, that request appears instantly on the smartwatch of the housekeeping employees and the one nearest, can fulfill the request in minutes. In place of harsh static, employees are notified silently with a simple text on their smartwatches via Wi-Fi, and can step discreetly away for a convenient push-to-talk voice call with a fellow staff member. Those whose work carries them out of range, say a valet or the hotel Maserati driver, stay linked via LTE and can communicate hands-free.
"Our-zero code TaskWatch platform made it possible for us to deploy customized process applications with ease and simplicity. TaskWatch adapted to evolving business needs after go-live to deliver a solution that works perfectly for customer needs, especially our silent push-to-talk feature on wearables which is an industry first," said Bharat Saini, CTO at Hipaax.
Communications workflows are quickly and easily customized to the use cases typical for the hotel, sending messages to a group or directly to an individual depending on need and ensuring managers don't get slammed with too many messages. Staff members leverage push-to-talk capability for easy communication, and can leave messages for other employees to pick up when they are able, so no important requests get lost.
"That totally eliminates the need to have someone at the switchboard picking up the calls, logging the calls and transferring through the radio system," says Dokara.
To manage, support and secure the wearables and keep the solution running smoothly, Hotel Alessandra relies on the EMM for wearables solution from Samsung SDS America. The EMM is tuned to support the needs of devices such as the Gear S3 which run the Tizen operating system. Whenever hotel managers want to make a change, those updates are pushed out seamlessly to all wearable devices, which are locked down to prevent any modification to the software.
Stay connected every step of the way and get expanded manageability, customization and productivity.
The Results:
Impressing Guests and Empowering Employees
The TaskWatch solution and Samsung Gear S3 wearables dovetail perfectly with Hotel Alessandra's quietly sophisticated atmosphere. Because it's so easy to learn to use, hotel staff quickly incorporated the solution into their jobs. "There's a lot of excitement from both employees and managers because these devices simplify internal communication between employees, and from room to targeted employees. It's so effective," says Dokara. "It's exciting to have a sleek piece of technology that simplifies communication. It's just a simple device. A couple touches and then it works very effectively and efficiently."
That efficiency was proven soon after opening, when Hotel Alessandra sold out three nights in a row, and 20 to 30 orders flowed directly to kitchen staff within a two-hour period each night. "There is no need for operators anymore. Everything is seamlessly with the Gear S3," Dokara says. In the average hotel, it takes five minutes for a single order to get from the guest all the way to the kitchen — assuming the guest wasn't kept waiting on hold. At Hotel Alessandra, that same journey is made in an instant.
Other benefits brought by the TaskWatch and Gear S3 solution include:
Increased Staff Efficiency: The hotel can devote staff to quickly and efficiently respond to guest needs, instead of just dispatching calls. This reduces staffing needs.
Streamlined, Quiet Communication: Dokara has seen a difference in how his staff communicates. Unlike radios, which allow — and sometimes require — employees to talk at length, messages are more focused and concise, with no waiting for another conversation to conclude. This enables Hotel Alessandra to serve guests quickly, boosting guest satisfaction.
Guest Excitement: "We have such fantastic feedback from our guests when they see us in the lobby with the wearables," says Dokara. "They realize they are used for communication but they're curious — 'tell us how you use this.' It is a very modern piece of communication."
Competitive Advantage: The ability to leverage a cutting-edge technology to create a better experience has also commanded attention from competitor hotels. "We already have our neighbors curious, asking questions: 'What is it? How are you using it?'" Dokara says. "It's created a buzz."
By leveraging TaskWatch and the Samsung Gear G3 smartwatch to embrace the wearables in hotels trend, Hotel Alessandra has set itself apart even among other luxury properties. Guests are free to enjoy the quiet ambiance of the property's minimalist, European culture while knowing that their every request is just a touch away. The solution has been so impactful that Hotel Alessandra is now planning to turn on additional TaskWatch features, such as location and beacon services. The, Valencia Group, is also impressed. "TaskWatch has been so successful," Dokara says, "that eventually all our properties will use TaskWatch."