The Challenge
The King's Academy is a K-12 private school in West Palm Beach, Florida, with 1,250 students and a national reputation for excellence in academics and extra-curricular activities such as competitive sports and the fine arts. The school, founded in 1970, sits on a 60-acre campus and has facilities rivaling those found at many small U.S. colleges. Keeping students informed and connected across this sprawling campus is no easy task, and the traditional methods of PSAs, bulletin boards and take-home flyers were not proving effective. TKA needed a comprehensive messaging system to effectively reach students, faculty and visitors.

The Solution
TKA worked with United Data Technologies to design and install a varied network of digital displays throughout the sprawling campus — serving a range of use cases, from informing students of school news, to selling hot dogs at sporting events, to marketing the value of a TKA education to visitors on open house days. The display network runs on an end-to-end Samsung digital signage solution that includes an embedded system on chip displays and MagicInfo content management software.

Unlike other technology companies, Samsung continues to provide support and is committed to their platform as well.
The Results
The campus-wide display network has had a big impact on helping school staff share and celebrate achievements. Everything from high profile wins of sports teams to typically less-publicized victories of academic clubs such as Science Olympiad can be shared. The dynamic signage keeps current students engaged and also attracts visiting prospects. The network is running smoothly, updated and maintained with minimal effort, and is well-protected against network security risks.


The King's Academy is a K-12 Christian private school in West Palm Beach, Florida, with some 1,250 students spending their time in classrooms, labs and a wide range of other facilities across a sprawling 60-acre campus. A digital communication system on screens around the campus keeps staff and students informed and guides visitors around the campus.
The school's mission is to advance and graduate student leaders who seek to impact their world through academic excellence and spiritual vitality. Founded in 1970, The King's Academy is a National Blue Ribbon School of Excellence, with 100 percent of its graduates going on to four-year colleges and universities.
The Challenge
Keeping Students, Parents and Faculty Informed
TKA is always bustling. With 23 varsity sports, 29 performing arts programs including bands and choirs, and countless special interest activities, there's a lot to announce, promote and celebrate around the TKA campus every day. More than 1,000 students are involved in community outreach programs throughout the school year, such as Rush, Urban Youth Impact, Operation Christmas Child, Samaritan's Purse and various other community events.
For many years, messaging to active students meant public address announcements, bulletin board notices, chalkboard messages and flyers and sheets that were sent home with the kids, but which rarely found their way out of backpacks and into the hands of moms and dads. TKA has a text messaging system that targets student smartphones, but it's tuned more to notifications like schedule changes for practice times and locations, and isn't suited to more general mass messaging. The school also has very active social media channels, such as Facebook and Instagram, but TKA leadership determined that it wasn't reaching all students.
There are so many things happening on and off the TKA campus that demand awareness and deserve celebration, and so much information to convey during events like open houses and campus tours conducted to recruit new students. The school needed a communications solution that was highly noticeable and ubiquitous. "We had tried our own version of some screens, but that didn't work out," says Glenn Martin, TKA's director of development. "So all of that traditional stuff that a school does to communicate was still being done right up until a couple of years ago."
That's when TKA, with its Miami-based IT services provider United Data Technologies, developed a visual communications plan that now provides a reliable, secure end-to-end solution that gets messaging to students, faculty, parents and visitors in ways that are timely, efficient and visually effective.
"We have Facebook, Instagram and Twitter accounts. But, for direct communication, particularly on campus, digital signage is a great way to communicate with parents and students."
— Glenn Martin, Director of Development, The King's Academy
The Solution
Smart Signage Ecosystem Delivers Real-Time Information Across Campus
There are now dozens of networked digital LCD displays strategically fixed around the TKA campus, ranging from 55-in. to 82-in., and including daylight-readable, weather-ready outdoor displays. They're all part of an end-to-end solution using Samsung technology — from the displays to the software used to distribute, update and manage content.
The mixture includes individual displays in common and high traffic areas, a four-screen scoreboard-style cluster in the middle of a dining hall, and displays placed at food services areas, including an outdoor concession stand known as the Lion's Den. In some areas, displays serve multiple purposes — running promotional and program messaging in the lobby of the performing arts venue, for example, but switching to live feeds of productions so that parents with fussy infants can leave theater seating but still see the show. Those live feeds are also used as production cues on backstage screens so that performers can track when they should be on stage.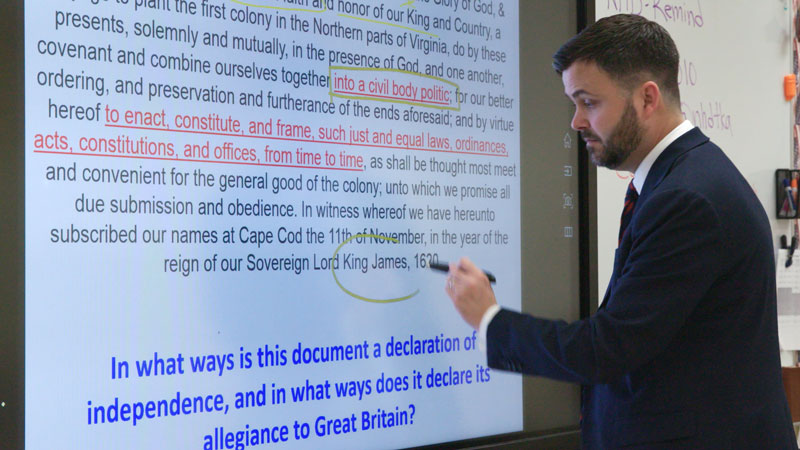 A large, custom-framed display in the school's main entry lobby runs marketing material designed, Martin says, "to leave an eye-popping first impression of King's Academy life."
All the displays are Samsung Smart Signage commercial panels equipped with embedded System on Chip (SoC) media players, and the content network is managed using Samsung's own MagicInfo content and device management platform. The network is run by TKA's IT team, and a member of the digital marketing team handles day-to-day scheduling and content updates.
"We like it whenever we can deliver a complete ecosystem from a single manufacturer," says Daniel Rodriguez, CTO of United Data Technologies, which designed and implemented the system. "At King's Academy we partnered with Samsung to create an end-to-end digital display solution that covered almost every use case King's Academy was looking for. Unlike other technology companies, Samsung continues to provide support and is committed to their platform as well."
"If you think back to the days when students took home folders with a ton of pastel-colored papers or parents read their kids' poorly written notes copied from a blackboard, it was really hard to keep everyone in the loop," says Martin. "Integrating digital displays all over campus was a huge win for us. We can tailor messages and easily keep parents updated digitally."
An interactive display combining the ease and functionality of a touch screen with stunning 4K UHD resolution.
The Results
Stronger School Spirit, Enhanced Outreach and Efficient Messaging
The system is viewed as a major success around the TKA campus, not because of how impressive the installation is, says Martin, but for the range of everyday information it delivers.
"If a particular team or organization wins a championship or competition," relates Martin, "we no longer need to wait until the next assembly to recognize the winners. We can showcase their accomplishments on the displays throughout the campus and truly celebrate success."
"Another key benefit of the displays is being able to show what life is like here during our open houses for prospective families. Touring the school, they see numerous accomplishments or special moments while seeing our great facility. That's the kind of thing that helps facilitate an 'Aha!' moment and leads to families choosing King's to educate their children."

The system has also introduced a degree of efficiency in moving messages around, targeting them to the right audiences. "We can segment a portion of the campus athletics, fine arts or academics, and send messages just to those displays with very little effort or time."
Rodriguez says the technical experience has been equally positive. The end-to-end solution went in easily for several reasons. Using SoC, there was no need for separate network connections or additional power plugs, because smart panels reduce installation demands to one cable and plug that powers everything and includes Wi-Fi. SoC, Rodriguez says, is also far more secure and easily managed than separate Windows-based media players, devices and operating systems that steadily need patching and protection.
United Data Technologies does a lot of work in K-12 education, and Rodriguez regards what's been developed at The King's Academy as a glimpse of the future for visual communication in both the private and public school sectors.
"There's a lot more to this than what we traditionally see in education," Rodriguez explains. "I'd argue that outside of higher education, which has done a much better job of constituency communication, The King's Academy really leads in the education space when it comes to communication using digital signage, and all of the different channels that they use to engage their customers — from students to parents to faculty. They really are an excellent showcase of leading the industry."