In this News Insights, Forbes looks at the battle of marketing vs. technology over who owns "innovation" in retail. For an approach that combines the two, check out our comprehensive guide to pop up stores and the future of retail. –Samsung Insights editorial team
If there is one word on most retail executives' lips lately, it's the i-word: innovation. Whether a vertically-integrated luxury brand or a fast-turning low-consideration convenience store, retailers are feeling the pressure to be more innovative.
There are two executives who seem to be tasked with this mandate more so than others in the organization: the CMO and the CIO. In healthy organizations, those two people theoretically work well together, side by side and aligned to the same goals and objectives. In most retail organizations, you could not pick two more diametrically opposed executives within the same company, especially after the rise of eCommerce, and then the advance of marketing technologies ("martech").
When the CMO is tasked with innovation, the intent is to create more innovative customer experiences and to focus on customer engagement. When the CIO is tasked with it, the objective is to make the company more "digital" – faster and more flexible when it comes to enabling new processes. That should lead to a lot of overlap between what the CMO is trying to accomplish, and what the CIO is working on, but the reality of past technology choices, particularly in marketing, make this relationship challenging. With the rise of eCommerce, usually under the aegis of the marketing department, came the rise of an alternate technology organization, not tied to the CIO. And then shortly after, came martech, much of which was delivered as Software as a Service – which meant anyone with a credit card could buy in, no CIO approval required.
Create the Shopping Experience of the Future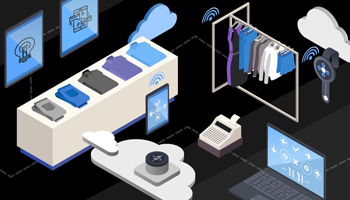 This guide explains how IoT tools can close the gaps in your omnichannel retail strategy. Download Now
So now the demand has come from the board and from the CEO that the company needs to be more innovative and digital – and either or both the CMO and the CIO are in the spotlight. In fact, many retailers are unleashing the creativity of their teams across the enterprise, increasingly authorizing experiments and projects to experiment around customer engagement and more digital ways of doing business.
One unfortunate downside to this is a dilution of resources. When everyone is "doing innovation" the end result is spreading resources far and wide – but not deep – and doing so without building core innovation capabilities.
Part of the problem here is that retail has never needed an innovation "capability" before. Even product-driven brands have not had to focus on things like research and development – though technology's creep into every aspect of our lives, from wearables to automated service delivery, is changing even this part of the business. Retail has too long depended on positioning around "having the best selection of brands" – you don't need foundational research and development in that model, you just need to be really, really efficient at what you do.
The internet has killed that "selection" model. Retailers either have ALL of the brands – as Amazon tries to be – or they have to offer unique brands or products, because curation alone is not enough to be differentiating. Another selection of brands in the same category is but a tab away online.
So when retailers start looking to "be more innovative", one of the first challenges they face is in raw research and development, and whether they are willing to make that kind of investment – and if they do, deciding who should own that.
Big, mega-tier-one retailers are investing in Labs, and staffing those labs heavy on the technology side. But they are creating those labs far outside the enterprise, sometimes in cities far away from the corporate headquarters. And the people who go into those labs don't have the experience or the training to truly relate what they're doing back to retail – the industry that ultimately should benefit from the work the lab is doing.
To answer the question of who should own innovation, you have to first answer the question of what kind of innovation is needed. For retail, there are really two kinds: process innovation – this gets to the CMO's mandate to come up with new ways to engage with customers, and technology innovation, which gets to what the CIO is being asked to do.
Part of the whole point of digital transformation is that technology is changing what process can do. Which means that even if a CMO wants to come up with a crazy idea for how to engage customers, technology has to go along with it in order to enable the process.
That means the CIO should ultimately own innovation in the retail enterprise – because ultimately, we're talking about using technology to enable new ways of executing existing processes, or new processes altogether. If retailers continue to rely heavily on labs that are highly external to the organization – assuming they can afford one to begin with – then their innovations will continue to be challenged by what it takes to actually bring a cool new innovation back into the enterprise.
Ultimately, it's technology that's going to make the new innovation possible – and certainly it is going to be information systems that will be responsible for capturing and using the data that any new process creates. So while the CMO might have the organization that is tasked with coming up with new ways of doing things, it's going to be the CIO who is going to have to find a way to make those new ways possible – in a sustainable way.
Which means the CIO should be the owner of innovation in the retail enterprise – at least, if retailers are serious about digital transformation.
This article was written by Nikki Baird from Forbes and was legally licensed through the NewsCred publisher network. Please direct all licensing questions to legal@newscred.com.
Download our comprehensive guide to pop up stores and the future of retail. Find out why not all pop-ups deliver the same value and learn how to transform data dark to data bright, drive customer loyalty and deliver customized content to individual shoppers.