Computer-aided dispatch (CAD) systems have become the cornerstone of uniformed police operations, organizing and prioritizing activities while maintaining a record of officer and dispatcher actions. For more than three decades, officers have interacted with their departments' CAD systems by using in-vehicle computers, which have become standard in patrol vehicles.
Although in-vehicle computers have proven to be workhorses, they have one major shortcoming: functionality ends when the officer leaves the patrol vehicle. For officers who are not assigned to a vehicle, there may not be any CAD access at all, other than using a radio to ask a third party to perform an action — hardly an efficient way to do business.
Forward-thinking police leaders across the country are taking a closer look at the way mobile technology can enhance officer effectiveness and safety. Increasingly, the focus is on the concept of a "connected officer" — a new paradigm where officers have full information access via smartphone, allowing them to support officers in any assignment regardless of their proximity to a vehicle. Wearables like the Samsung Galaxy Watch are extending capabilities even further by providing unique features like discreet notifications, duress alerts and the capability to sense when an officer suddenly starts running.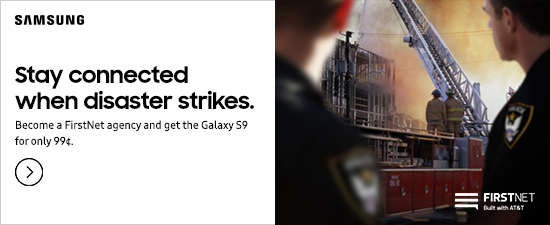 CAD on Smartphones and Smartwatches
Samsung is working closely with leading public safety software providers to ensure smart, streamlined access to CAD and other critical resources for officers using its portfolio of mobile devices in the field. Many of these companies are designing their CAD products to take full advantage of Samsung DeX, which allows a Galaxy smartphone to serve as the functional equivalent of an in-vehicle computer by pairing it with a display and keyboard while in a vehicle. Unlike in-vehicle computers, however, DeX allows the officer to remove the smartphone and take it with them on foot, so they can maintain full CAD functionality at all times.
Your Guide to Mobilizing Law Enforcement
Plan and implement a mobile initiative at your agency with this practical roadmap. Download Now
Using the same device both in and out of the vehicle simplifies device management, and the potential savings to the organization are significant. DeX also excels at replacing a regular desktop computer in the station — all an officer needs to do is connect their smartphone to a DeX workstation, and then write a report, complete with pictures taken on the smartphone while in the field. In essence, DeX supports the officer by providing full functionality whether in-station, in-vehicle or out in the field.
Leading CAD Providers Embrace Mobile
Mobile CAD capabilities are advancing rapidly, and Samsung has been working collaboratively with many of the top names in public safety software to provide innovative functionality on Galaxy smartphones. Many of these companies are also diligently working to take full advantage of the unique operational possibilities of the Galaxy Watch. These are some of the trusted partners who are creating effective mobile tools for officers:
Caliber Public Safety serves hundreds of public safety organizations — from local agencies, county and state-wide implementations, to federal agencies — with their CAD and mobile solution. Caliber PocketCop, a powerful extension of the Caliber CAD solution, is optimized for Samsung's DeX interface and provides first responders with access to mission critical BOLO's and CAD Call assignments while on foot or special patrol. In addition to DeX integration, PocketCop also leverages the Samsung smartwatches including the Gear S3 to securely and discreetly alert users when their phone is out of reach, ensuring unobstructed access to mission-critical data no matter where they are.
CentralSquare Technologies (formerly TriTech, Zuercher and Superion)
CentralSquare is partnering with Samsung to prototype the use of wearables as yet another extension of mobile CAD in the field. The vision for this capability is to allow first responders to send their location back to dispatch, update their status, view incident details and leverage haptic feedback as a trigger for critical alerts and requests for assistance. CentralSquare's smartphone app delivers incident and unit status details to the device and has been optimized to run on Samsung's DeX in-vehicle computing platform.
Hexagon Safety & Infrastructure
Hexagon's Intergraph CAD (I/CAD) is a suite of incident management software, featuring complete, integrated capabilities for call handling and dispatching, intelligent mapping, field communications, data reporting and analysis and application integration. I/CAD enhances the quality and availability of critical information, providing a common operating picture for intelligent response. Hexagon is optimizing a DeX-capable Android CAD solution and has a web-based records management system.
Motorola Solutions (includes PremierOne)
Motorola Solutions' PremierOne Suite is transforming public safety and dispatch operations by streamlining the capture, correlation and real-time distribution of mission-critical information. PremierOne improves the decision-making capabilities of dispatch personnel and increases responder awareness in the field. Motorola Solutions brings the power of PremierOne to smartphones and tablets. With the DeX integration, this solution supports a single device serving as an in-vehicle computer, an in-field query device and an in-station computer, bringing mobile functionality to a long-trusted CAD product.
Northrop Grumman's CommandPoint® Mobility platform is designed for Android tablets/phones and Galaxy wearables to bring CAD interaction to the fingertips of first responders operating on foot, cycle, horseback or other scenarios where it is not feasible to have a screen visible to receive alerts. On the wearable, distinct patterns of vibration and screen colors alert responders to information while keeping their hands free. Responders can use the watch to acknowledge notifications, change their status, or activate an emergency alert to surrounding officers. Tablets and phones provide full access to CAD data and third-party interfaces. Paired with DeX, the phone becomes a full replacement for fixed in-vehicle computers.
Built by first responders for first responders, RapidDeploy's cloud-based CAD and 9-1-1 analytics software are cloud-native in the secure and scalable Microsoft Azure Government cloud. RapidDeploy uses a future-proof open API framework, featuring ESRI, third-party interfaces such as Waze, and Priority Dispatch Titanium integration worldwide. In addition to offering native responder applications compatible with Samsung Galaxy smartphones and a Tizen integration for Galaxy Watch, the RapidDeploy CAD is also fully web-based, which allows agencies to turn any patrol car with Samsung DeX into a fully featured mobile command post within seconds.
SmartCOP's SmartCAD system features complete, integrated capabilities for call handling and dispatching, intelligent ESRI-based mapping, comprehensive tracking of units and incidents in a single or multi-agency, multi-jurisdictional environment. SmartCOP's Samsung DeX solution provides real-time SmartCAD data on the DeX platform using Galaxy smartphones and smartwatches. Officers can view active CAD incidents, enter calls for service, perform CJIS queries, route units with Google map turn-by-turn directions, change unit status, view current call location, and look up call detail, making the Galaxy smartphone an indispensable tool.
Tyler Technologies (includes New World)
Since 1981, Tyler's New World CAD has evolved to meet the needs of public safety professionals. By extending the functionality of mobile data terminals (MDTs), the New World ShieldForce™ and CrewForce® apps provide sworn officers and fire crews access to mobile CAD functionality on Galaxy smartphones, tablets and watches. These core applications have been optimized to run on Samsung's DeX in-vehicle computing solution. With a simple and modern user experience, ShieldForce and CrewForce allow first responders to view call and unit details, run NCIC and RMS searches and stay connected in the field.
Making the Call for CAD Functionality
Samsung is proud to partner with companies who offer premier public safety software solutions, so that first responders will always have ready access to the information they need. Department leaders who want to take full advantage of the mobile-first approach to policing should check with their current CAD vendor to determine what is available.
If you don't see your CAD vendor listed above, contact your vendor representative and tell them that you are interested in putting CAD functionality on your agency smartphones. It's not a matter of if, but when, this capability becomes an officer expectation.
Learn more about how smart devices can help improve officer safety and information access.