The standard wearable device paired with custom APIs is simplifying the use of digital technology in healthcare settings. That use will only grow as hospitals look for ways to cut readmissions and manage patients with chronic conditions. In addition, a growing population that hopes to age in place presents another major opportunity for health facilities. Using wearables to achieve these goals is easier than ever, thanks to the flexibility of wearable software.
Customizing Wearables in Healthcare
The wearable software inside standard devices can be custom tailored to meet precise institution needs, whether that's a hospital, a nursing home, a patient home or a clinical research organization (CRO).
Here are some of the advantages brought by wearable solutions in healthcare:
Consumers are becoming accustomed to wearables, and costs for the devices are reasonable. There is no stigma attached to these devices, making their adoption more widespread.
SDKs and APIs make programming and customizing the devices much easier. The devices are easy to code and offer a simple interface that is intuitive for the end user.
In health settings, security is paramount. You can set the devices to encrypt stored data and disable sharing features like cameras and external storage.
Real-time transmission of data means that healthcare providers can be alerted to any change in vitals that may indicate a problem. Hospital readmissions can be prevented through early intervention.
From Hospital to Home and Beyond: Wearable Use Cases
In the hospital, patients are under the watchful eye of caregivers. Wearables enhance that care by pairing with secure message apps to enable real-time, two-way communications between staff that's accessible with just a flick of the wrist. Beyond simple messages, some of these apps allow instant sharing of other data, like images or lab results.
The first few days and weeks after leaving a hospital can be critical in determining whether the patient will be readmitted. That's why hospitals are sending patients home with wearable devices as a way to prevent readmissions. These devices allow for remote monitoring of vital statistics and can send alerts to healthcare teams of potential recovery problems. Devices can also be set up to deliver reminders for taking medication and about treatment, rest or diet needs following a hospital stay.
Reemo Health offers a remote mobile health platform that pairs with the Samsung Gear smart watch and Samsung's SmartThings connected home technology. This pairing supports seniors aging in place and those in independent living retirement communities. The watches are stylish, making it more likely that residents will wear them. More importantly, they track and monitor wellness factors like movement and heart rate. Care providers can note and quickly respond to any concerning risk indicators. Additionally, wearers can use hand motions to operate things like lights, locks and thermostat. It also provides two-way communication with family members or other caregivers.
How to Create a Mobile-First Hospital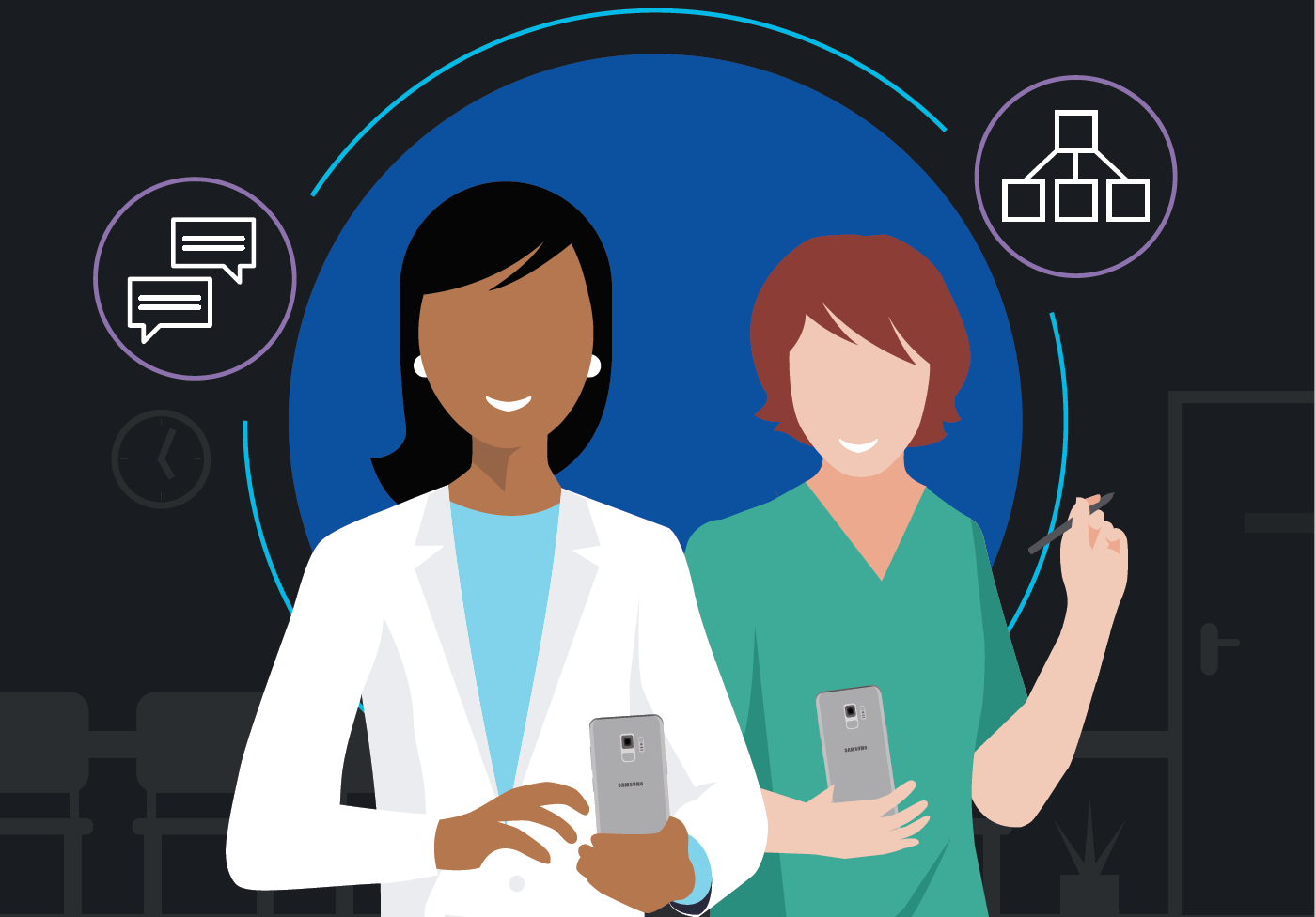 Get your free guide to modernizing clinical communications with smartphones. Download Now
Wearables are also blazing a trail in clinical trials. Obtaining accurate data from subjects and keeping them engaged through trial completion are hurdles that many CROs face. Wearables provide a solution to both of those issues: they can be programmed to gather certain vital statistics that could be useful during a trial, and they can also be customized to send specific messages and reminders to participants. Those messages could be used to keep the participant encouraged and engaged as the trial progresses. They can also be used as reminders to take certain medications or log certain data.
Using Knox Tizen SDK to Customize Wearable Apps
Hospitals and other health facilities can take off-the-shelf wearable devices and then customize them to meet their specific needs. The Samsung Knox Tizen software development kit (SDK) offers customization APIs to enable the apps that control devices like Samsung Gear smartwatches. Health IT teams can use these APIs for device management, customization and added layers of security.
With customization APIs, healthcare teams can create their own purpose-built devices. This means you can restrict what the user can do on the device and decide which apps a user can view and run. You can also block the ability of the user to change settings.
In enterprise environments, IT admins can use mobile device management (MDM) systems to retain control over company devices, including wearables. Using the Knox Tizen SDK, you can build apps that work as MDM agents and can receive administrative instructions. Whether used for employees or patients, you can manage profiles, security policies and any proprietary apps. Knox Configure can significantly reduce administration costs by streamlining device customization, configuration and deployment. It also eliminates the time-consuming process of manual reconfiguration of wiped devices.
In the healthcare setting, mobile devices may be used to collect, store or transmit private patient health information. Samsung Knox offers multilayered, defense-grade security that spans from the hardware to the application layer. Knox received "strong" ratings in 25 of 28 categories in Gartner's 2017 report — so you can send and receive patient and hospital data with confidence.
The adoption of wearables presents a new frontier in digital health. In hospitals, homes, nursing homes and more, Samsung wearable solutions can help you deliver better patient care.
Learn more about how wearables are paving the way for digital innovation in healthcare.