How central is the hospital room to the patient experience? During a hospital stay, that's where patients spend most of their time. It's also where most interactions with care providers — from doctors to nurses — happen. The success of those interactions, and the communications that drive them, play a significant part in how the patient views the facility and, therefore, play a direct role in patient satisfaction.
There's another reason why the patient experience is important for hospitals: consumerization of healthcare. This has resulted in the overall population realizing they hold the power to choose, to spend their money at the facilities of their choice. Hospitals realize they face competition, making patient satisfaction a necessary focus.
The Hospital Consumer Assessment of Healthcare Providers and Systems (HCAHPS) survey asks hospital patients to rate their overall experience. Through HCAHPS data, professionals see how clinical care and patient experience entwine.
Increased focus on both areas leads to better patient outcomes and, unsurprisingly, better operating margins. The Deloitte Center for Health Solutions compared HCAHPS scores to hospital performance measures. They found hospitals with "excellent" ratings realized an average net margin of 4.7 percent, compared to 1.8 percent for those with "low" ratings.
Improving the Patient Room Experience
In response to competition and changing consumer attitudes, many hospitals aim to improve the hospital room experience. One focus has been on making the room more pleasant, placing more control in the patient's hands and delivering timely updates directly to the patient. This includes integrating technology such as:
Smart TVs with hospital-specific features and tablets that offer the patient a room control center. These often display the room number, contact information, and photos and names of their care team.
Systems that give control of the room's environment to the patient, allowing them to adjust settings such as lighting, temperature and even TV volume. When patients are able to control these factors, nurses no longer have to take time away from critical care to make these types of room adjustments.
Smart TV and tablet combinations that serve as information centers for patients. With these devices, they can view procedure schedules, note the progress of their care and even watch educational videos to learn more about their condition.
Better Clinical Communications, Better Patient Care
Good clinical practice also depends on successful collaboration and communication between multiple parties. Legacy systems and dated technology, such as pagers, impede their goal to receive information and act in real time.
Revolutionize the Patient Experience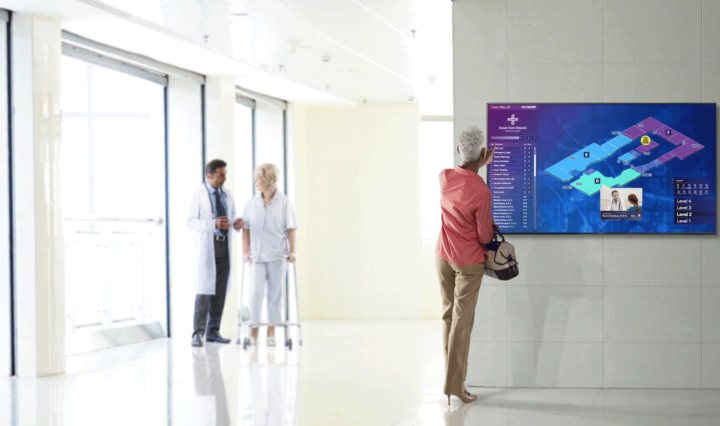 See how innovative hospitals are using digital technology to keep patients happy and healthy. Download Now
To tackle this challenge, hospitals are turning to secure, real-time message platforms, such as TigerConnect. This tool is designed to work specifically in a healthcare setting with a goal of reducing response time, so that clinicians can quickly tend to patient needs.
Streamlined communications can help improve care and reduce confusion among staff. Angie Inlow, vice president of channel and business development at TigerConnect, says the company's goal is to enable in-the-now discussion and action around patient care. "We try hard to have our solutions map to the actual workflows that happen in health facilities. We want our tools to solve the real-world problems that confront our clients," she says.
For example, with TigerConnect, a nurse can have a conversation at the patient's bedside, view their latest lab results, loop in the doctor using TigerConnect on a mobile device and get a response to act on in real time.
From a more administrative standpoint, the solution simplifies data entry and makes it easier to locate important information, so nurses and care providers don't need to constantly sift through piles of records.
"When you think about healthcare costs and patient satisfaction, you want to improve the way patients are seen and cared for," Inlow explains. "Real-time clinical communications allow for fewer mistakes in patient care and increases patient satisfaction, because the patient gets to see and benefit from the efficiency of care decisions. This also delights hospital administrators because it ensures that those being treated get the right care quickly, keeping their patients healthy and their staff happy."
Whether it's putting temperature control in patient hands or ensuring secure real-time nurse communications, even small changes can improve overall satisfaction and outcomes. For hospitals, that result is worth the investment.
Explore cutting-edge healthcare technology in more depth by checking out our full line of healthcare solutions.