The Challenge
Savage, which operates approximately 900 dry and liquid bulk vehicles across the continental United States, needed to achieve compliance with the federal electronic logging device (ELD) mandate. They also wanted to improve fleet operations and maintenance with in-cab technology without adding new burdens for drivers or IT. The overall goal for Savage was to improve safety and reliability for its vehicles and drivers. "Our choices were about the future," said Dallas Hartle, director of infrastructure solutions. "We were interested in not just supporting electronic logging but looking at what else we might want to do and making choices that would give us the capability to grow." 


The Solution
Samsung worked closely with Savage to plan and manage the device rollout. Savage chose the Samsung Galaxy Tab E with the Samsung Knox Manage cloud-based enterprise mobility management (EMM) solution to configure and manage the tablets and access them remotely for troubleshooting. For ELD compliance, the tablets connect to Geotab's GO vehicle tracking device and use Geotab Drive software. The tablets also carry several proprietary dispatch and routing applications developed by Savage and third-party software for maintenance scheduling. 


Our biggest requirement was the ability to manage and control the device in a way that it could be used for business only.
The Results
Savage has met its primary goal of becoming ELD-compliant with a solution that is safe and easy for drivers to use. It has also simplified and consolidated its in-cab technology footprint with devices that are simple to install, perform reliably and stand up to the rigors of the road. IT has managed the rollout without any increase in staffing and is able to lock down the devices. This means drivers can only use them for business purposes when not operating their vehicle and the business does not exceed its monthly data allotment. Innovation around the platform is flourishing as IT learns new ways to improve device management.



Founded in 1946 as a one-truck transportation company, Savage has grown into a transportation and industrial services powerhouse with more than 4,000 team members across North America and internationally.
The company has grown both organically and through acquisitions, adding new capabilities that complement and augment existing services. The company's mission is to enable its customers and partners to "Feed the World, Power Our Lives, and Sustain the Planet." This includes creating value for its customers across their supply chains by delivering excellent logistics performance.
Today, the Salt Lake City-based company offers a wide range of expertise in rail, truck and marine transportation, logistics and materials handling. It also provides industrial and environmental services for industries including oil refinery, power generation, railroad, food and agriculture, oil and gas, chemicals and petrochemicals, ports and terminals, mining and construction.
Building on its heritage of truck transportation, Savage operates a fleet of specialized haulers dedicated to critical dry and liquid bulk materials.
The Challenge
Compliance? Yes. Data Overages? No!
Savage undertook the installation of ELDs across its fleet out of a need to comply with a federal mandate and to continue improving the performance and safety of its fleet. "Putting smart tablets in the cabs was something we had never really done," said Hartle. "We didn't have any expectations going into it." Beyond the compliance necessity, one top priority was preventing a cost blowout on data usage by the drivers. "When you start putting internet-facing devices in vehicles, you worry about what it will mean," he said. "Our biggest requirement was the ability to manage and control the device in a way that it could be used for business only, in compliance with our safety rules."
Initially, Savage did not know what sort of costs would be involved with deploying, managing and using the tablet devices, but their team knew there were several important criteria to consider when implementing a new technology solution. "With ELD there was a mandate, and we had to put this in the majority of our vehicles," said Tyler Snarr, mobile equipment manager. "But since we needed to do it, we wanted to get the most for our money." That meant deploying and managing the tablets cost-effectively, managing mobile applications and supporting the drivers who need to log their hours and manage their work.
The Solution
Tablets That Can Be Customized and Managed Remotely
Savage chose the Samsung Galaxy E tablets with Samsung Knox Manage, for end-to-end, remote management of the devices and applications. "It really was the right decision for us," said Hartle. "With Knox Manage, we were able to lock down the tablets significantly and control what users see on their screen. This was key to their safety and reliability. We can decide which applications they can access, and we're able to lock down all the applications that could use more data than is necessary. We can also lock down the internet access while still calling on the default browser to display certain corporate websites that we want them to see at the appropriate times. There is a lot of flexibility from a hardware standpoint when it comes to managing the data usage and security. We get that only from Samsung."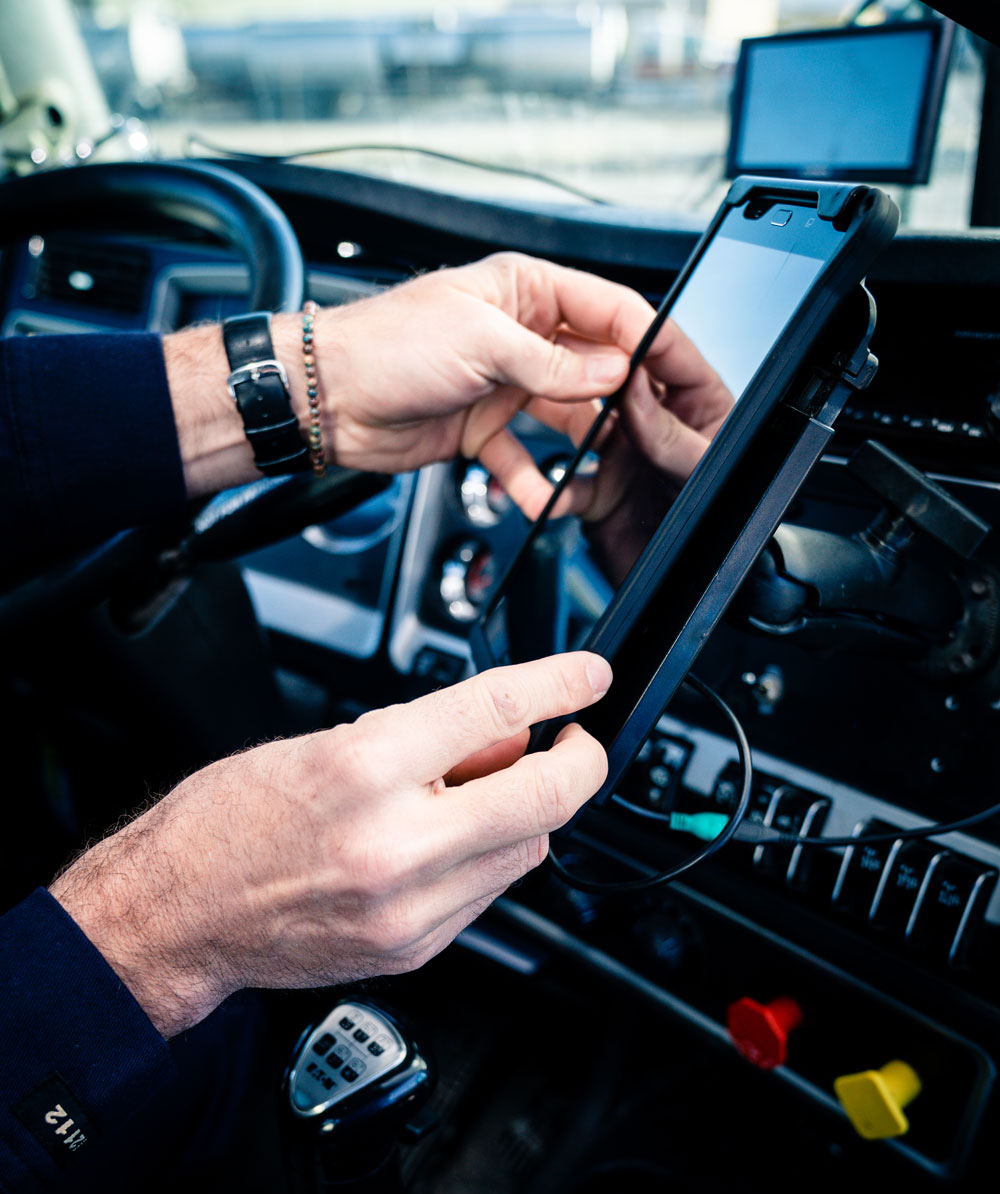 Savage manages all the tablets from its IT hub in Salt Lake City. "We do as much white glove work as we can on our devices," said Snarr. "We bring the devices here first, set everything up, and have it locked down before we send it out to the end users." Every device is configured to match one of the several workgroup profiles created by Savage, which typically include Geotab Drive, a maintenance app, several proprietary apps and a selection of websites that can be browsed via the default Samsung browser without exposing the URL line. "For example, there may be some drivers in California and Maine that need to have the same look and feel on their tablets, so we put those two groups into the same category, whereas folks in Texas and North Dakota may need something different," Snarr said. "We can choose which operations see certain apps, and if it's something that should be seen by all users, we can push it to every device."
Savage installs the tablets with hardware from RAM Mounts. "You only have to connect the power supply and ground the device, and everything else is all set. You put the mount directly onto the dash with a couple of mounting screws, and there are no extra installation pieces," he explained. "There is minimal instruction required, which made it a lot easier for us sending it to so many places. In cases where they don't have on-site mechanics, we were able to hire third parties and easily explain what they needed to do to complete the installations for us."
The Samsung tablets are paired with Geotab's GO vehicle tracking device as well as a camera in the cab. The new hardware replaces a Windows CE-based solution that was more expensive and less reliable, with more components that could fail, such as an external GPS and a cellular antenna.
Drive your business with powerful and simple device management, support from tailored partner solutions, customization capabilities and defense-grade security.
Designed for all-day, everyday business use with a long-lasting battery and 4G LTE connectivity.
The Results
Delivering Value in Unforeseen Ways
Savage's primary goals of bringing drivers into compliance with the ELD mandate and increasing safety and reliability have been met. Drivers need minimal training to use the devices properly, and adoption has been widespread. "If they can turn on their cell phone, they can work with the tablet," Snarr said. "We are able to present our applications in a much cleaner way and add more applications, so the drivers can input their data in more of a real time way."
The important secondary goal of controlling data usage and limiting the device to business use only has also been met. Data overages can be expensive, and Savage wanted to eliminate any ambiguity about the tablet's purpose. Snarr said he uses Knox to install settings that let the drivers visit any websites needed for company work without being able to visit unauthorized sites and consume data for nonwork purposes.
"To give them access, we built an Android application that uses the internal Samsung browser to create a page where they can open up applications. We don't have the URL exposed. Instead we have a banner across the top of the screen that is just the title of the application. They can open a site and navigate within it, but no further."
The Savage IT team manages all the devices nationwide from Salt Lake City and has not had to add new staff. "What sells this for me is the manageability," Snarr said. "We manage the apps from here, and I can send the same device to anyone anywhere and then just change the profile by changing one setting, and they've got the applications they need. We've been able to set up different profiles based on the work that that vehicle does. Even if somebody takes a tablet from their operation and ships it to someone else to lend them a hand, I can make a simple change from here, and the correct apps will download automatically. They're up to date, and I don't have to ask them to do anything. It's really smooth."
One pleasant surprise has been the durability and reliability of the Galaxy Tab E devices. "I am impressed with the longevity of the base model tablet," Snarr said. "I had my doubts they would last, but we have devices that are two-and-a-half to three years old, and we have spent a minimal amount of money, compared to the old Windows CE devices. We thought we would throw these away every year and still save money, but they are lasting, and so we are saving even more. The tablets are very reliable too, and we do very little troubleshooting."
Application deployment is easy, as well. "Before, we had several different devices, and we had to write applications specific to their software. Different trucks had different devices, different programming and different everything. As we are moving more to this singular platform, it is easier to support and manage our applications and we are able to do things with our applications that were somewhat limited by the other platforms we were delivering towards."
Innovation has flourished with the Android platform. "There are so many ways we can connect to it and get feedback from it. Even the simple things like the way we can bookmark our applications and provide access to different websites. That wasn't part of the plan initially," Snarr said. "We found a way to make it work, and people don't have to go back to the office and get their computer to send a job down to the tablet. They can just log into the device and send the job down to themselves.
"I am confident that there is more that we haven't figured out yet," he added. "There are much greater possibilities here than we had before."