Smartphones are a key productivity tool for both work and personal lives — and it's often pretty obvious when an upgrade is needed. But sometimes the signs can be subtle, at least until the tech is really holding you back.
Maybe the aging battery requires you to always carry an external charger with you. Or you're stuck awkwardly looking at a loading screen while everyone in a meeting waits for you to start your presentation. Maybe you had a security scare — or an actual breach — and are ready for the next level of biometric security, Ultrasonic Fingerprint ID.
If you're wondering whether you might be due for an upgrade, here are nine clear signals to watch for.
1. A Screen for Sore Eyes
Are you tired of squinting at your phone's tiny screen or constantly zooming in to read your boss' emails? Screen size has continued to increase over the years, making it easier to get work done and take advantage of mobile multitasking features. The Samsung Galaxy S10+ has no physical home button and no notch on its impressive 6.4-in. display — so you can see more content and hold less phone. If your phone is more bezel than screen, it's time to upgrade.
2. Need for Speed
Users are constantly told they now carry supercomputers around with them everywhere they go — but do you spend more time waiting for apps to load than you do actually using them? Application processor performance improves significantly with each generation of smartphones. And newer phones — like the Galaxy S10 and S10+, with 8GB of RAM as the base standard — have plenty of memory, so you can get more done with your device. You'll really see the computing capabilities of the latest Samsung devices when you use Samsung DeX, which provides a desktop experience powered by your phone.
3. Security Worries
Because smartphones contain not only personal information, but also professional data, they are one of the most popular targets for theft — and not all phones are created equal when it comes to security. If your device does not offer hardware-level security or you are no longer receiving regular security updates, you should think seriously about upgrading.
What's the Best Phone for Your Business?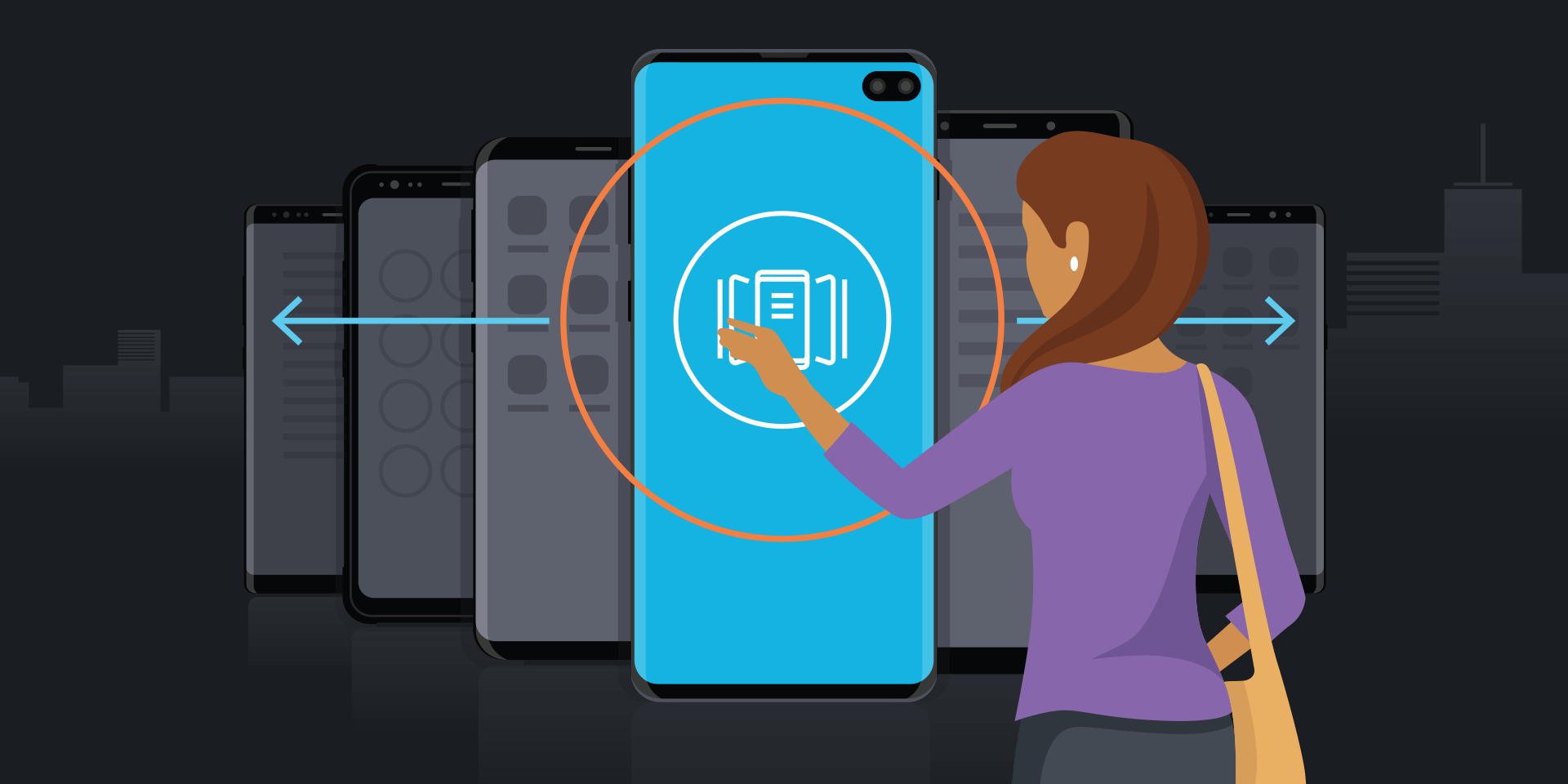 White Paper
Take this quick assessment to find the smartphone most tailored to your business needs. Download Now
4. Password Problems
Passwords are a pain. Not only are they tough to remember, they're also susceptible to hacking. With biometrics, on the other hand, you can reduce your reliance on passwords and increase your device security. Smartphones have had fingerprint scanners for a number of years, but newer devices come with more options, including iris scanning and facial recognition.
5. Battery Life Blues — and Reds
Watching the battery icon on your smartphone drain faster than free donuts disappear in the office can be a desperate feeling — one which many smartphone users suffer on a regular basis. The lithium-ion batteries that power smartphones inevitably begin to see reduced performance after 300-500 charging cycles, according to Battery University. If you have an older device, its battery life is likely well past its peak. Newer devices offer all-day-and-more battery life (and recharge in under an hour), so you never get shut out of your device. The new S10 also introduces new artificial intelligence (AI)-powered power management, which preserves battery life when it's not needed by turning off unneeded functions.
6. Wireless Charging
Are you sick of scrambling through your desk drawers for the right cable to charge your phone? Are you tired of navigating the thicket of cables consuming your desk space? Welcome to the uncluttered future. Wireless charging is not only convenient, but with fast charging technology, it also means you spend less time charging your phone, so you can spend more time using it. Want even more options? The S10 is the first phone to offer Wireless PowerShare, which lets you boost another device's battery on the go.
7. Mobile Hydrophobia
Mobile phones tend to be at greater risk of water hazards than other computing devices — after all, you take them outside and basically everywhere with you far more than any other device. However, with Samsung phones, you don't need to be afraid of water. Samsung was among the first to introduce water resistance on its flagship line, and the new S10 continues that tradition with its IP68 rating.
8. Storage Overload
Have you found yourself deciding whether to delete a video of a precious puppy or family vacation in order to download a critical work file? If so, it's probably time for a new phone with more storage. With the Galaxy S10, you get a choice of 128GB or 512GB, and with the S10+, your new device can come with up to 1TB of onboard storage — so you'll never have to sacrifice photos, files or videos to stay caught up again.
9. Voice Assistant
Do you ever feel like you're not being heard? If your smartphone lacks a voice-activated personal assistant, you might be stuck talking to yourself. As the rest of the world tells its phones to send messages, answer emails, update calendars, read the news, check the weather and more, you'll just be listening to your own voice.
Still on the fence about upgrading? Discover how Samsung Smart Switch makes the move to a new Galaxy S10 simple.