Digital signage and A/V professionals — as well as architects and commercial space designers — will walk into an InfoComm 2019 exhibit hall this June filled with screens of every dimension and purpose.
Smaller displays will provide directions or meeting room availability. High-bright displays will communicate and market products – even in direct sunlight. Others – wall-sized, even – will turn lobbies and hallways into jaw-dropping multimedia showcases.
Every year the show offers a rainbow of sizes, shapes, and enhancements in the digital signage industry and how it's propelling transformation across any and all verticals.
Let's see what to expect at InfoComm 2019.
LED Blazes Forward
So, what are attendees going to see in Orlando this June that will prop up the rapid rise and evolution of direct-view LED display products? Just five years ago, LED displays were best suited to outdoor advertising billboards and stadium scoreboards. They looked great at a distance, but in closer proximity, viewing was compromised. The pixel pitch — the distance between each LED light — was too coarse. Onlookers coming within even 100 feet could see each light and the gaps between them.
This wasn't so much a detractor as much as it was a hindrance to user experience.
That's changed entirely. Where the legacy LED displays shown at past InfoComm events had pitches of 4-mm., 6-mm., and even 10-mm. and more, manufacturers this year will market direct-view LED displays with pixel pitches of less than 1-mm. That tiny gap — roughly the thickness of a dime — means these fine- or narrow-pitch screens look great from the same sort of distance that viewers watch TV at home.
Securing Digital Displays in Government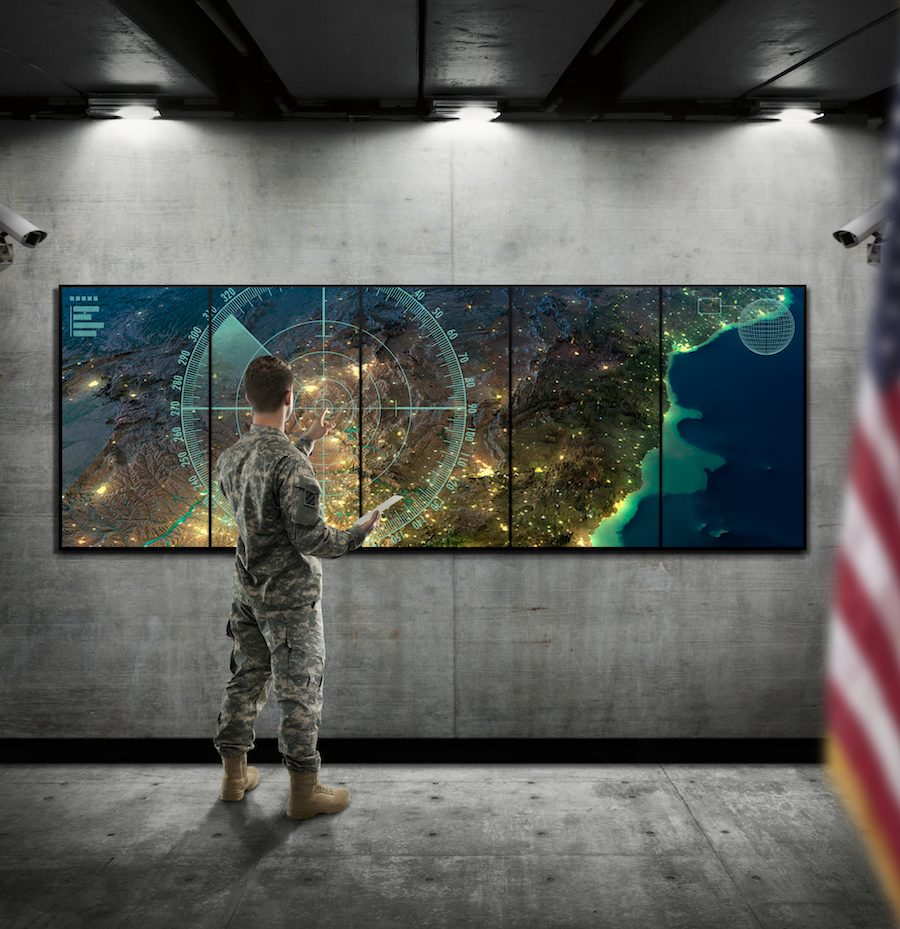 Learn how security, compliance and collaboration drive digital signage decisions across government agencies. Download Now
To that end, Samsung now leads the way with LED, as our diverse line of direct-view products is crossing a myriad of industries, proving its star power with curved walls in casino sportsbook areas, feature walls in flagship retail stores and primary walls in commercial office properties. Additionally, real estate companies are working to develop floor-to-ceiling, edge-to-edge LED walls in main lobbies of office towers that can change the message, mood, or experience on demand.
The growing technology is also finding its way into workplaces, replacing traditional equipment like projector and screen systems in large meeting rooms and presentation theaters. Office designers and their clients love the tech for two big reasons:
The display canvas can be bigger and wider than what's possible with single LCD screens.
Visuals are far brighter than what's possible with office projectors, meaning lights no longer have to be dimmed or blinds closed so the people in the meeting can see.
Building The Wall
Much of the LED buzz at Samsung's InfoComm showcase will be around The Wall, which uses next-generation microLED display manufacturing processes to create a product that rivals LCDs for picture clarity and color reproduction, and can be shaped into a giant rectangle or abstract shape of 90-degree angles — yet another differentiator in the ever-growing display environment.
Why is The Wall so important to us, and our partners looking to transform their businesses? We want companies to create a deeper interaction both internally for their own workforce, as well the audience they reach.
The Wall has a picture-quality engine that delivers High Dynamic Range (HDR) 10+ visuals, which results in optimized brights and the full range of grays to deep blacks. The images pop and viewers can see all the colors a camera captures in a dark, moody scene — visuals that are mushy or lost when HDR technology is not in the mix.
LCD Brings Business Benefits
While general LED and The Wall fit so many needs across industries, LCD continues to maintain its business benefits and incredible quality. Here's why:
Cost: The price point on a narrow-bezel LCD video wall array is budget-friendly.
Resolution: If the audience will view the content at close range, a single LCD display can deliver 4K resolution.
Interactivity: LCDs readily accept and work with touch overlays and infrared touch sensors to enable interactivity on screens. Conventional LEDs are fragile and easily damaged, and in most cases are positioned out of reach of viewers.
The latest generation of LCDs also stands out for visual vibrance. Samsung has been steadily growing its portfolio of QLED displays, premium LCDs that deliver all of the stunning color and contrast of large-format OLED displays, but with none of the risks of burn-in and shortened operating lives that characterize OLED screens.
At our Samsung InfoComm stand, attendees will see examples of outdoor displays, from super-bright display modules for drive-thru messaging and ordering in the quick service restaurant business, to dual-sided screens designed with high-bright LCD facing outside with a similar display on the reverse to face inside the location — hitting customers from all angles.
8K Creates Immersive Experiences
Samsung's QLED 8K series is also changing the way our partners and their customers view "true to life" signage communication. The QLED 8K display offers 33 million pixels and 4000nits of peak brightness to capture customer attention in any environment.
Where the 8K display is leading signage technology is its AI-powered upscaling to produce lifelike images and providing more immersive viewing experiences. This means more content production at lower costs and being displayed in 8K quality.
The 8K series is also supported by our System-on-Chip (SOC) technology with high brightness and pivot design to give enhanced flexibility. There's no doubt it'll be a head-turner at our InfoComm booth.
Visitors will also see directly how LED displays, large-format LCDs and video walls, and super-wide, curved gaming monitors all have a role in workplaces.
InfoComm is a kaleidoscope of amazing display and collaboration technologies. Make sure to tour Samsung's booth to see The Wall and other solutions from a trusted leader in today's digital signage market.
Thinking about advancing your display game with a new video wall? Get our free, comprehensive guide to video wall deployment.