It's no secret that small and midsized businesses (SMBs) are challenged every day to balance the need to innovate with the reality that their workforce is already being stretched to its limits. To deliver an exceptional customer experience, small teams must figure out how to accomplish big things, but in a short amount of time and with limited resources.
For SMBs facing these struggles, taking a mobile-first approach can be a real game-changer in terms of optimizing overall business operations. From arming the entire workforce with the information they need to get the job done to acting as a critical force multiplier when free hands are few, mobile devices and apps can dramatically transform workforce productivity. However, there's a right way and a wrong way to deploy mobile if you want to maximize capabilities and minimize cost as the business scales. That's why we've developed this quick playbook to outline key considerations for your business.
Adopt a Mobile-First Approach
The way we think about work has drastically evolved over the past 10 years. Today, getting the job done means being able to take calls, respond to emails, collaborate with colleagues, collect data and access applications — in and away from the office. Entrepreneurs simply need tools that match an on-the-go workstyle and can't be tethered to their desks if they want the business to scale as it thrives.
Choose the Right Phone for Your Small or Midsize Business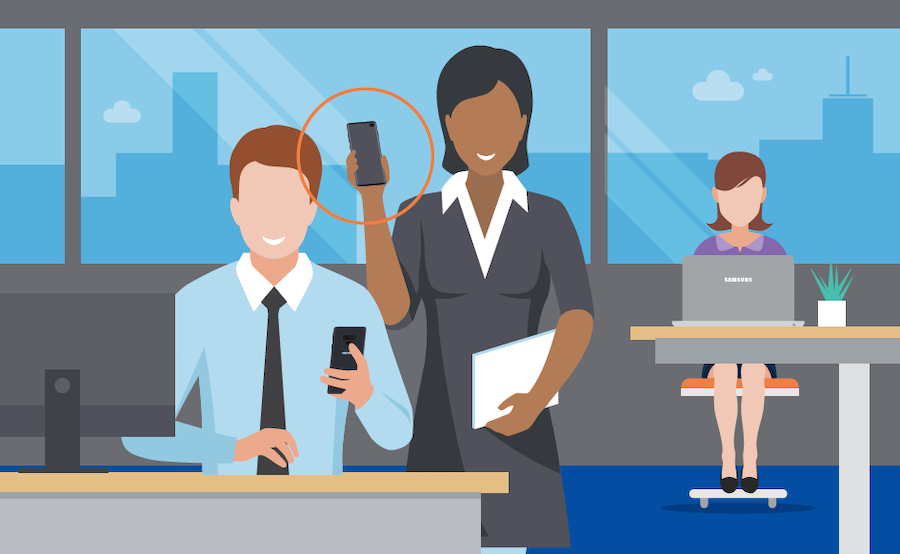 White Paper
Get your free guide to matching the right smartphone with your business and employee needs. Download Now
Smartphones are indispensable for SMBs. Leveraged effectively, they can drive significant lifts in workforce productivity and job satisfaction. However, many smaller companies have not harnessed the potential of mobile, adopting a fragmented BYOD approach that makes it difficult to manage devices or deploy apps consistently across their teams. By taking a mobile-first approach to technology deployment, businesses can not only make their core mobile communications and collaboration capabilities more effective and integrated, but they can also introduce entirely new capabilities that drive greater workforce productivity.
Remember That Apps Are King
Identifying, deploying or developing the right mobile applications that enable your teams to communicate, collaborate and track performance should be a major focus of your mobile-first strategy. Today, virtually all of the core desktop productivity applications have powerful mobile versions — from Microsoft Office 365, to G Suite to line-of-business applications like Salesforce. Make sure your team has full access.
Messaging, collaboration and file-sharing applications are also hugely beneficial. It's highly likely your team is already using one or more on an "unofficial" basis. Getting everyone on the same platform (and ensuring that it is secure) will help break down barriers and boost knowledge sharing. Canvasing the team to find out what they currently use and what capabilities they need is a great starting point. Lastly, find opportunities to innovate. Take a look at the existing tasks and workflows that are slowing your team down. It's very likely that mobile can help. In fact, there's probably already an app for it.
Select a Device That Lets You Do More
When you consider just how much you and your team rely on their smartphone, it's important to make sure they have a device that doesn't slow them down. In today's competitive market, 24/7 availability is a must — a single missed opportunity could make or break the business. It makes economic sense to invest in a smartphone that maximizes your productivity. Screen size matters too. With extra screen real estate, you can master multitasking, allowing you to hold a call, search for information and then grab and send screenshots, all while still on the line. Lastly, a powerful smartphone can actually replace the PC for many mobile workers, eliminating the need to purchase and manage laptops or desktops that rarely get used. When you do need a desktop, you can connect your Galaxy smartphone to a monitor, keyboard and mouse through Samsung DeX.
Shore Up Security to Protect Your Data Assets as You Grow
While large enterprise hacks often grab the headlines, SMBs are increasingly becoming a target for sophisticated hackers, and mobile attacks are at the heart of this growing problem. Two thirds (67 percent) of organizations said they are less confident about the security of their mobile assets than other devices, according to Verizon's latest Mobile Security Index.
Achieving an enterprise-grade security posture doesn't have to be overly complicated or come with an enterprise price tag anymore. Defense-grade mobile security platforms like Samsung Knox take the guesswork out of protecting employee phones for resource-constrained businesses where the CEO, sales or human resources person may also be IT. Investing in mobile device management (MDM) pays off. A robust MDM solution can ease management and deployment with frictionless out-of-the-box setup, preconfigured apps tuned to the needs of the business and security settings that protect company data and IP. All of the leading MDM tools integrate closely with Samsung smartphones, the Knox platform and our affordable cloud-based enterprise mobility management solution, Knox Manage.
While the benefits of mobility are clear, without an overarching strategy, costly missteps can derail the business. By building a plan with key productivity, availability and security needs at the forefront, SMBs can work anywhere to ensure they never miss a call and can move quickly on opportunities that will fuel growth.
Take a free assessment to discover if you have the right mobile security plan for your business.