Imagine this. You're in traffic, making your way across town to meet with a prospective client, when you get an alert that changes need to be made to the PowerPoint you are presenting. Fumbling with a clunky laptop on the go is far from simple. What if you could edit the PowerPoint right on your phone, as you cabbed across town to your next meeting? Without having to install any new software? With just a few taps of your S Pen?
With the launch of the Galaxy Note10, Samsung is introducing some exciting new integrations with Microsoft Office applications and services that make all this quick and easy. I caught up with Samsung's Ian Hutchinson to discuss the collaboration and what it means for business users, as well as IT leaders looking to empower their mobile workforce.
Natalie: Tell us about some of the exciting new Microsoft Office integrations on the Galaxy Note10?
Ian Hutchinson: Work today is changing so rapidly and is so fast paced, so what we've done is designed the Note10 to fit that need and allow you to get work done wherever you are — on the go. Office Mobile is actually loaded for you, right out of the box.
Immediately, you can start getting into PowerPoint, your Excel, your Outlook and use those seamlessly. And also, with the integrated cloud storage, you don't have to worry about where they are on the phone. They just go back out to the cloud.
The first thing that happens out of the box: You actually get the ability to integrate your Samsung and Microsoft accounts. But the most important thing it goes to is identity. So then the phone knows who I am and opens all of my Microsoft assets as well as all my Samsung assets.
What we think will be really powerful for the business community using the Note10 is the ability to integrate Samsung DeX, our desktop experience. What that means is, you can come back to the office, plug in your phone to your monitor with a keyboard and mouse and work like you were using your PC.
Go Mobile-Only With DeX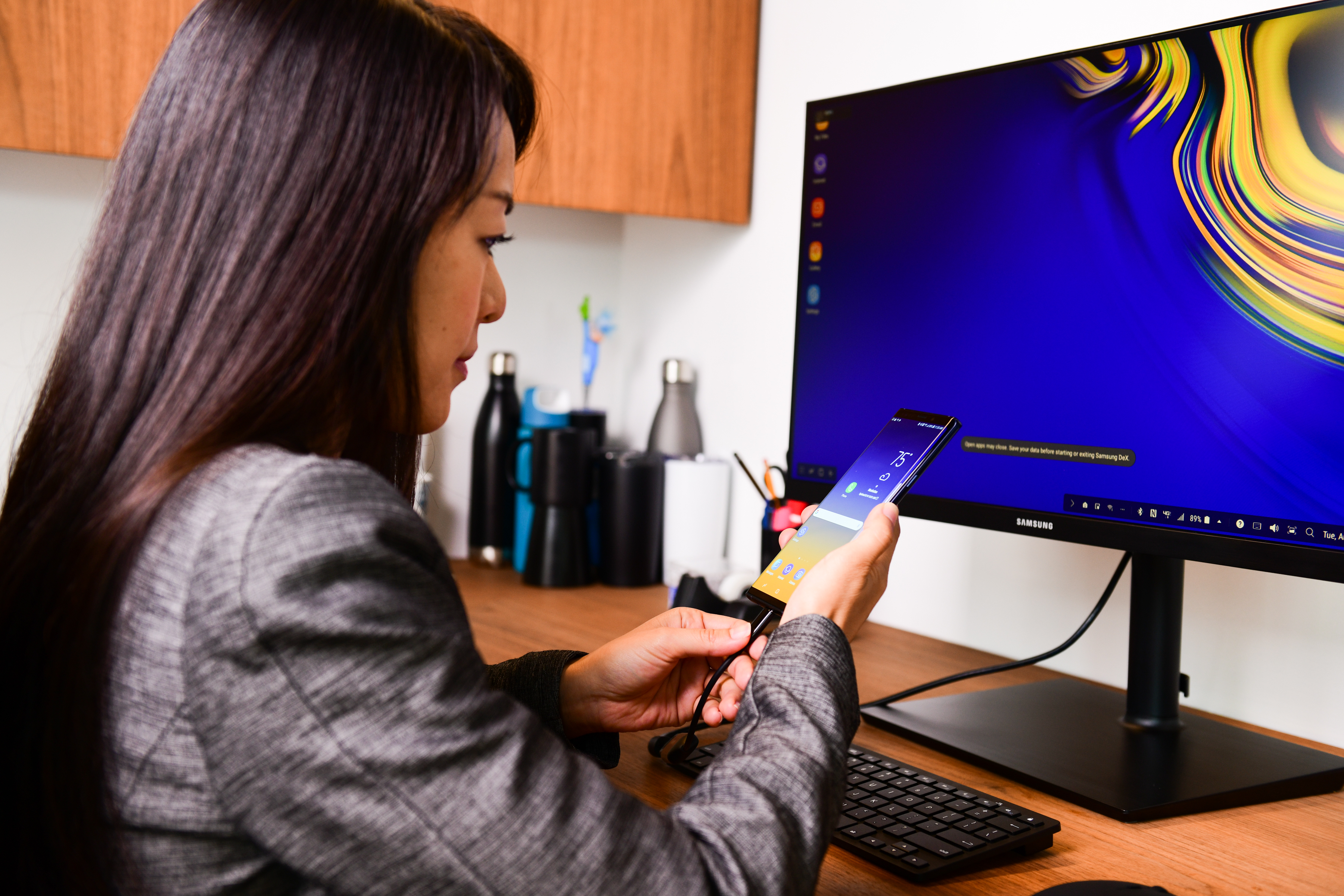 Your comprehensive guide to rolling out a mobile-only solution for your workers. Download Now
Natalie: The other thing that the Galaxy Note series is known for, of course, is the S Pen for note-taking, sketching and annotating. How does that note-taking functionality translate with Microsoft Office?
Ian: What is fascinating about the Galaxy Note series is that it comes with a pen. And what that allows me to do is input the way I'm used to doing — and that will go directly into Word or Outlook. We use optical character recognition to take my terrible handwriting and convert that to regular text that you'll be able to read. That allows me to go simply from writing to sending.
Natalie: What does the close integration with Office mean for business use?
Ian: Whether you work for or own a small business, a medium business or even one of the largest enterprises in the world, the productivity benefits of having Microsoft Office on a Samsung Galaxy Note10 are undeniable.
At Samsung, partnerships are in our DNA. The business community views us as being a platform for more than just a phone. What we're looking for are the partners that let us bring that to life — to help businesses reduce costs, make people more productive and create delightful customer experiences.
Learn more about how the Galaxy Note10 can power your productivity, and take advantage of special business deals on the latest phones and tablets. Also, explore how mobile workspace solutions can improve your teams' productivity and collaboration, while reducing your overhead costs.