If you've ever walked through the office of a financial company, you may have wondered why some workers needed clusters of screens at their desks.
Simply put, the answer is complicated.
At base level, people charged with watching and responding to market forces need to keep constant tabs on countless data points, like stock market indices and other key market indicators. The level of complexity is defined by their roles and the variables that influence how they work.
Banks of screens are implemented everywhere from trading floors to offices for insurance and retail banking. The screens are loaded up and segmented with everything from live charting, widgets and news tickers, to more conventional workplace applications like email and office productivity applications.
There's a lot to watch, and therefore a strong demand for more screen real estate.
Tiling multiple displays together has long been the default solution, but monitors are emerging that offer a better, tidier and ultimately healthier approach for busy multitaskers.
Going wide
Putting two or more screens together at a desk allows workers to see more at a glance without forcing them to open and close windows and tabs. A bigger digital "canvas" allows users to open and view multiple applications at one time.
But there are some drawbacks. Multiple monitors means multiple power and signal cables, multiple stands and very likely a docking station or other devices that enable the possibility of cooperation with a laptop or desktop PC.
The Complete Guide to USB Type-C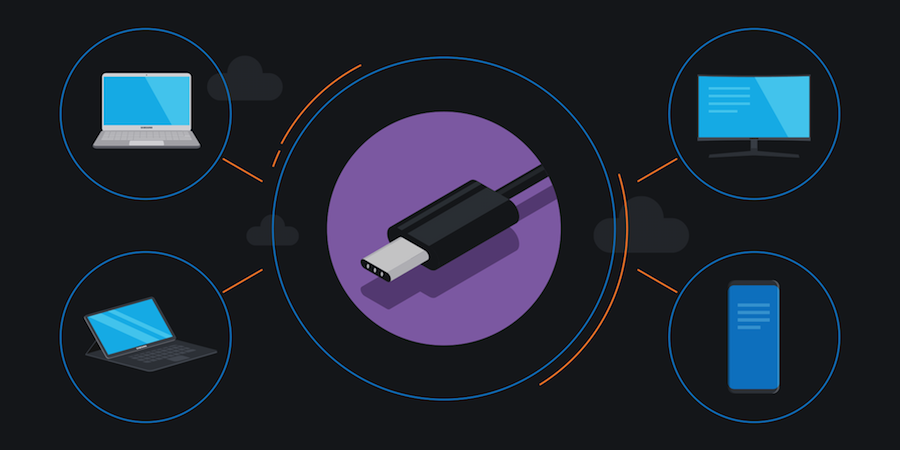 Learn how to clear desk space, streamline workflow and save time and money with USB-C connectors. Download Now
When two monitors are placed side by side, the center of those two screens is a very noticeable vertical strip created by the plastic frames that surround typical monitors. The sweet spot — what users see looking straight ahead — is a thick, dark bar that either bisects a desktop window or forces windows to the left and right.
Widescreen desktop monitors have been around for a few years, but the new models — ranging from 34-in. to 49-in. — provide all the screen real estate a financial professional needs, without that strip in the middle.
Using plug-and-play USB Type-C technology, multitasking desktops for analysts, traders, brokers and advisers are all decluttered with a single cable from the PC to the extra-wide screen. The screen, with USB ports in its rear, functions as the hub for peripherals.
Simple and fewer connections are much welcomed by users and IT desktop support teams. Every cable, every power supply, every docking station, is a potential point of failure for industries that demand maximized uptime.
Easy viewing
Jobs that require spending entire days watching screens come with a lot of potential ergonomic and workplace health issues. There's eyestrain, as well as muscle and nerve issues that come with heads that lock in on screens and steadily swivel left and right to see everything.
The newest generation of curved widescreen monitors directly addresses those issues — widening the field of view to align with the peripheral vision of typical users, and bringing the outer edges of displays to roughly the same focal distance as the center.
Research by major universities, such as Harvard Medical School, has shown curved screens reduce eyestrain and the need for users to look left and right to view all their open tabs and windows, according to ResearchGate.
A curved monitor also helps employees become immersed in their work, as well as having a screen shape that creates more privacy and confidentiality when dealing with important, regulatory-compliant data.
Samsung also supports a technology called eye-saver mode, which cuts down blue light emissions, reducing eyestrain and offering greater visual comfort.
Premium visuals
Simple charting and ever-changing numbers don't require the same color range and high resolution properties needed by people like content producers and video editors, but they're nice side benefits of premium displays that support high dynamic range (HDR) and 4K or higher visuals.
In some business functions, HDR and the billions of colors available will help analysts get a much better view of complex datasets in charts and graphs that require extensive color gradations. HDR, for example, makes dark areas darker and bright areas brighter — providing fine detail might otherwise be lost or softened using lesser monitors.
The big picture
Extra-wide monitors provide multitasking financial industry workers with arguably their most treasured tool — screens that give them the big picture on what they need to see and do. With the new curved designs, they also have a much better likelihood of finishing workdays without rubbing their eyes or tense neck and shoulders.
Learn how to create personalized customer experiences in the bank branch with this free white paper, or read more about the ergonomic health benefits of curved monitors.