A big, wall-filling array of screens might be the focal point of typical control room environments, but modern technology can now produce more efficient and diverse display options.
The really big picture — whether displayed on narrow-bezel LCD video walls or direct-view LED — gives operators a top-line view of mission critical information. Smaller screens on walls and at workstations provide complementary information, enabling users to focus on specific tasks and information streams. Charts, graphs and indices on digital dashboards used in control room environments reflect real-time snapshots of statuses, trends, alerts, key performance indicators (KPIs) and activities.
How and where to display all of that data depends on many variables — everything from the design of the space to the nature and granularity of the information.
Here's a look at the two primary technologies used, as well as the complementary role of workstation monitors.
LCD: The new old guard
As the bezels that frame commercial LCD monitors have grown increasingly thin, they've been used more and more to replace older technologies, including projection cubes, that had been the mainstay for many years of control environments.
Integrate Digital Signage in the Control Room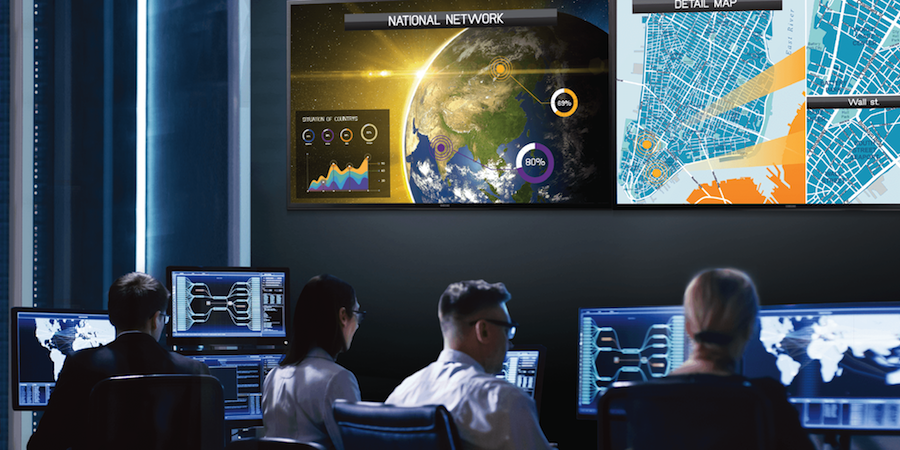 White Paper
Streamline mission-critical workflows and content management with secure, large-format displays. Download Now
Super narrow-bezel LCD video walls gave control room operators the almost unbroken visual canvas provided by projection technology and improved color and brightness. The fundamental engineering design of projection cubes required a lot of space in the rear, similar to the physical depth of old tube-based TVs or the projector-based home theater TVs of the 1990s. LCDs required a fraction of that depth, opening up finite space in the control room.
Today, the main benefit of LCD is visual performance. These displays can now deliver resolutions as high as 8K in a single panel. They also leverage technologies such as high dynamic range (HDR) and quantum dots (in QLEDs) to provide incredibly rich, vivid imagery.
LCD's control room benefits include:
Reasonable price point, especially for organizations needing to procure large numbers of devices for their environment. The cost to lifetime ratio increases TCO drastically.
For visual dashboards that contain high resolution imagery, schematics and text, LCD is an ideal, uncompromising solution.
LCD easily handles simple and multitouch interactive applications. In control rooms, an interactive surface allows operators to share with and instruct full teams.
Why LED?
Technologies best known as sports arena replay displays and large-scale airport advertising screens are now finding their way into control room environments.
People watching direct-view LED are looking directly at the light-emitting diodes (LEDs), as opposed to LCD screens, which use LED as the rear or side light source. With LCD, viewers never see the LEDs.
The biggest attraction for LED over LCD is the lack of any evident seams. LED cabinets — the modular tiles that contain thousands of LEDs and their electronics — have no visible seams when properly arranged to create large visual surfaces.
Control room operators enjoy the uninterrupted, bezel-free surface provided by LED. LED also offers more flexibility than LCD, allowing for unconventional setups and curved corners.
They also like the ability to evolve control rooms from dim, windowless bunkers to brighter, more open environments. Where projection and even LCD once required subdued lighting to optimize the visuals, LED video walls are bright enough to operate effectively in well-lit environments, with window blinds up and curtains pulled back.
A tale of two screens
Direct-view LED costs are tied primarily to the density of light pixels in each display cabinet. The more LED lights in each cabinet, the higher the cost. Those additional lights make the "pitch" or distance between each pixel finer, hence the term fine pixel pitch. The finer the pitch, the sharper the screens will look from closer distances. LEDs with coarser pitches are best viewed from longer distances, as is the case with replay boards and some advertising.
In many control room settings, operator desks are set 15-20 feet back, which would make fine pitch displays rated at 1.5-mm. to 2-mm. pitch look sharp and vivid. If average viewers are seeing the screen from 25 feet or farther, lower pitch 2.5-mm. or greater LED cabinets could be used as effectively at lower cost. However, controlling costs by using too coarse a pitch for the viewing distance could result in a main control room screen that has broken visuals and hard-to-read text.
Mixing and matching makes sense in some control rooms, where a lot of information needs to be continuously visualized in real time.
A main screen can show the big, uninterrupted data to operators positioned at workstations. LCD screens on walls or suspended from ceilings can show granular, high resolution visuals, like Doppler radar imagery or schematics.
The control room ecosystem can be as dynamic as its operators desire, and mixing and matching LCD with LED and a variety of screen sizes and configurations will propel real-time, mission critical work into the future.
Modernize your workplace with this free guide to digital signage. Take your digital display deployments even further to build a vision of your business's future.