5G refers to the fifth generation of wireless communications and network deployments aligning to 3GPP standards. This next-generation mobile network, which is already rolling out in some cities and around the world, is poised to pave the way for a new era of connectivity with a wide range of exciting new uses. Not only will 5G have a positive global economic impact, but it will also improve the lives of individual citizens and change the way businesses operate.
This guide will uncover the origins of 5G and how we arrived at this unprecedented era for mobile. It will explain how 5G is about so much more than just speed. You'll also discover how 5G works, when you can expect to see it rolled out, what benefits it can bring to your business, and why this technology has the power to transform almost every industry it touches.
The Road to 5G
The first generation of wireless cellular technology (1G) was introduced back in 1979 and utilized the 800MHz spectrum. 1G arrived in the United States four years later, with cellular towers coming down from mountaintops to our streets. The second generation (2G) was introduced in 1991, adding the 1.9GHz spectrum. 2G introduced text messages and the capacity to share images and videos (MMS).
3G then added the 2.1GHz spectrum and implemented technology that would allow for much higher bandwidth. This technology, known as multiple input multiple output (MIMO), added additional antennas to cellular equipment, permitting an increased level of capacity for devices and bandwidth. Theoretically, 3G could achieve speeds just above 40Mbps.
The 4th generation (4G) was commercially deployed in 2009 and utilized primarily 700MHz and 5.2GHz frequencies. The big difference between 3G and 4G was the drastic increase in speed. While 3G offered theoretical speeds around 40Mbps, 4G offered up to 400Mbps, allowing dramatically greater capabilities to mobile devices.
5G is the fifth generation of wireless cellular technology. It operates within the 600MHz, 2.5GHz, 28GHz and 39GHz spectrum.
Ted Ross, CIO for the City of Los Angeles, explains that 5G cell towers (also called small cells) in many cases are smaller than 4G cell towers and require less power to operate. "However, in order to increase the speed and reliability, 5G requires drastically more small cells across your city," Ross said. "With speeds as high as 4Gbps, the opportunities for applying 5G technology will expand to applications such as remote vital sign monitoring, automobiles, city infrastructure, telemedicine and even remote surgeries."
Theoretically, 5G speeds can reach 20Gbps. While it's not at this range yet, real-world deployments are getting close to 2Gbps in commercial networks on mobile broadband — a substantial achievement.
How 5G Works
Compared to 4G LTE, 5G offers three significant upgrades: connection speeds 10 times faster, much lower latency and the ability to connect a massive number of devices simultaneously.
But according to Ross, just like 4G, 5G starts with the internal antennas in smartphones and other smart devices. "These antennas send and receive radio frequency to and from cell towers or small cells, which have multiple antennas to receive and transmit signals to dozens of devices," he explained. "Once a tower receives these signals they are then transmitted across the provider network and find their way to the intended destination, whether it be phone, website or another device. 5G, however, is ultra-fast and ultra-responsive compared to previous cellular connections, allowing mobile devices unimaginable connectivity and capabilities."
Understanding the Underlying Network Architecture
In order to explain how 5G works, it's important to start with a few mobile network basics. Mobile networks have two primary elements: the radio access network (RAN) and the core network.
The RAN is comprised of different facilities including small cells, macro cells, towers, masts and dedicated in-building and home systems to ensure mobile users and wireless devices are connected to the core network.
Small cells play a key role in 5G networks, specifically to help facilitate short connection ranges for new millimeter wave (mmWave) frequencies. These small cells will be clustered wherever mobile users or applications require the fastest connections and will provide continuous connections.
5G macro cells, on the other hand, are using new technologies like massive MIMO antennas and beamsteering, which use multiple antennas for sending and receiving data streams to multiple users. For mobile users, it means more people can simultaneously connect to the network and maintain high throughput.
Go Mobile-Only With DeX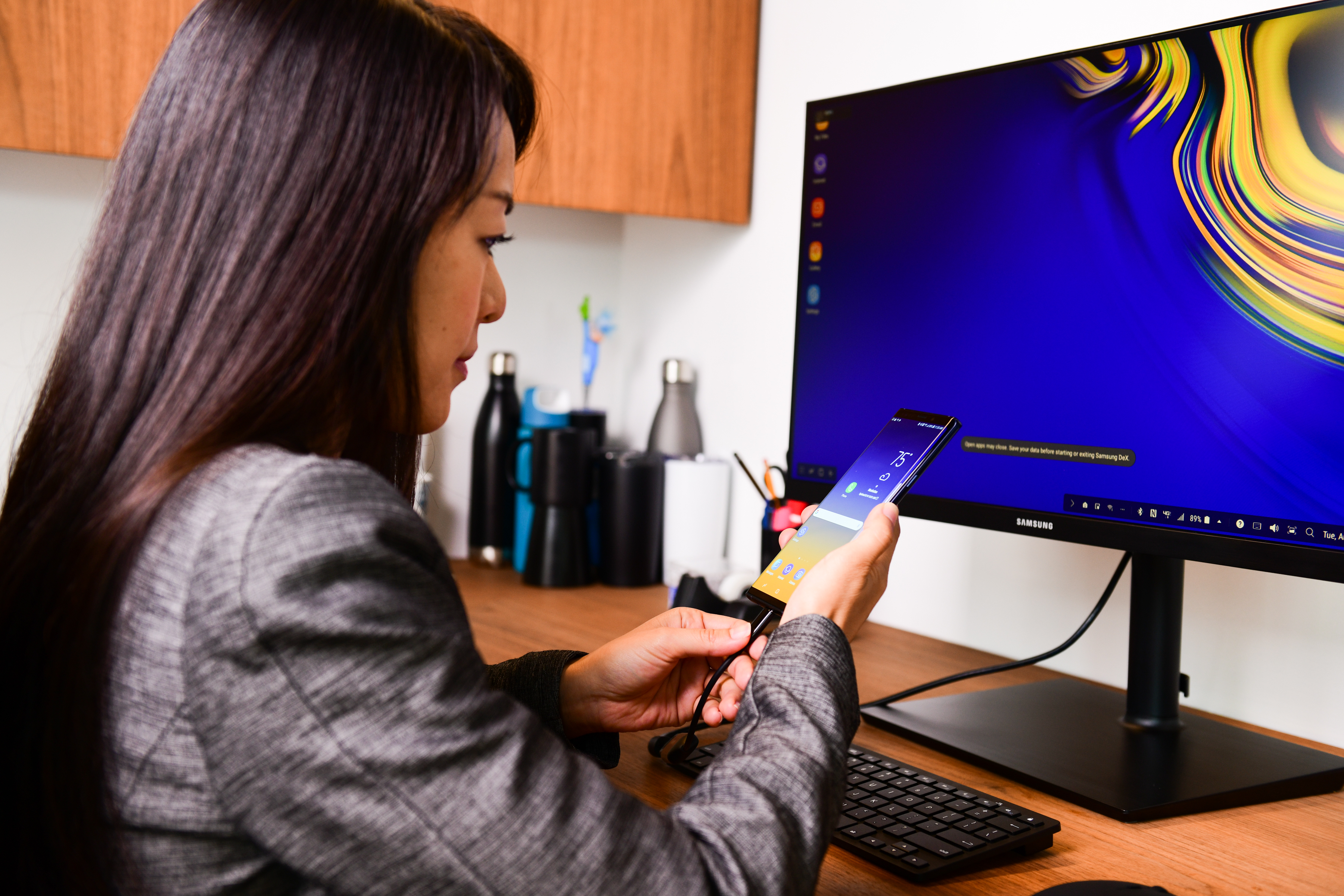 White Paper
Your comprehensive guide to rolling out a mobile-only solution for your workers. Download Now
5G relies on massive MIMO antennas, already available for 4G LTE but organic to 5G. Massive MIMO provides the best data experience for mobile users by optimizing the number of data layers.
The core network is the mobile exchange and data network managing mobile voice, data and internet connections. With 5G, this redesigned network is better suited to integrate with the internet and cloud-based services and also includes distributed servers across the network — improving response times and reducing latency.
Many of the advanced features critical to 5G's success include network slicing and network function virtualization, which will be used by different applications and services and managed in the core.
Network slicing allows for specific types of network traffic to be carved out — or sliced — to match different use cases. Depending on the customer requirement, network traffic can be tailored to each use case, whether it's consumer, enterprise, public safety or Internet of Things (IoT). Mobile traffic can be divided like a pie: one slice for a consumer-centric application like video streaming, social media and nonreal-time data; another slice for public safety applications like high-quality augmented reality (AR) for first responders and yet another slice for high-end machine-to-machine (M2M) use cases for IoT services requiring extended coverage and low bandwidth. In a potential B2B2C scenario, a video streaming service could pay carrier(s) for a slice and an improved quality of service (QoS) and quality of experience (QoE), then pass that cost to the subscriber as part of a new subscription model.
Network function virtualization (NFV) enables network functions that were previously hardware-driven to operate on COTS technology. Network functions like a firewall, which used to rely on dedicated hardware, can now operate within a virtual machine as a form of software. To enable the speed, agility and efficiency to support the myriad of new business applications, NFV is a critical element of the 5G core and more and more functions of the RAN are being virtualized as well.
Finally, there's the wireless spectrum. The spectrum is a frequency channel which carries data between your smartphone or internet-connected device and the antennae. The two main spectrums that are being leveraged for 5G are mmWave and Sub6. Sub6 represents low and midband spectrum using frequency bands under 6GHz. While it won't have the top-end speeds of mmWave, Sub-6 spectrum has coverage advantages while still supporting high throughput. On the other hand, mmWave spectrum has not been widely used so it still has more contiguous channels (bandwidth), making it well suited to supporting capacity and ultra-fast speeds at shorter ranges.
The initial 5G standard and network architecture allows 5G and 4G to work together. When a mobile device connects to the 5G network, a connection is also made to the 4G network to provide the control signaling, while 5G provides the fast data connection and attaches to the existing 4G signal.
If 5G coverage is limited, the data would be carried on the 4G network to ensure continuous connection. Essentially, 5G can complement the existing 4G network.
A Little About Hardware
Many new mobile devices utilize Qualcomm's Snapdragon 855 platform and either the X50 or X55 modem. While the X50 won't cover all types of 5G networks nor 2G-4G, the X55 covers all network types, including 2G-4G.
Samsung has also developed a 5G modem. The Exynos Modem 5100 is fully compliant with 5G NR (New Radio) standard to support new spectrums including Sub6 and mmWave for a faster data speed of up to 6Gbps. The Exynos Modem 5100 is also the industry's first multimode modem that supports 5G NR with the legacy modes from 2G to 4G LTE.
5G connectivity isn't limited to phones. Expect 5G end devices in cars, laptops, VR headsets and many more devices to make us more connected than ever before.
The Business Benefits of Low Latency and Numerous Connections
While speed may be simple to quantify, 5G's capabilities for low latency and ultra-reliability are slightly more complicated to illustrate. Here's where comparisons can be made to Wi-Fi, where you don't have predictable latency — in other words, how long it takes to send data from one point to the next, typically measured in milliseconds (ms).
Latency is an underrated component of 5G and is often confused with bandwidth. When comparing latency to bandwidth, an analogy can be drawn to a freeway: bandwidth would be the size of your highway, while latency would be the roughness of the terrain you're trying to drive over.
Compared to 4G, latency for 5G is reduced by 5,000 percent. While 4G is limited to 50ms, 5G should achieve around 1ms once fully developed. In comparison, 3G offered a now sluggish 100-500ms.
"With 5G, we'll see latency less than 10 milliseconds," said Derek Johnston, head of marketing and 5G business development at Samsung Networks. "When you talk about this ultra-low latency, it's essentially a real-time interaction between things that may be thousands of miles away. It will allow for vehicle-to-vehicle type applications for autonomous driving and so much more."
Another exciting aspect of 5G for enterprise is the ability to support 1 million connected devices in a square kilometer. "While that may sound like an unlikely number of connected things," said Johnston, "in dense urban cities, between everyone with a phone, a wearable or two of some kind, and you add connected CCTV, C-V2X and other smart-city devices like streetlights and meters into the mix, it's not difficult to concentrate a large number of connected devices in a small geographical space."
Enhanced Connectivity Inspires Use Cases Across Industries
From transportation and manufacturing to healthcare, hospitality and even smart cities, 5G is creating new opportunities and use cases that will change the way you do business. Here are a few examples we can look forward to.
When Is 5G Arriving?
AT&T, T-Mobile, Sprint and Verizon are all launching 5G in the U.S., and depending on where you live, 5G may already be available. As of September 2019, access covers a limited number of metro areas but it will continue to roll out rapidly into 2020 and beyond. An extended list of timelines for all cities and carriers offering 5G can be found here.
Unlimited Potential
New mainstream 5G use cases are a couple of years away. For momentum to build, a critical mass of mobile networks must be set up — and have that coincide with the upgrade cycle for phones. Johnston estimates that by the end of 2019, 2 or 3 percent of the country will have a 5G-enabled phone.
"We are only starting to see the benefits of 5G," he said. "As the ecosystem develops and we get more awareness, we'll be able to bring the new use cases to life and really prove them out. But we've still got work to do to build out the networks and continue to expand the device portfolio."
As the work gets done, there are countless use cases that are poised to harness this truly transformative technology. There's a business use case for nearly every industry, even public safety. Imagine the ability for first responders to send robots into burning buildings — complete with sensors and HD cameras — to locate people in need of rescue. Not only that, smart cities will become smarter, as local leaders can leverage 5G-enabled sensors to report instant data on traffic, environmental conditions and public safety.
All that, and 5G is only getting started. The possibilities are endless and exciting.
Samsung is the first smartphone maker to offer a 5G device and is a recognized leader in 5G network equipment. Get a deeper understanding of 5G's business potential by watching this video, or hear an expanded discussion involving 5G, AI and the Internet of Things (IoT) in this webinar.