Enhanced customer experience is a macro trend across many industries, but few more so than the quick service restaurant (QSR) industry, due to buyer influence.
Getting the experience right in QSR is critical because consumers have so many options, and because technology presents a key opportunity for restaurant operators to differentiate and compete in the takeout and delivery industry.
Several display-centric technology shifts are happening in QSR — some of them all but completed, while others are at various stages in the process. They all matter, and are all challenged by consumer demands. What's happening in QSR is a reflection of the changes occurring more broadly with the display industry as a whole.
Self-Service
The marketplace leaders in QSR tend to influence industry trends. Leaders have followers — what the biggest players do triggers interest and adoption from smaller competitors, who would reasonably assume major technology decisions only happen after extensive research on the part of an industry leader.
QSR's giants are starting to invest heavily in self-service kiosks. Such interactive displays allow diners to choose exactly what they want to order, pay for it and pick it up when ready. One chain plans to expand the availability of self-order kiosks to 8,000 stores by the end of 2019, according to MarketWatch.
Modernize Your Quick Service Restaurant With Displays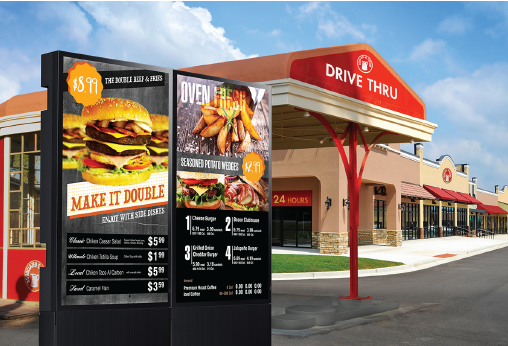 Explore how digital signage is improving customer experiences and motivating QSR employees. Download Now
One powerful sign of the rise of self-ordering: The annual National Restaurant Association trade show in Chicago saw the number of kiosk exhibitors triple from just a year earlier to more than 30 in 2018, according to Fast Casual. Customers are now expecting quick, tailored and speedy experiences.
Digital Menu Boards
Major QSR chains started converting printed menu displays to digital versions roughly five years ago, and some of the largest operators are now on their second generations as original screens and playback devices have aged out.
But there are many regional and local chains that are still working off printed and even chalk-and-board displays that will convert in 2019. Sports and entertainment venue operators, as well as food court operators in malls and airports, are also making the move to more easily updated, dynamic displays.
That will happen for a few reasons:
Display costs have come down, as has the cost of management software.
It's possible and relatively easy now to marry pricing and food inventory systems in restaurants with the information on screens, meaning what diners see is always available and correctly priced.
Many operators use smart displays like Samsung's Tizen-based Smart Signage Platform displays, which reduce hardware, installation labor and most importantly, service costs.
Expanding food choices, led by increasing expectations for fresh and customized orders, have led to menus that are too lengthy for printed displays. Digital signage presents the opportunity to show different options depending on the time of day.
Drive-Through
Most major QSRs in North America see as much as 70 percent of their business in drive-through lanes, and technology is seen as critical to driving more sales and ensuring the experience is fast, accurate and positive.
Major operators are now directing franchises to invest in drive-through presell promotion screens and menu display screens. As with digital menu boards, digital drive-through displays are not new, but are now seeing heavy take-up for several reasons:
Many of the key technology challenges have been resolved or mitigated — primarily glare and heat overload from the sun, as well as damage caused by moisture, dust and vandalism.
The entry of mass manufacturers like Samsung has reduced costs in a business that was dominated, until now, by more expensive niche manufacturers.
Companies that are in complementary lines of business, like point of sales solutions and conventional drive-through poster signs, can now buy plug-and-play, outdoor-ready displays from Samsung and sell to customers without making big investments in research and development.
They're also investing in drive-through displays because results have clearly shown a bottom-line difference for operators who've had huge positive impacts on sales and operations costs.
Direct-View LED
Large format LED displays were for many years restricted to sports venue replay screens and digital highway billboards. But now, there are scores of manufacturers marketing LED displays that could be used by QSR operators for everything from call-to-action displays on the same roadside pylons as their logo signs, to window displays and drive-through promotional screens.
Costs have come down because of the economies of scale, with LED seeing widespread adoption for all kinds of signage from advertising to retailing. At the same time, technology advances have seen LED displays evolve from screens that only looked good from a distance, to ones that are starting to rival LCD for viewing quality, even at relatively close quarters.
The primary attractions of LED are the ability to use them outdoors more easily than sensitive LCD-based displays, and the brightness of LEDs that more easily handle and defeat sun glare.
Challenges Ahead
All this technology has to be managed and implemented carefully, and the services streamlined to ensure what diners use and experience is positive.
One big challenge is marrying and aligning different systems so they all look, feel and work much the same way. Many QSRs have introduced mobile ordering from smartphones, and users who become conditioned to a particular experience and process then find themselves confronted with a different user experience on in-store interactive order screens, which were typically developed and are managed separately. Ideally, the brand and consumer experience feel the same across every digital touchpoint.
The other challenging trend pertains to the following step of mobile ordering: order pickup. Stores may need to be redesigned or at least tweaked to effectively deal with customers who are transacting in a different way. An example is dedicated screens for completed order announcements at counters, distinct from promo and menu screens.
The challenge is even greater in drive-through, with an expectation from time-crunched customers that there is a dedicated lane for fast pickup. Makes sense, except that most drive-through operators have finite amounts of lot space and buildings that were not designed with express pick-ups in mind.
Discover new ways to enhance the buyer's journey with digital signage in takeout restaurants with this free white paper. Learn how outdoor displays put the "quick" and "service" in "QSR."