Today's police patrol cars are often outfitted with a bulky laptop, one or more video displays, a radio, exterior and interior video cameras, and other peripherals to support computer-aided dispatch (CAD) systems. The intent is to provide officers with the latest in connected data and situational awareness, but the result can be a crammed cruiser where logging in to everything takes valuable minutes out of an officer's day.
Samsung and Safe Fleet, a U.S.-based fleet safety solutions provider, are pioneering an integrated patrol car solution that reduces device crowding in the cabin. Using Safe Fleet's FOCUS H1 in-car video recording platform, with the help of Samsung Galaxy smartphones and the Samsung DeX in-vehicle computing solution, officers can access and control multiple devices and functions using a single touchscreen display. The system is currently being tested by the Chicago Police Department (CPD) in a number of their patrol cars and will be on display at the International Association of Chiefs of Police (IACP) Annual Conference and Exposition 2019.
"Consolidating everything to a single interface makes a whole lot of sense," said Jerry Chang, director of product marketing at Safe Fleet Law Enforcement. "Officers no longer have to spend time separately logging into their browser, CAD system, in-car video system, LPR [license plate reader] and LoJack. Having a single interface for multiple systems can save precious real estate in the crowded police vehicle, as well as offer potential time savings in integrations and single sign-on."
A Better Approach to In-Car Video
Safe Fleet's name explains what the company is all about. Through its own efforts and acquisitions, Safe Fleet has assembled best-of-breed safety solutions for fleets of all kinds. These include vehicles used by police, fire, emergency medical services (EMS), school buses, transit and transport trucks, plus military, industrial, and waste and recycling.
Migrating to FirstNet®: The Definitive Guide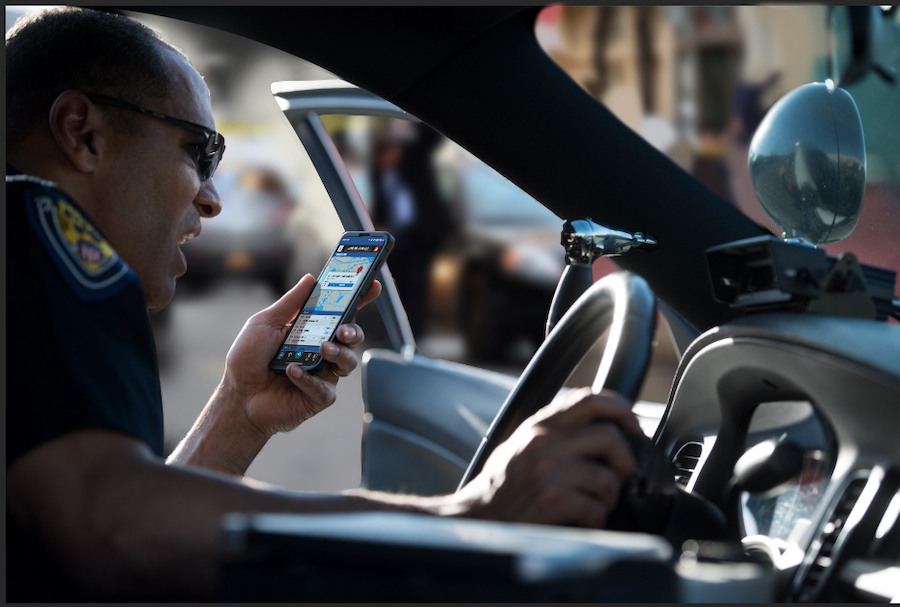 Get a comprehensive guide to migrating to FirstNet®, the network dedicated to public safety. Download Now
In law enforcement, Safe Fleet's portfolio includes COBAN Technologies (in-car video and body camera solutions) and Mobile-Vision (in-car video, body cameras and automated LPRs). It is the Safe Fleet's FOCUS H1 solution that meshes so well with Samsung DeX to provide the CPD and other police agencies with a consolidated, compact, in-vehicle information system.
According to Chang, many police vehicles today are outfitted with two or more cameras with full HD resolution, creating a massive amount of data to store.
"One way we reduce the system's workload is by compressing video right in the car," said Chang. "Video from the Safe Fleet H1 system is recording at a 30 to 40 percent reduction in file size when compared to most other in-car video solutions. The benefits from compression are cascading: You use less drive space to store the video in the car, you need less time to upload or download it, and it costs less to store it in the cloud."
Safe Fleet has also focused on vehicle intelligence at the edge, rather than in the cloud, to enable immediate notifications that help keep officers safe. By empowering devices in the car, edge computing can also minimize the risks of modern systems' reliance on cloud connectivity, which can turn the "smartest car" into a dumb terminal when cellular connectivity is poor.
Why the Integrated In-Car Solution Makes Sense
In the Safe Fleet and Samsung DeX solution currently being piloted in CPD patrol cars, everything is integrated into one common interface. Sitting at its heart is a docked Galaxy smartphone and Samsung DeX. With a selection of law enforcement apps preloaded, the Samsung Galaxy phone becomes the patrol car's brain. All that is needed is a touchscreen display, a keyboard and hardwired connections to all the other equipment (cameras, radios and LPR) — and the patrol car has powerful computing from an officer's phone. And unlike a laptop, the officers can undock the smartphone and take it with them whenever they exit the vehicle. This allows them to collect photos, record witness and suspect interviews, and access departmental data wherever they go.
Chief Jonathan Lewin of the CPD Bureau of Technical Services described the evolution of in-vehicle computing over the past three decades. "The old computers had to stay in the cars," he explained. "With this solution, it really creates an ecosystem that takes all the technology and makes it available to officers on the street in real-time and at significantly less cost than we are paying now."
Benefits to Officer and Departments
The consolidated in-car solution currently being tested by the CPD offers tremendous benefits to law enforcement officers and their agencies. Beyond less-cluttered cabins; clearer, simpler operations; and true portability, the consolidated in-car solution speeds up the paperwork associated with policing. Whether in the car or at the station, the officer can dock their Samsung Galaxy phone to a monitor, keyboard and mouse for a desktop experience.
Less time spent on paperwork means more time for police work, providing officers with more job satisfaction while delivering better productivity to their departments. This translates into a force multiplier that allows the CPD to do more with the resources they have at hand.
This is why the CPD is testing the consolidated solution in its cars today. After all, "nearly half of all Chicago Police officers have a department-issued Samsung smartphone already," explained CPD Superintendent Eddie Johnson. "The idea is to give officers everything they need to process a scene or respond to an incident in the palm of their hand."
A Chance to See for Yourself
Safe Fleet and Samsung will show CPD patrol vehicles equipped with the consolidated in-car information system at IACP 2019, which takes place at McCormick Place in Chicago on October 26-29. The CPD cars can be found in the Safe Fleet booth (#5030), and the Samsung booth (#4219).
Explore the ways mobile apps and data empower first responders. Then find out how much your agency can save by going mobile-first with this free assessment.