Wearables like the Samsung Galaxy Watch are bringing a new dimension to police technology by providing anytime, anywhere access to critical information and improving situational awareness for officers, regardless of assignment.
Although in-vehicle laptops have long been the norm in police squad cars, the ready access to information ends when the officer leaves their vehicle. Smartphones can go a long way towards extending that mobile access, but a new generation of wearables is proving capable of taking officer connectivity to a whole new level.
Here are nine ways that a smartwatch supports smarter policing and officer safety.
1. Access to Computer-Aided Dispatch (CAD)
Smartwatches can serve as a wrist-worn CAD device, making it possible for officers to stay informed and connected, regardless of proximity to a patrol vehicle. The watch always remains with the officer and supports quick review of incoming information even when on the move, yet allows hands-free readiness should a situation require quick engagement or the need to access belt-mounted equipment.
2. Rapid Communication
Smartwatches support voice communications, short messages and instant alerts from dispatch. A wearable CAD app can discreetly alert the officer to important incoming information by using haptic feedback (vibrations). This ability to silently alert an officer improves situational awareness and safety. For example, dispatch could send out a notification of a wanted felon along with a photo of the subject that can be viewed with a quick glance at the wrist.
Enhance Public Safety Capabilities With Smartwatches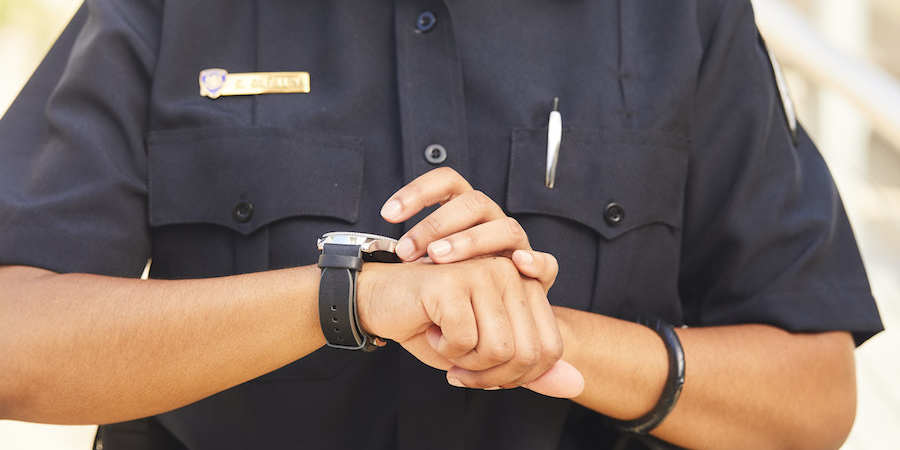 Get your free guide to leveraging smartwatches to enhance response capabilities. Download Now
3. Officer SOS/Needs Assistance Alerts
Samsung's Galaxy Watch supports a unique officer safety feature: It can be set up to send a duress alert with a simple touch. This means an officer faced with a dangerous situation can summon assistance without drawing attention to their actions. Once the alert is sent, the dispatch center is immediately notified of the situation and, because the device is both CAD-enabled and GPS-equipped, the officer's identity and specific location are immediately known without any further action by the officer. If desired, the watch can be set to provide simultaneous notifications to a supervisor or other entity. The watch's microphone can be remotely enabled ("hot mic'd"), providing live audio from the scene that keeps dispatch informed as to what is happening.
4. Notifying Dispatch of Sudden Movement
In police work, events sometimes require immediate action. The Galaxy Watch has an internal accelerometer and gyroscope that can determine when an officer starts running, such as when initiating a foot pursuit. The wearable CAD app can then automatically notify the dispatch center, providing the officer's identity and tracking their location in real time. Foot pursuits are dangerous, and radio broadcasts are often difficult to understand and can distract the officer from the potential threat. Wearables can address this challenge by providing timely and accurate information while permitting the officer to focus on the critical task at hand.
5. Monitoring Heart Rate to Detect Stress and Promote Health
The Galaxy Watch continually monitors the wearer's heart rate, making it possible to notify dispatch if a predetermined threshold is reached. The heart monitor can also be used by officers for greater self-awareness and to encourage better health.
6. The Power of a Smartphone on Your Wrist
The Galaxy Watch supports standalone LTE connectivity, making it possible to make and receive calls using the watch's built-in microphone and speaker. An LTE-equipped watch packs the power of a smartphone into a compact and rugged wearable device that's conveniently accessible to the officer.
7. Rugged Enough for the Street
Police work is tough, and equipment must be up to the task. The Galaxy Watch is MIL-STD-810G tested and IP68 certified for dust and water resistance. Corning Gorilla Glass ensures maximum protection for the display. Working a crash scene in heavy rain or a blowing dust storm? No problem for this wearable.
8. Long Battery Life and Defense-Grade Security
Ample battery life to power through your shift and the convenience of wireless charging are part of the Galaxy Watch experience. When it comes to data security, users can rely on Samsung Knox to provide protection that begins at the hardware level and continues through to the operating system. Knox also provides access to device management and customization options for wearables.
9. Providing New Capabilities for First Responders
Samsung is working closely and collaboratively with several leading computer-aided dispatch solution providers to help realize the full potential of wearable technology in policing. This is a new paradigm for police operations, one that's expanding overall capabilities and improving both situational awareness and safety.
The above infographic takes you along as a patrol officer handles a suspicious subject call and then becomes involved in a foot pursuit. You'll see how a wearable can improve the safety of the officer by autonotifying dispatch of the situation and then providing real-time location and activity updates as the foot chase unfolds.
Visit Samsung's Mobile First Responder page to learn more about empowering officers in the field and improving situational awareness. Learn how to plan and implement a mobile initiative at your agency with this practical roadmap.