This is the era of the empowered patient. Thanks to the internet, consumers have more access to information than ever. And thanks to wearable devices, they have real-time personal health data. That data can help people take care of their well-being, but it doesn't help doctors — at least, not without an intermediary to analyze the data efficiently and present their findings meaningfully. Preventice Solutions wants to fill that gap.
Dr. Nassir Marrouche, director of cardiac electrophysiology at Tulane University, says wearable devices bring the university's clinics two to three new patients a week, many of whom aren't sick.
"Many of these people are perfectly healthy," explains Marrouche. "But the device shows them something troubling that they don't understand, and they come to us. They have a long printout of data with no context, and we have no plan, because nobody is prepared to deal with this information at this scale."
Trying to make sense of PDF files from various wearables can take a couple of hours per patient, Dr. Marrouche says. But sometimes the effort is worth it.
"Significant numbers of people with atrial fibrillation, or AFib, are undiagnosed today, and for 30 percent of them, a stroke might be their first symptom. By alerting us to these findings early, wearables can help protect people from strokes and mortalities, but it's the Wild West out there for physicians. We need a way to connect consumers who get abnormal findings from their wearables with a physician. The Preventice platform is made for that."
So how does the platform work? What are the benefits for physicians, patients and consumers at large?
From short-term to long-term monitoring
Preventice was founded in 2004 by a group of innovators with experience in enterprise analytics and statistical data modeling. They wanted to revolutionize heart monitoring. A few years after founding Preventice, they launched BodyGuardian® — the first patch-based reusable wireless diagnostic cardiac monitor — at scale. Around the same time, smartphones were coming online, presenting more opportunities.
How Mobile Solutions Improve Patient Experience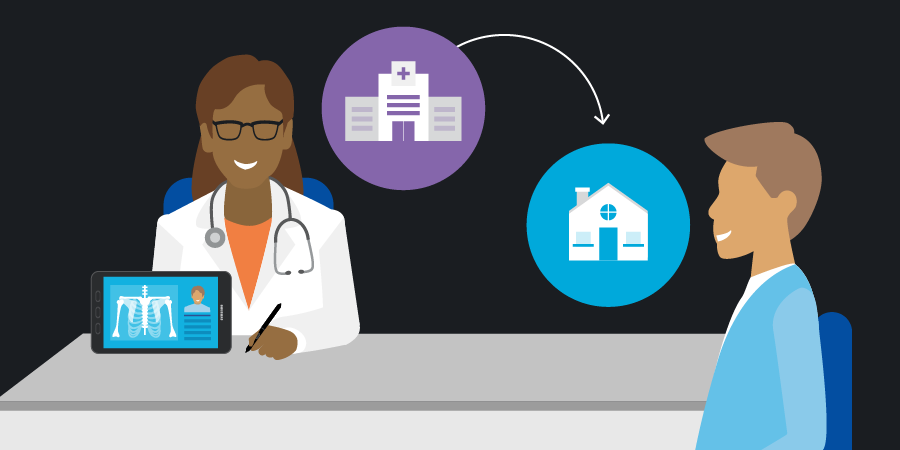 Get your free guide to enhancing the patient experience with mobile technology. Download Now
"People were intrigued — and we were intrigued — by how we might be able to take a mobile technology, insert it into the healthcare space and apply some analytics over large amounts of data," explains Scott Burrichter, cofounder and vice president of product management at Preventice. "Cardiac health was a pretty natural fit for us, and we had some guidance and interactions with Mayo Clinic, where three cardiologists and an engineer were working on improving signal acquisition from devices. So we coupled their work with mobile devices and our backend enterprise platform to host that data and ultimately apply analytics."
Today, Preventice offers a platform of wearable cardiac monitors that are small, waterproof and designed to deliver a positive experience for patients who often wear these sensors to give a physician greater insight into their cardiac activity while outside of the clinic. These solutions help physicians diagnose patients with cardiac arrhythmia (irregular heartbeat), such as AFib. Preventice collects the data, analyzes it and empowers the cardiologist to have access to near real-time cardiac data that can help them make a diagnosis and treatment plan. This is typically when the monitoring ends, but Burrichter says about 30 percent of patients want to continue being monitored.
As patients were asking for more remote monitoring, the Centers for Medicare and Medicaid Services (CMS) issued four new reimbursement codes that let physicians bill for remote monitoring technology and services. And physicians like Marrouche are asking for a way to better manage those additional PDF printouts from patients' wearables.
Preventice sees these trends as an opportunity to do two things: to turn a 30-day diagnostic tool into a long-term remote cardiac monitoring solution and to start monitoring data for consumers as well.
From smartphones to wearables
Preventice already has the right backend infrastructure to accomplish these remote monitoring goals and recognizes the opportunity to consider a different, longer-term wearable device.
Burrichter explains, "Our patch-based wireless devices can be used for longer than 30 days, but they're not the proper form factor for long-term monitoring. Consumer wrist wearables gather heart rate and activity data, but we also wanted to gather ECG (electrocardiography) and be able to interpret rhythms as well."
To do so, Preventice can put its platform on a customized Samsung smartwatch and use Samsung Knox Configure to make it part of the medical device. The watch could gather data and serve as a simple user interface (UI).
From prescription to prevention
Preventice will initially launch a wearable solution for heart patients who want additional cardiac monitoring beyond a 30-day prescription. Phase two will be a mobile app that consumers can download on wearables they already own.
Marrouche says this app will be tremendously valuable for users and for cardiologists. "Most wearables record heart rate, and that's it. This technology measures PPG (photoplethysmography), which is a light-based method of testing your ECG, blood pressure and behavioral stress in one modality. Preventice can quantify this information, explain it to the wearer in a way that they would understand, and then triage to the next step."
In a soon-to-publish study, Marrouche and his team found that having healthy people wear a PPG watch with Preventice technology could save the health system a significant number of emergency room and outpatient visits.
"Among people who are sporadically using the device, we're detecting 1.6 percent with arrythmias and having them triaged to a physician. For another 15 percent, the blip in their heart rate or ECG was useless information, and the system stopped them from going to see a physician."
From patients to consumers
Preventice have used consumer technology for more than a decade, which Burrichter says keeps them at the edge of cardiac monitoring.
"Preventice has a history of focusing on the patient experience when it comes to remote cardiac monitoring and we're pleased to be collaborating with Samsung as we push forward innovations into consumer wearables," says Burrichter.
"We know consumers care about access to their data, and as we collaborate on the right technology platforms and advanced behind-the-scenes infrastructure to track and manage the data, we know there is great potential for what this can mean to patients and physicians moving forward. For patients, this becomes another important tool in their health portfolio. For physicians, we've already demonstrated the potential that remote cardiac monitoring has in providing near real-time insights for physicians to make informed decisions for their patient care that can also effectively bring down healthcare costs."
Marrouche also looks forward to the day that his patients are better informed about their health data.
"The patient empowering process began a while ago, and the train already left the station," he says. "Now, we need a way to streamline all that data and fine-tune it, and Preventice is an ideal partner. The consumer is already excited to pursue that path and take over the power of monitoring health with wearables. Now we just have to empower them to do it well."
Read more about how mobile technology is transforming healthcare. And discover how Samsung is improving patient well-being in the hospital in this webinar.