When people strive to excel at their pursuit, the best available equipment and tools can be a big key to success. That's particularly true when it comes to esports players, who seek monitors that provide a competitive edge for high-end gamers.
The right monitor enables gamers to react to all the high-speed action, but also benefit from well-considered ergonomic design principles that allow for hours of intense, hyperfocused concentration.
Competitive gaming has evolved rapidly from private play to a huge global business valued in 2019 at $148 billion, according to Newzoo. There are now more than 2.5 billion gamers around the world, and while many are purely hobbyists, gaming is a lucrative profession and investors are building screen-filled esports arenas to jump on the trend.
"Our athletes expect the highest of quality components and equipment when it comes to everything they're doing to be performing on," says Michael Fay, program director and head coach of the University of Akron's esports teams. "It's a huge reflection of their quality as high-performing competitors, and so they want to make sure that all of the equipment they're using is the fastest, most precise, most reliable that it can possibly be."
Pushing performance
Just as gamers compete, so do manufacturers who are looking to establish and build their market shares in esports. Monitor makers are steadily pushing the possibilities on performance, but also tune the displays to the somewhat unique dynamics and demands of serious gamers.
Samsung leads the global gaming monitor market, and at the recent CES trade show in Las Vegas debuted a new series of gamer-optimized displays that should further solidify that position.
Explore the Evolution of Desktop Monitors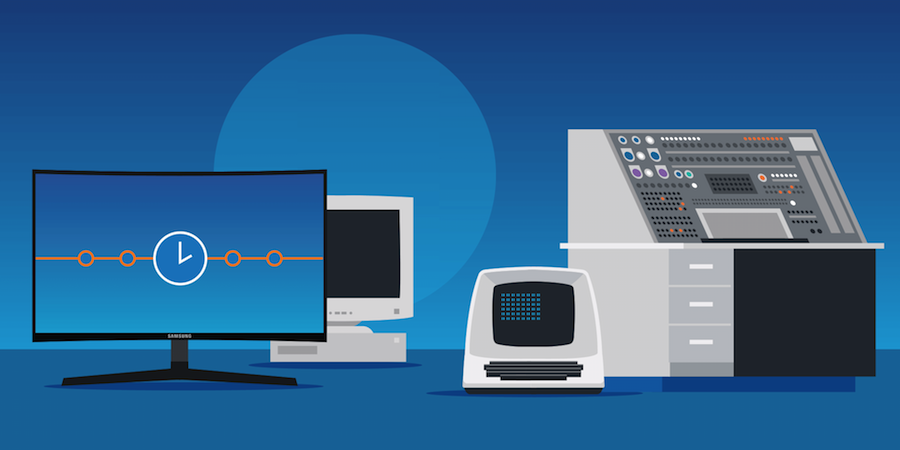 From blinking lights to quantum dots, discover the innovations that led to today's desktop monitors. Download Now
It has redesigned its curved Odyssey gaming monitors — the giant G9 49-in. display and the G7 (which are 32-in. and 27-in.) — with both high performance and comfort in mind.
The new Odyssey monitors are touted as the first-ever gaming monitors to have a high-performance 1000R curvature — a concave shape that equates to the natural curvature of our eyes. Previously, the top monitors available had a curvature of 1800R, and when curved monitors first came on the market just a few years ago, they had a relatively modest 4000R curvature.
TÜV Rheinland, a German organization respected for its technical certifications, has awarded Samsung the display industry's first high performance 1000R curved display, as well as an Eye Comfort certificate.
The truly immersive 1000R curve realizes at least two important things for gamers, whether they're playing on a team or at home:
The near-wrap-around design of the display removes distractions and envelops players in the game.
Making the far right and left edges of a display equal in focal distance to the center of the display greatly reduces eye strain — which is particularly important when gaming competition requires absolute concentration.
More than just curvy
The big curves of gaming monitors are the most obvious physical distinction of high performance displays. The other technology advances grow evident when gamers get in front of them and start playing.
Samsung's new G9 monitor is touted as the world's first Dual Quad High-Definition display, with a super wide 5120×1440 resolution and 32:9 aspect ratio — the full equivalent of two widescreen displays tiled side by side.
Refresh rates — the speed at which visuals appear and are replaced on a screen — are particularly important for players engaged in some of the most popular, action-packed games on the market. Refresh rates are measured in hertz, and while 60Hz is the industry standard for desktop displays, 100Hz is considered the minimum necessary for gaming. Any slower, and the monitor won't keep up, causing visual errors like screen tearing.
The new G9, by comparison, has a hyperrapid 240Hz refresh rate and corresponding 1ms response time, creating super smooth screen transitions no matter the pace of action. That matters in critical gaming moments, where split-second recognition and reaction can mean the difference between winning and losing a game.
The G9's new design is also spruced up for gamers, with rear lighting that includes 52 colors and five lighting effect options.
Big performance that fits
Samsung's G7 series has the same quick response time and refresh rate, as well as the deep curved display and overall performance, of the G9, but in smaller 27-in. and 32-in. models that will fit different gaming demands and setups. For players limited by available desktop space, the G7 provides the same level of visual performance in a smaller package — screens with Quad-High Definition (QHD; 2560×1440 resolution) and a 16:9 aspect ratio.
Like the G9, the G7's color-changing rear core lighting can remain static or dim during gameplay, as well as change colors based on gamer preferences. The G7 also has dynamic shapes and lighting for the monitor's front bezel.
Vivid color
All the G-Series monitors use Samsung's QLED Quantum Dots technology, a color filter married with the LCD that amplifies light and produces an exceptionally wide range of accurate color. They also use High Dynamic Range (HDR) technology, which enables players to see all the shades of the brightest and darkest scenes.
The new monitors also reflect technical work to reduce motion effects like judder and latency, and integrate even more tightly with premium graphics technology on gaming PCs.
Premium experiences
There is a substantial investment in technology and time required for any gamer, and in return, a premium experience is expected. When a player can sit down and be fully immersed in a game, and see it delivered flawlessly on a screen, the payoff can be huge.
Discover how Thunderbolt 3 is changing desktop monitors. Then find the best one for your office — or gaming system — with this free assessment.