Just about anyone working in a team environment, where collaborative meetings are routine, is familiar with the ritual of capturing whiteboard notes with a smartphone camera so valuable ideas are not lost in the swipe of an eraser brush when the next meeting begins.
Also very familiar: turning paper flipcharts or scouring sheets of paper, looking for specific notes to share. Not to mention those lost minutes at the start of many meetings as participants struggle to get sharing and presenting technology up and running.
And then there's the frustration that comes when a team meeting could benefit from collaborative technology but the equipment they want to use is fixed in spaces that are already occupied — and the technology is not even being used!
It's all very unproductive. But it doesn't have to work like that.
Introducing the Flip 2
New interactive collaboration technology developed by Samsung — introduced in 2018 and now in its second generation — was designed and delivered as a solution to all of these problems. The Samsung Flip 2 is a digital take on the easel-based paper flipcharts sitting in the corners of meeting rooms. A Flip shares the same basic shape and function as the paper version, but it's entirely digital — a tool optimized for effective collaboration.
There are now two sizes and styles of Flips — a 55-in. easel-style version and a new wall-fixed 65-in. unit intended to be a simplified version of an interactive whiteboard.

Using traditional flipcharts means turning sheets to create new space for notes, then tearing off finished notes and sticking them on available walls or transcribing the output to memos for sharing and archiving. It's impractical. It creates extra work and limits the usefulness of the efforts.
Collaboration on Flips, by comparison, all happens digitally. Notes, drawings and even full-color illustrations can be added with a simple stylus — with as many as four users working at once. Any source on the screen, like a document or image, can be annotated with ease. And when a meeting's finished, all the work can be shared instantly by email, network or printer or ported to a USB drive.
A big attraction of Flips is portability. The easel-style version is small and light enough to easily wheel between meeting rooms or to huddle spaces.
The Flip user experience is so simple that initial training takes mere minutes and meeting setup is minimal. Most users can just walk up to a Flip 2 and immediately get to work.
Modernize Your Workplace With Digital Signage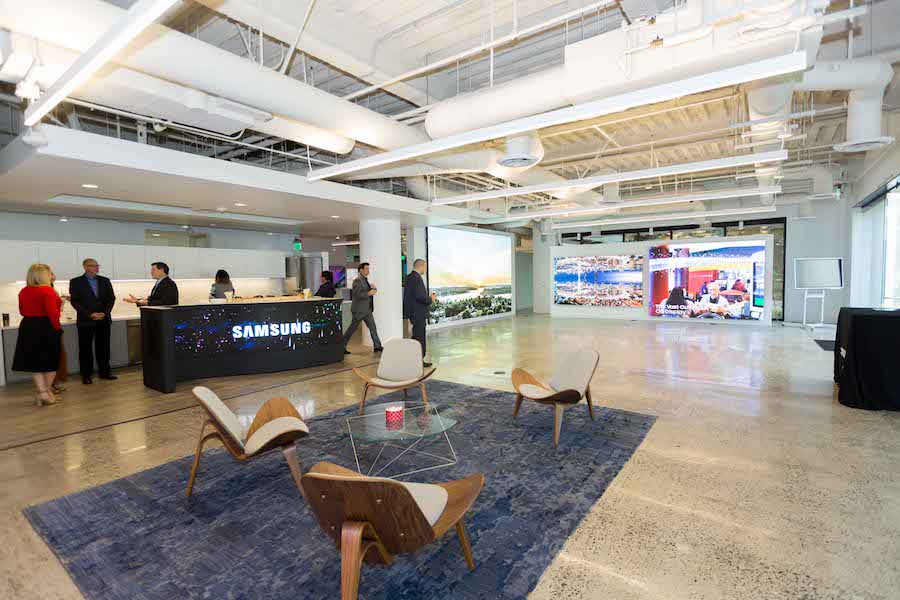 Explore how corporate offices are producing dynamic, engaging content for workers and clients alike. Download Now
A digital workspace
The two types of Flip 2 devices are changing the way digital collaboration happens in workplaces. Here are seven ways they're being effectively put to use by organizations of all stripes and sizes:
Brainstorming: A meeting leader or note-taker can field a steady stream of ideas and plans and record them as text and illustrations. Simple tools allow users to switch colors and input types — from a thin pen to a thick brush. Old notes from past meetings can easily be pulled back up for review, edit or continuation.
Presenting: Though its blank white canvas makes the Flip 2 look like a whiteboard, it's a fully functioning digital display. Along with reviewing old notes and developing new ones, the Flip takes external inputs and can do everything from running through a presentation deck, image galleries or drawings to playing videos at up to 4K resolution. After presenting in landscape mode, a standing Flip 2 can easily move into portrait mode to develop notes and gather real-time feedback.
Sharing: The Flip allows meeting participants to share files from other devices, connected via HDMI, wireless screen mirroring, USB or near-field communication (NFC). So instead of people huddling around a small smartphone screen to review material, the visuals are easily pushed to the Flip 2's display and shown in a window or full-screen. Samsung Workspace allows users to remotely connect PCs to a Flip 2, meaning a networked PC can stay at a desk while being used for the meeting.
Illustrating: Up to four people can write, draw and even paint simultaneously, using any object as the stylus (though the Flip 2 includes a dedicated stylus). The surface has a smooth, familiar feel and multiple available colors, styles and widths. A brush mode has been added to the Flip 2 for watercolor and oil painting.
Editing and appending: Edit and annotate anything from layouts, proposals and images to schematics and architectural drawings. Original and updated content is captured and stored in a central database, and the files are all searchable in case they need to be revisited.
Locating: While there are wheeled AV carts that allow flat-panel displays to be moved around an office, they can be expensive, heavy and unwieldy. The Flip 2's wheel-based stand is part of an integrated design and lets users easily start a meeting in any location, at any time.
Saving, storing and distributing: Conversations, illustrations and other critical content can be saved on a Flip 2's central storage, easily shared with colleagues through mobile and digital channels and resurfaced from storage in follow-up meetings.
Workplace versatility
Using the Flip 2 for workplace collaboration changes the dynamic of meetings in organizations. Using paper and whiteboards is cumbersome and limiting, and using e-boards requires training, setup time and all the right connectors.
With the Flip 2, meetings are easy and versatile. Sessions that start as simple discussions and reviews become interactive, lively and productive just by someone standing up, walking over to a Flip and immediately getting to work.
Watch a video on how the Samsung Flip is revolutionizing conference room technology. And explore how mobile workspace solutions can improve your teams' productivity and collaboration, while reducing your overhead costs.