Digital signage technology has become a key tool to keep customers informed and satisfied in the quick service restaurant (QSR) industry. Screens in targeted positions attract diners, display promotions and support hungry consumers to make quick and informed decisions about their next meal.
Digital signage displays are now common at order counters and rapidly finding their way all around restaurants — and outside, as curbside and drive-thru services see increasing demand in 2020.
Digital signage technology is being applied in sync with a rapidly evolving industry that's seeing more and more business from self-service and mobile ordering.
Taking orders
Inside a typical store, the original and most prevalent use of digital signage is the array of menus behind ordering counters.
Early adopters of digital menu boards liked the ability to change menus without having them printed and delivered multiple times a year, as well as the decreased on-site labor time. They also liked being able to show different menus throughout the day, especially if particular items, like breakfast foods, were unavailable for part of each day.
Modernize Your Quick Service Restaurant With Displays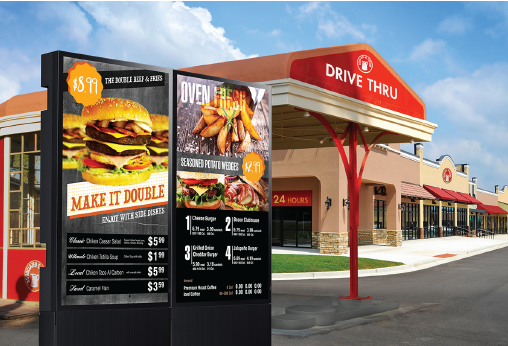 White Paper
Explore how digital signage is improving customer experiences and motivating QSR employees. Download Now
Order clerks once spent an untold amount of energy disappointing diners with news that certain items on their print menu weren't made or sold after a certain time of day. Using digital signage technology, those changes are scheduled and automated — and can even be tied to restaurant management systems so that out-of-stock menu items automatically disappear from menu screens.
Streetside marketing
The rapid rise and maturity of outdoor LED displays has enabled operators to start their marketing efforts at the edges of their properties, replacing the old raised street signs that displayed their often iconic logos. If those roadside signs had secondary messages — like specials or new menu items — they were analog and hard to change. The manager had to get someone outside with a long pole or a ladder to swap images or text, meaning changes were rare.
Direct-view LED fixes that problem. QSRs can leverage full-color graphics and video to get motorists' stomachs growling. All it takes is a few keystrokes to change messaging, and the promotions and calls to action can cycle as often as they need to — promoting breakfast sandwiches at 7:30 a.m., dinner bundles at 5 p.m. and late-night snacks well into the evening.
Those locations also use high-brightness LCD displays in restaurant windows to drive the same messaging throughout dining days. Window displays are particularly useful for urban settings where pedestrians make up much of the traffic.
Quality messaging inside and out
A relatively new, clever spin on these window-based displays — developed by Samsung — is a super-thin dual-sided LCD screen. At 3,000 nits, the screen facing the street is bright enough to win any battle with ambient or direct sunlight, ensuring messages are visible to viewers even on the brightest days. The reverse side, facing into the store, doesn't need that level of brightness but at 1,000 nits will overpower any potential glare from restaurant lighting.
This setup means operators can reap the benefits of window-based marketing without forcing diners inside to look at the steel or plastic backs of a street-facing display. As an added benefit, each side can play different content, on different schedules.
Drive-thru lanes are highly popular for digital signage outside QSRs. High-brightness LCD displays are used here in two key ways:
Promotion-driven presell screens raise awareness of new menu offers and high-margin items, like specialty coffees. Motorists see these screens as they roll toward the ordering position.
Digital menus on one or several clustered LCD screens show the range of ordering options, which are changeable by time of day. The screens can be programmed to highlight underperforming items or remove items from rotation as they sell out.
Beyond the sale
Operators also use digital screens around the store to promote new menu items, reinforce branding, recruit staffers and raise awareness for national and community initiatives.
Some QSR operators are also using screens behind the order counters — in break rooms and food prep areas — for staff communications and to show government-mandated messaging, such as labor standards.
More and more consumers are using interactive digital screens for self-directed ordering, allowing them to fine-tune their meal and pay with a credit card or mobile app.
Mobile is also increasingly used to order and pay for food while still outside the store. Savvy QSR operators are making it easier both on diners and staffers by programming digital signage screens to "announce" that a specific customer order is ready at the pickup station.
Pulling it together
Most digital signage content management platforms can handle the basics like menus and promotions, but more sophisticated solutions will tie into management and payment platforms to ensure accuracy and timeliness — all while boosting sales.
For example, data-driven software can change pricing and menu items on screen the instant they change in the point of sale (POS) system. A new breed of systems uses sensors and camera-based analytics systems to study patterns and demographics to optimize promotions all the way down to individual consumers.
The key to QSR success will always be satisfying food and swift, friendly service, but digital signage is playing an important role in making diners aware of what's cooking, simplifying order and pickup routines and ensuring the process is satisfying.
Download this free white paper for a more in-depth look at the forms digital signage can take in QSRs. Or, get insights into how Samsung's smart signage can take your business into the future.