The operators of hotels, restaurants and entertainment venues have long understood the communication and marketing power of indoor digital signage, but those benefits can also be realized by outdoor and window displays. Screens can inform and engage guests, and in the case of lineups, update and entertain them as they wait to access attractions.
The core mission and concept of digital signage doesn't change when it moves outside, though the technical challenges are greater. Operators need screens engineered to withstand the elements and to handle the glare and punishing heat load of all-day sunlight.
It can be a challenge to source display technology that's genuinely up to the task — and then find the other components and applications that will work properly together to complete the solution. Samsung has launched a streamlined, all-in-one digital signage solution: an outdoor version of its Pro TV for small and medium businesses.
All-in-one answer
The Terrace is a smart 4K display with built-in media player and connectivity, tied to a smartphone-based app that lets users create, organize and update content on the screen. The premium Quantum Dot LED (QLED) TV display has a built-in TV tuner, so it can function as both entertainment and messaging — and easily switch back and forth from the app. The Quantum Dot filter provides a range and depth of color not seen on conventional flat-panel TVs.
Optimize your outdoor signage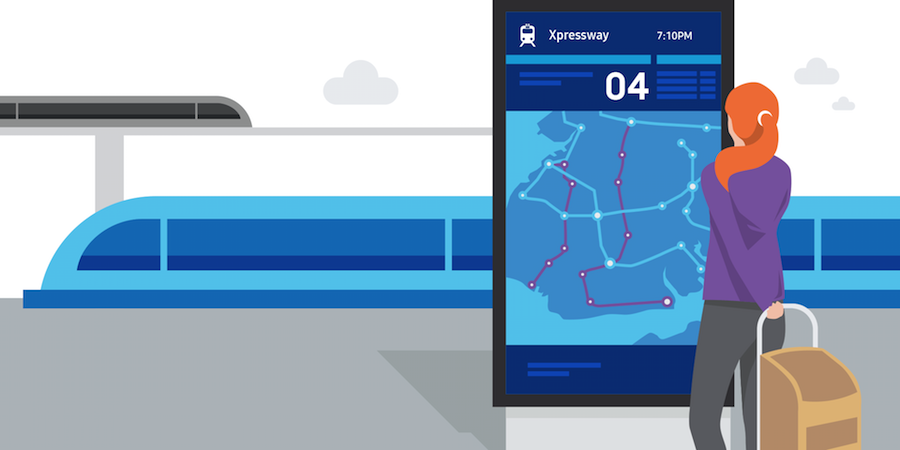 Leverage high-brightness displays to deliver clear, compelling communications in any weather. Download Now
The Terrace display solution is notably different from most competing outdoor TV options. Its brightness rating of 2,000 nits doubles or even triples the brightness measure of similar products. It's also engineered to run 16 hours a day — more than enough time to cover the full opening hours of most businesses — whereas many outdoor TVs are rated for just eight hours of daily use.
The smart displays are IP55-rated, designed to handle all the dust, grit and precipitation brought by the long hours outdoors. The Terrace also has a three-year warranty — a year longer than most other displays.
Content controls at hand
Most of the screens used outside of venues — around patios, decks and terraces — have been employed solely as TVs, showing sports events, news and weather channels. The only way their content could be switched was by changing broadcast channels with a remote.
The Terrace Business TV app can fully manage one or several displays — sending instructions and fresh content to the smart module and software embedded in the QLED screen. Developed for both Android and iOS, the app comes loaded with 100-plus professional content templates that allow anyone — regardless of creative ability — to produce great-looking promotional messaging in a matter of minutes, at no extra cost.
Outdoor messaging power
People like to be outside, whether they live somewhere with four seasons or none. Outdoor displays have a wide variety of relevant applications, including:
Restaurants and bars: Outdoor dining, curbside pickup and order-ahead were trends prior to the global crisis in 2020, and recent circumstances have only accelerated adoption. To meet physical distancing guidelines, restaurants and bars have added more outdoor space to create the operating capacity they need to stay profitable. They can use screens to attract customers, make them aware of new guidelines and communicate any menu or service changes. On-site managers use digital signage indoors and out to promote specials and high-margin add-ons, like desserts and appetizers. They also celebrate staff and community achievements, thank customers for their business and invite them back for upcoming events and new menu items.

Entertainment venues and attractions: Sports and entertainment venues, as well as theme parks and other attractions, use digital signage for core applications like ticketing windows, special events calendars and concession stand menus. They also use screens for lineup management, informing guests of estimated wait times and providing entertaining content that previews the upcoming attraction. Traditional venues like golf driving ranges are evolving from small business operations to high-profile lifestyle attractions, with full-service food and drinks, plus screens in the outdoor areas to promoting services and showing live sports TV.

Hospitality: Hotels and other hospitality establishments, notably larger ones and those in sunny destinations, want their customers to stay at the venue as long as possible. Displays inside and outside the establishment can communicate offers that keep people around — on the pool deck, on an outdoor patio or in a rooftop lounge.

Taking the message outside
Using screens for messaging and marketing outdoors can have a big impact, but it's critical to find a solution that is truly engineered for the environment, and presents the speed, convenience and ease-of-use that respects the time constraints and bustle of businesses that have operations both inside and outside.
Explore more of Samsung's line oftough, super-bright outdoor digital signage. You can find more tips on implementing digital signage in key areas to attract and retain business in this free white paper.