It's hard to believe that just over 100 years ago, stadium and arena scoreboards were manually operated with rows of physical cards updated individually as the game progressed.
In the late 1800s, scoreboards debuted as an early type of "display" at sporting events. Game scores and info were shown with scorecards, updated by hand — one card at a time.
A few decades later, scoreboards would see electronic upgrades displaying everything from scores to short video animations. These displays were even placed outside newspaper headquarters, so those who couldn't attend the games could still be a part of the action. Manual scorecards eventually gave way to electronic display boards, and the rest, as they say, is history.
We now live in an age where "scoreboard" is a loose term for the large-scale screens hung squarely in the middle or ends of our sports venues. These larger-than-life displays are usually the first thing event-goers notice, and often, spectators pay more attention to the display than the event itself.

And it's no wonder. Center-hung displays hold prime real estate in sports venues, and it seems like professional teams are in constant competition to hold the largest displays in their league. But displays of this magnitude are costly and can be out of reach for semi-pro teams and smaller venues, making it tough for these organizations to deliver a memorable experience for fans and draw higher ticket sales like the big leagues. That's where the Samsung indoor IF Series LED Video Display comes in.
Big-league visuals
The Samsung Indoor IF line of products hasn't traditionally been used in sporting arenas, but recent innovations make it the perfect choice for indoor venues.
First and foremost, the IF series image quality is good. We mean really good. These displays boast top-of-the-line image quality and color clarity thanks to Samsung's decades of experience and superior processing power.
How to plan and deploy LED digital signage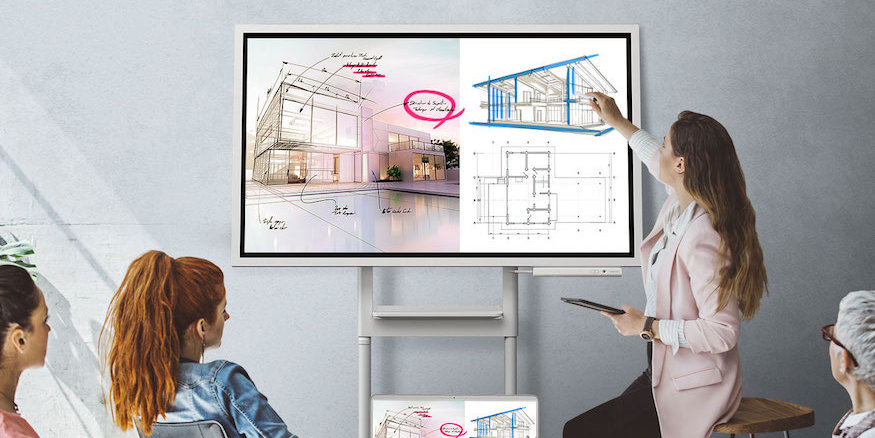 Discover the unique advantages of direct-view LED technology over traditional LCD displays. Download Now
Additionally, new upgrades in technology bring the IF series to the front of the pack when searching for a display. Greater pixel pitch varieties have recently been introduced, making IF a more realistic choice for center-hung displays. Combine that with IF HDL diode options, and you've got the high-def, extra-bright, super-sharp display crowds cheer for.
Custom Indoor IF LED ahead of the curve
Traditionally used as flat, rectangular displays, IF products haven't previously made for a great center-hung candidate. But recent innovations to mounting techniques make it possible to get ahead of the curve.
Experts at Samsung restructured the Indoor IF display framing to reinforce the way the LED panels are held and installed — opening a new world for custom rounded designs. These new framing options reduce overall weight while maximizing display area, adding flexibility to sizing and storage.
Better bang for the buck
Perhaps the biggest selling point of the IF series is the attainable price point, making it an easy and accessible choice for smaller venues.
The Samsung Indoor IF Series LED Video Display delivers professional-league quality without a pro-league price tag. Better displays mean more engaged crowds and higher ticket sales. Plus, new safety innovations and easy serviceability mean these ground-breaking displays can be enjoyed for years to come without worry.
From ocean to arena
The proof is in the pudding for the Samsung IF series. Recently, the Scotiabank Centre in Halifax installed a stunning center-hung display comprised of, you guessed it, IF modules. Featuring four main screens and two 360-degree rings, the display is NHL quality and boasts the highest resolution in the league. With 10,000+ seats in the arena, it's big enough and bright enough for perfect visibility all around the venue — making nearly every seat the best seat in the house.
IF displays aren't just a solid option for sporting events. Entertainment experiences can benefit from the stunning visual power and customization capability of the IF series as well.
National Geographic implemented IF displays at an exhibit to help bring the ocean to life for National Geographic: Ocean Odyssey Encounter in NYC's Times Square. You can read more about this ground-breaking display here.
These screens bring larger-than-life experiences to crowds of all types. From sporting events to concerts and exhibits, Samsung delivers the biggest and best displays. The Scotiabank Centre display is just the first of many in sporting arenas. Thanks to its reliability, an affordable price point, customization and high-res visuals, IF is the perfect solution to get smaller organizations ahead of the curve.
Expand your expertise on indoor versus outdoor LED digital displays with Prismview's free guide.