Digital signage demands attention, so when Samsung decided to prop up a seamless video wall ranging hundreds of diagonal inches, it overshadowed anything else in its general vicinity for even the most discerning of audio-visual professionals.
Since its launch, Samsung's large-format microLED display has drawn trade show crowds and generated big industry buzz because of how it changes the way people think about direct view LED displays.
While manufacturing advances have resulted in narrow pixel pitch LED displays that look spectacular when compared to their low resolution ancestors, they're screens that are still best viewed from 10 feet back or more. Get any closer, and viewers start to see the individual LEDs, and the viewing experience suffers.
With The Wall, millions of bright, micrometer-scale LED lights and a deep black background produce visuals that look stunning even at close quarters.
The Wall is the first direct view LED product on the market that looks good enough to serve two very different buyer markets:
Commercial end users installing large screens for advertising and marketing, and in conference rooms and control rooms
High net worth consumers who want a high resolution viewing canvas for their homes, at scales not possible with conventional flat panel displays
To that end, The Wall is marketed in predefined sizes that range from 75-in. diagonal, all the way up to 292-in. So buyers looking for simple options can choose one that most suits the dimensions of a space.
Modernize Your Workplace With Digital Signage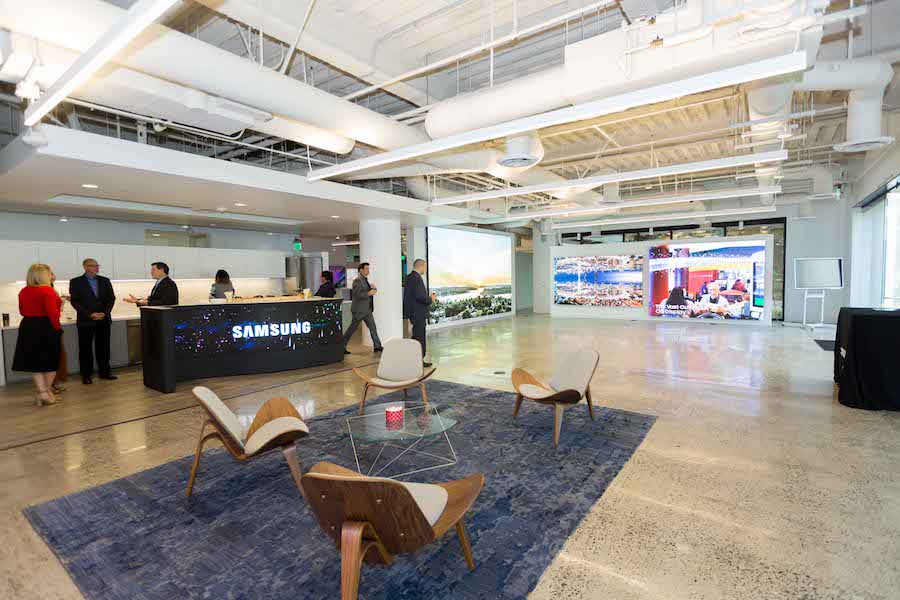 Explore how corporate offices are producing dynamic, engaging content for workers and clients alike. Download Now
But the modular nature of The Wall, as with most direct view LED products, means designers are not constrained by predefined sizes, and can build a version of The Wall to whatever dimension and shape matches the need.
Why The Buzz?
Why is The Wall so buzz-worthy? There are several key and sometimes unique attributes:
Detail and clarity: The Wall has millions of bright, microscopic LED lights packed into its surface: Each LED is a single pixel. The results are visuals on wall-filling displays that look as good as premium TVs — but much larger.
Deep blacks: Black Seal technology developed by Samsung puts a deep black background on The Wall's viewable surface, creating contrast levels unparalleled in direct view LED. The amount of black between the tiny lights means scenes that are meant to be black, really are — instead of shades of gray. That black also minimizes reflection from natural or artificial lighting in the vicinity.
Durability: That Black Seal technology also offers protection. Most direct view LED displays use manufacturing techniques that leave the modular LEDs at risk of being damaged by impacts, moisture or static shocks. The Wall is impact, shock and water-resistant, and uses a design that disperses heat, making it more energy-efficient than many displays. The net result is a massive premium screen built and ready for real-world usage.
Stunning color: The Wall uses Ultra Chroma technology, which employs a narrower wavelength of color to deliver color purity levels roughly twice as accurate as what's possible using a direct view LED display. That means vibrant but still natural colors that drop viewers' jaws.
Every shade: Quantum HDR technology leverages a variety of High Dynamic Range (HDR) technologies to deliver peak brightness, dynamically, with every visual. Suddenly, all those dark scenes in movies that seem impossible to see and appreciate have all their shades and nuances revealed.
Ultimate flexibility: Modular, seam-free microLED tile units allow The Wall to be customized both in shape and size, to optimize design plans and aesthetics of a setting, whether that's the lobby of an office tower, the feature wall of a retail brand's flagship store, or the main wall in the great room of a Sunset Boulevard home. The Wall can be a huge rectangle, an abstract shape and everything in between.
Super smart: Artificial intelligence (AI) algorithms built into The Wall's display control system dynamically upscales visuals to as high as 8K resolution, ensuring the content is matched and digitally enhanced to take full advantage of the screen's scale and capabilities.
Next Generation LED
Direct view LED has exploded on the commercial display market in the last five years, with adoption rates soaring and large format video walls, which have long been designed using LCDs, slowly transitioning to LED.
The only things holding back faster adoption have been price and concerns about image quality and durability.
The Wall remains a premium priced product for high profile use cases. It's not intended to compete with lower cost, conventional direct view LED products. But The Wall's design directly addresses and resolves the other adoption barriers.
Visuals are vibrant and crisp at any viewing distance. Architects and space designers don't have to factor optimal viewing distances into their technology selection. The durable engineering design of The Wall makes it ready and capable of handling the bumps and spills that are part of putting technology in places where people congregate and move.
Most knowledgeable display industry observers see a future in which miniLED and microLED gradually take over from conventional direct view LED technology. In the case of The Wall, the future is already here.
See how digital displays like the The Wall can be utilized in business settings by downloading this free white paper.