The global pandemic has made an enormous impact on education — the magnitude of which we're still struggling to comprehend. School closures this spring affected 1.5 billion children worldwide. Across the United States, K-12 schools closed their doors as students shifted to a combination of independent study and technology-powered remote learning.
Teachers, students and administrators have faced the unexpected shutdowns with courage and creativity. But there's no doubt that it has been a tremendous challenge for them. One day they were in the classroom; the next they were isolated at home. Social distancing is so difficult for young people who build their identity around relationships with their friends and peers.
Keeping students connected
Remote learning technology has never been more necessary. School districts have had to pivot rapidly just to ensure all students have what they need to continue learning from home. Among U.S. children ages 6 to 17, 14 percent don't have a home internet connection, and districts must find creative ways to address this problem. Districts that didn't already have a 1-to-1 device ratio are working to identify the best technology to fill the gaps.

As the new school year begins, districts across the U.S. are preparing for several possible scenarios, from all-remote learning to a hybrid model including some on-campus classes. It's possible many districts that do hold in-person classes may be forced to shut down again if COVID cases surge in the area. Teachers and students could be in line for another rapid shift to remote learning. But this time, they can be prepared.
A positive perspective on the new normal
Most students and teachers prefer classroom learning, but remote learning offers some advantages, too. With the right technology, teacher training and lesson plans, remote learning can be both flexible and effective. In fact, one study indicates that students retain 25 to 65 percent more material when learning online compared to in the classroom.
Modern videoconferencing and collaboration software allows students to work together on group projects, ask questions and make presentations. Teachers can record lectures, create slideshows, teach live sessions and meet with students in virtual office hours.
Speaking with school administrators around the country, it's clear that they have put an enormous amount of energy and creativity into planning for the challenges of this new school year. It's a massive change, but with a positive outlook and the right technology tools, students and teachers can thrive in a remote learning environment.
Fund your remote learning initiative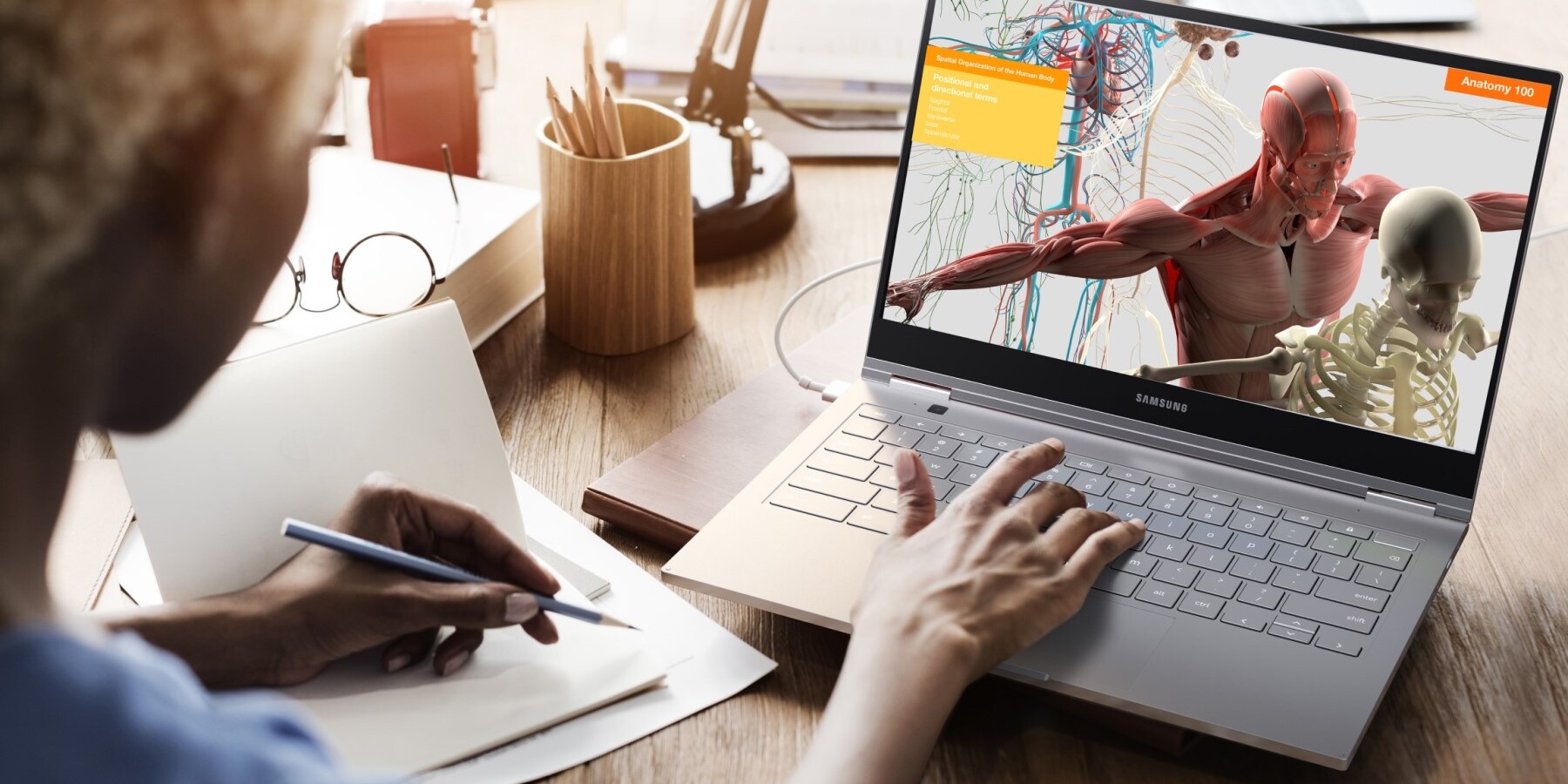 Learn how to create, present and secure grants for your remote learning technology needs. Download Now
How Samsung can help
Enhancing digital learning has been a focus for Samsung for the past decade. We've helped thousands of schools integrate technology and go 1:1 with Chromebooks and Galaxy tablets. Through these initiatives, we've seen how technology in the right hands can boost engagement, inspire participation and improve learning outcomes.
The role of technology has changed. Even for districts that had already proactively adopted a 1:1 computing model, the primary method of instruction was still face-to-face, with technology playing a supporting role. That model has now truly been flipped. These devices are the classroom now.
Perhaps it has been said a million times, but this is a generation of digital natives. Students need technology that makes them feel empowered and excited to learn. We see that engagement with devices like our new Galaxy Chromebook, Chromebook Plus LTE and Galaxy Tab S5e — they provide students the ability to multitask, to interact naturally with vivid, responsive touchscreens and use the S Pen to get creative. They bring digital curriculum to life.
At the same time, school IT leaders need technology that is reliable, easy to manage remotely, and safe and secure for learning. Chromebooks (thanks to the Chrome admin console) and Galaxy tablets (paired with our Knox device management capabilities) meet those needs and are a proven platform for scaling up to 1:1.
Every student should have the opportunity to learn and grow wherever they are. At Samsung, we've got the technology, the ecosystem and expertise to help. In partnership with a host of digital curriculum partners and education-focused integrators, we're making sure learning continues to happen and students can not just get through, but thrive in this very difficult time.
Learn more about how Samsung's education technology can support remote learning in the new normal. And get five tips for deploying Chromebooks in your school district.