As schools pivot to a virtual or hybrid instruction model, providing students with remote learning technology that's versatile, intuitive and easy to manage has become a top priority. Depending on grade level and coursework, students will be using a range of digital resources and apps, and have different computing needs.
That's what makes Chromebooks ideal options for remote learners. Chromebooks provide access to Google's enormous education app ecosystem, and can handle a variety of tasks, from word processing to video editing. They boot up quickly, have an intuitive user interface and, with the Chrome admin console, are easy to manage at scale for IT admins.
A few years back, most Chromebooks tended to all look alike, with the same basic specifications and a focus on affordability. But today there's a broad spectrum of Chromebook devices available for students, teachers and administrators. Some models include a touchscreen and stylus for creative work, while others have additional computing power and high-resolution cameras so teachers can create multimedia lessons, manage assignments and record lectures.
Connectivity is an essential component of remote learning. To address accessibility needs for students who don't have dependable internet access at home, you may want to consider a Chromebook model that supports cellular connectivity.
If you're not sure which Chromebook model will best suit your district's needs, here's a closer look at each device that Samsung currently offers:
Samsung Chromebook Go
The newest addition to the Chromebook line is Galaxy Chromebook Go, which is thinner and lighter than other devices in its class. It also supports Wi-Fi 6 as well as LTE, so students can take online classes or get homework done from anywhere. This feature is especially helpful for students who may not have access to reliable Wi-Fi.
Shop special offers
Find out about offers on the latest Samsung technology.
see deals
Speak to a solutions expert
Get expert advice from a solutions consultant.
Talk to an expert
Galaxy Chromebook Go has a 180-degree adjustable hinge that makes it easy to share the screen with others during classes or meetings — and prevent breakage when the device is opened all the way. Chromebook Go also has enhanced durability, having passed eight criteria of the Defense Department's MIL-STD-810 tests. Its spill-resistant keyboard further protects it from accidents, and its long-lasting battery with 45W Super Fast Charging capability enhances outdoor usability, for when you need to take online classes on the go.
The Chrome OS also features Microsoft learning and productivity software including Word, Excel and PowerPoint, and the Google Assistant feature allows you to navigate your device with voice commands. And thanks to Google's various continuity features, your Chromebook Go can easily connect to your Android phone to transfer files.
Samsung Chromebook 4 and 4+
The Chromebook 4 has become a mainstay for school districts expanding 1:1 initiatives over the past 12 months. Released in 2019 as a successor to the popular Chromebook 3, the 4 and 4+ are affordable and dependable. They're also rugged, meeting eight military-grade standards that measure resistance to temperature, dust and shock. With either model, you can choose from hard drive capacities of 16GB, 32GB or 64MB. The 64GB storage version also gives you 6GB of RAM (versus 4GB for the other models), making for snappier performance while running multiple apps.
The standard model has an 11.6-inch HD screen, while the Chromebook 4+ expands that to 15.6-inch and adds an additional USB-C port, allowing users to charge the device and transfer files at the same time. Battery life for the Chromebook 4 is around 12.5 hours, while the 4+ is rated at 10.5 hours due to the larger screen.
The Chromebook 4 and 4+ both support Gigabit Wi-Fi, meaning students and teachers can stream video and download large files quickly. Each model also comes with stereo speakers and a 720p webcam for excellent multimedia and videoconferencing quality.
Samsung Chromebook Plus and Plus LTE
In 2017, Samsung introduced the Chromebook Plus as a business-centric device with extra features and enhanced performance. The updated Chromebook Plus comes with a built-in stylus and folds neatly from a traditional laptop into tablet mode. Users can take notes and sketch on the touchscreen — a bonus for teachers who prefer editing or annotating assignments by hand.
Fund your remote learning initiative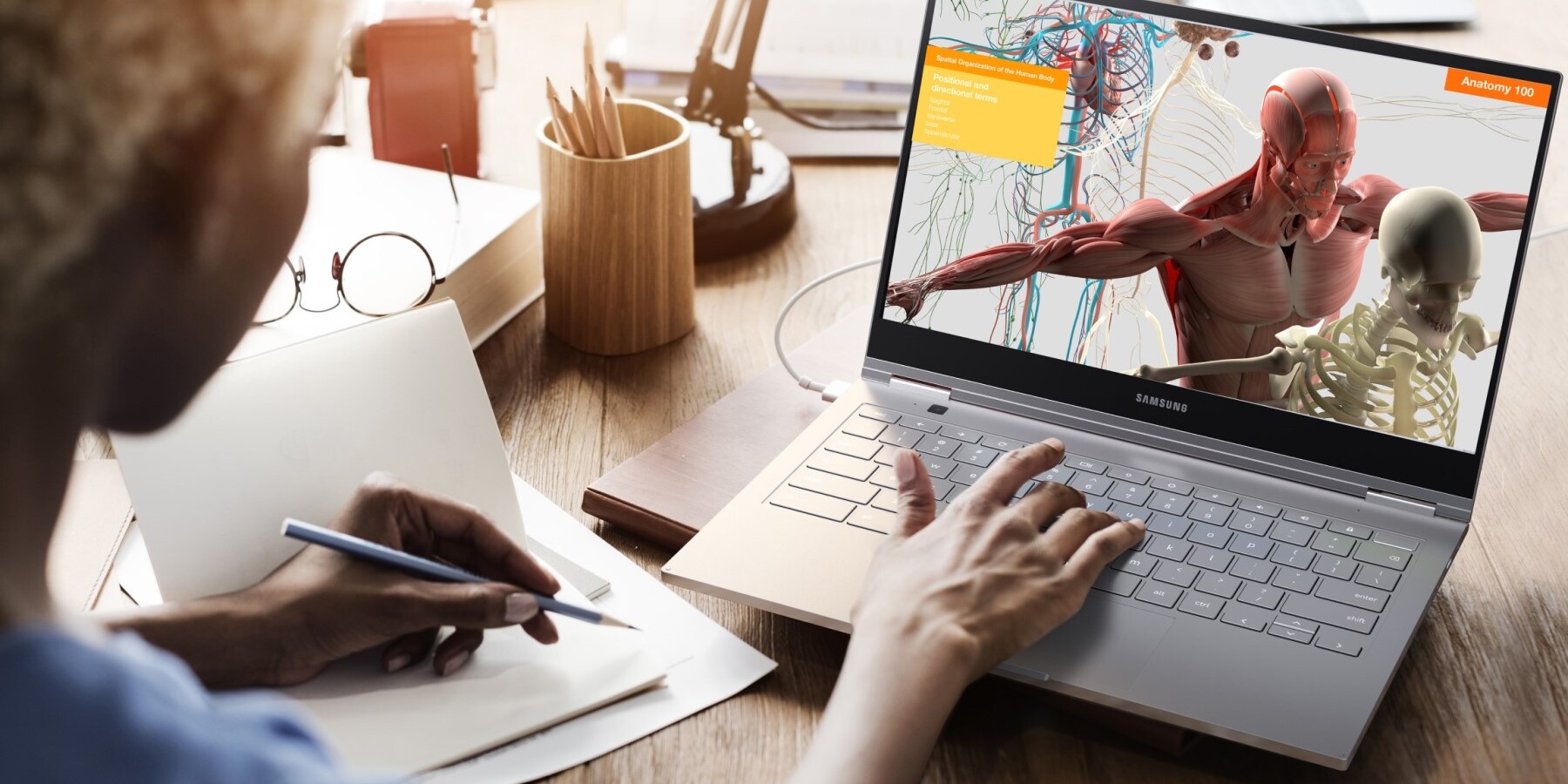 Learn how to create, present and secure grants for your remote learning technology needs. Download Now
The Chromebook Plus also has two cameras (1MP forward-facing and 13MP outward-facing) — useful for videoconferencing and taking pictures for assignments — while the device's Intel Celeron processor enables smoother multitasking capabilities.
The Chromebook Plus LTE edition adds cellular connectivity. With a mobile service plan, you can get online from anywhere with cellular service — providing enhanced accessibility for students and teachers without reliable home Wi-Fi.
Galaxy Chromebook
Released in 2020, Galaxy Chromebook is Samsung's premium Chromebook and likely the most-full-featured model on the market today. It comes with 256GB storage and 8GB RAM, providing lucky students, teachers and administrators with extra space and computing power for powerhouse applications. Its stunning 13.3-inch 4K AMOLED HD display is ideal for detailed visual work, and it's equipped with an automatic brightness feature that adjusts to your surroundings. Galaxy Chromebook's 3.9mm bezel maximizes its display, which can rotate up to 360 degrees, allowing it to be used as a tablet, standing display and traditional laptop.
Like the Chromebook Plus, Galaxy Chromebook comes with a built-in S Pen for drawing, notetaking and annotating documents. The device supports Wi-Fi 6 at Gigabit Plus speeds and includes a variety of ports along with UFS and microSD card slots. You get a 1MP forward-facing camera for sharp videoconferencing, and an 8MP camera built into the keyboard deck that takes great photos when you're in tablet mode. It even has a fingerprint sensor built into the keyboard to enable a convenient biometric unlock.
In Samsung's diverse lineup, there's a Chromebook suited for every student and educator — and for every budget. Samsung understands the complexities of education budgets and education technology investments. Alongside your preferred tech integrator, Samsung works closely with school districts to find the right technology solutions, accessories and deployment services that will ensure learning continues seamlessly, no matter where classes are hosted.
To best serve your students, you'll need more Chromebooks or laptops. Learn why interactive learning matters and how prioritizing it engages students and improves outcomes. And make sure your district is prepared as can be for education's new normal.