Between lockdowns, forced shifts in consumer habits and disrupted supply chains, restaurant operators have had to make dramatic adjustments to how they do business — and digital signage technology has been a huge part of enabling positive change.
Restaurant operators who suddenly couldn't open their dine-in areas had to rely entirely on drive-thru lanes and pickup windows to service their hungry customers. Drive-thrus are a big part of quick service restaurant (QSR) chains, but amid health-minded restrictions, drive-thrus have come to represent as much as 100 percent of sales.
And where drive-thrus aren't feasible, such as in urban areas, operators had to rush to find new ways to stay open.
Shifting from static to digital
My job has me talking just about all day, every day with America's restaurant operators and the companies that service them. In the last few months, I've seen a huge shift toward digital displays to address the business challenges introduced by COVID-19.
When operators evolve from static, printed poster material to digital menus and promotions, they gain incredible flexibility. Updates take minutes — not days or weeks. And digital menus pay their way by influencing ordering decisions and removing the printing, shipping and labor costs of printed signs and posters.
Modernize your quick service restaurant with displays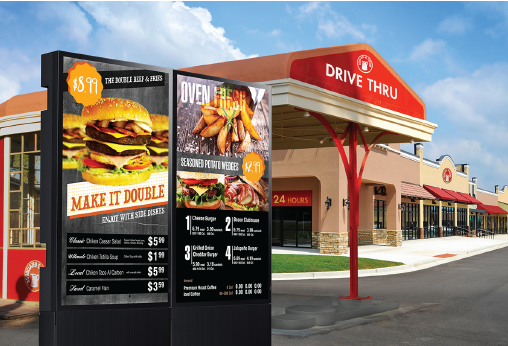 Explore how digital signage is improving customer experiences and motivating QSR employees. Download Now
There's always been interest in going digital, but also resistance to the initial capital costs and disrupting the status quo. That's all changed in 2020. We've seen a huge uptick of customers and prospects coming to us, wanting to revisit and accelerate discussions because they've watched as larger brands, who had already adopted digital, adjust and manage their way through all of this. They've seen operators easily revise their menus based on available food supplies and effectively communicate their new business practices.
All of a sudden, they were asking us, "So, how can we get digital installed at our stores immediately?" They were looking for guidance on how to organize, manage and create effective messaging and fully integrate digital into their operations.
Putting screens to work
So how does this look in the field? Outdoor digital menu boards in drive-thrus have recently seen a dramatic rise in popularity, with global operators like McDonald's installing them across their entire national footprint. Competitors of all sizes have followed suit.
Outdoor displays — bright enough to handle the glare and heat of the sun — presell to customers as they approach the ordering position, and digital menus show them the dining options currently available. McDonald's is successfully using artificial intelligence and anonymous customer data to dynamically alter menus vehicle by vehicle, to optimize ordering opportunities. The ability to boost order sizes is understandably attractive to operators.
Beyond drive-thru digital menu boards, outdoor signage also offers an effective, hard-to-miss way to communicate business changes, such as operating hours, dine-in reopening or other topical messaging.
Delivering safe, efficient food service
Delivery has been a savior for operators without drive-thrus. Ordering ahead has also dramatically increased in popularity, with operators keeping their staff and customers safe by offering curbside pickup.
Super-bright window displays visible from the parking lot, as well as outdoor-ready screens, act as beacons that guide diners. Tied to the brand's online ordering platform, software drives messaging to the screens, letting motorists know their order status.
With food delivery becoming hugely popular and multiple app-driven services fulfilling remote orders, we're seeing more screens in meal preparation areas to dynamically track orders and drivers — like an airport displays flight gates and times.
Bright window displays also drive awareness of order-ahead options. Many operators have opted for Samsung's unique double-sided displays. The outward-facing screen handles ordering, while the inward-facing screen promotes special offers and helps recruit new staff members.
Integrated with signage management systems, those screens let diners know if they should stay in their car or come inside to pick up their order. These notifications can also be pushed to customers' smartphone apps, but a lot of order-ahead is done online, and not tied to any apps.
Communicating with passersby
For restaurant operators whose physical locations are all about walk-up ordering, we've seen increased adoption of portable displays that draw in passersby on foot.
You're probably familiar with sandwich boards and poster totems that sit on the sidewalk outside of businesses — featuring daily specials or calls to action. In the past, a single message might have been enough to attract diners. Now, operators have multiple messages they need to convey, and with restricted capacity, they need to work even harder to realize an operating profit. At the simplest level, a bright display outside a venue can make it known to diners that the place is open for business, patrons are welcome and the eating environment is cleaned, sanitized and safe.
Managing business changes
Content management software, such as Samsung's MagicINFO, make it possible for owners and operators to fully view and control what's happening on all of their displays, inside and outside. That toolset can be operated from a PC on-premise, or managers can control messaging for one or many locations from a distant office, or even from home.
Digital displays have become central to how many QSRs do business, and in the COVID-19 era, their benefits are even more evident.
Learn more about the importance of digital signage and content management in the QSR industry with this free white paper. And discover the amazing display potential of Quantum Dot technology.