To address the complex challenges of remote learning, many school districts are expanding their student computing initiatives, purchasing a device for every student. Laptops such as Chromebooks are a popular choice for education, but tablets offer a versatile alternative. They're engaging for the youngest learners, but can be paired with a keyboard and mouse for older students. Here are five advantages of choosing tablets for remote learning:
1. They're extra portable, with just as much storage.
Tablets are smaller and lighter than laptop computers, making them easy to manage and carry around, especially for younger children. It feels more like carrying a book or a large smartphone than a computer, yet many tablets offer just as much storage as Chromebooks. The Samsung Galaxy Tab S5e, for example, comes with either 64GB or 128GB of internal storage, plus the option of adding a 512GB micro SD card.

2. They're not dependent on Wi-Fi.
To enable remote learning, especially live videoconferencing, all students need access to a stable internet connection. K-12 districts across the country are grappling with the issue of providing connectivity to students without reliable home Wi-Fi access — which represents 12 percent of children ages three to 18 in the U.S., according to the National Center for Education Statistics. One solution is to use tablets with LTE connectivity, so students don't have to depend on Wi-Fi. Samsung offers several unlocked models to choose from.
3. Their touchscreens and digital pens appeal to tactile learners.
A tablet is built around its touchscreen. It's designed to be interactive in a tactile way, making it a perfect choice for younger students, who learn best with all their senses engaged. Some tablets, such as the Samsung Galaxy Tab S6 Lite, also come with a stylus or digital pen. The pen allows students to annotate projects, sketch ideas and artwork, and take handwritten notes.
4. They create an intuitive e-textbook experience.
For students using digital textbooks, reading on a tablet is akin to reading a physical book. Students can curl up on the couch, swipe to turn pages and use the stylus to make notes. Lightweight tablets are conducive to reading, and they can deliver the multimedia components of digital textbooks such as sound and video. And there are a wealth of free and paid learning apps available for the Android OS, making it easy to expand digital curriculum with games and other interactive assignments — all on the same device.

Fund your remote learning initiative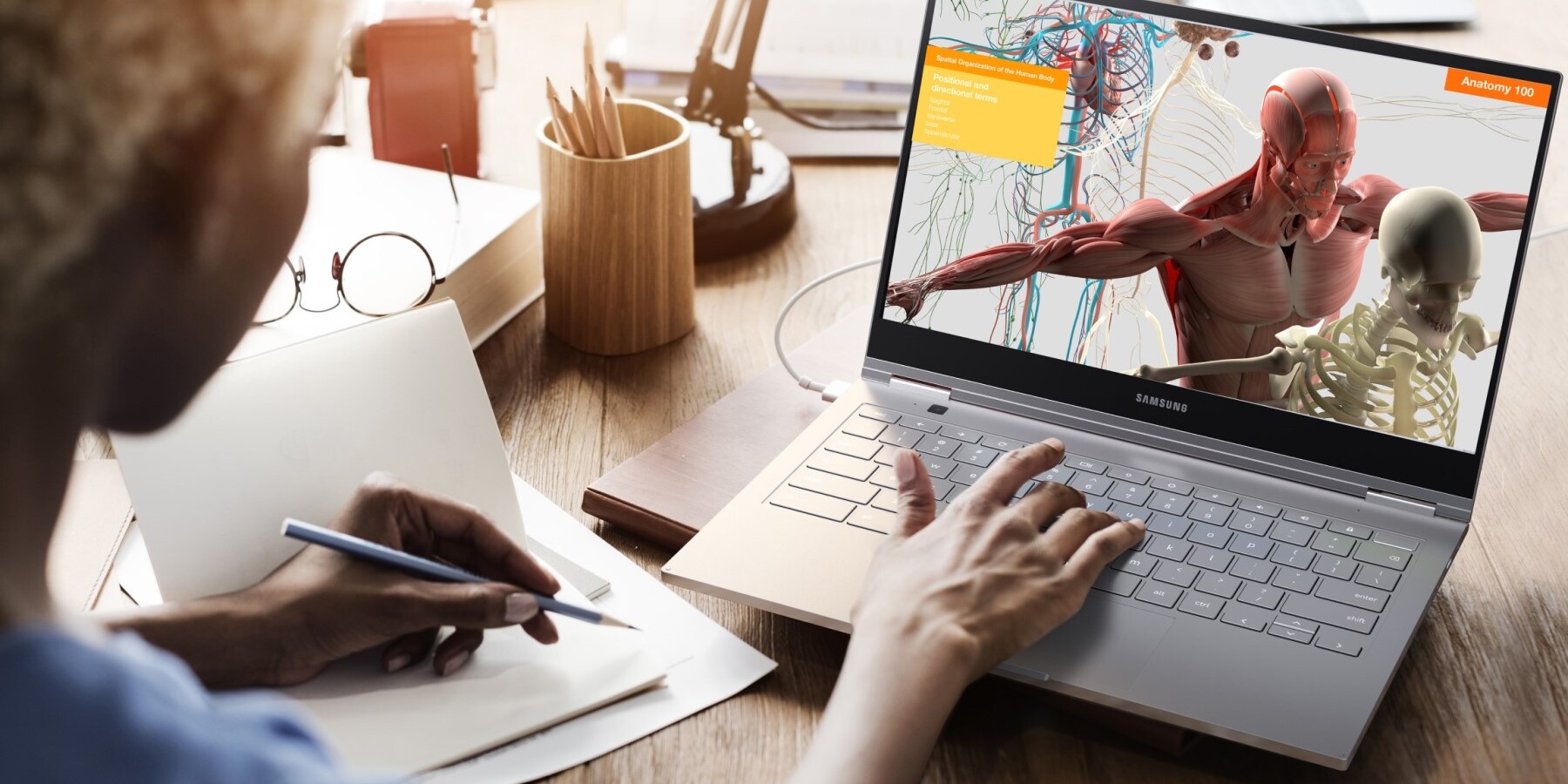 Learn how to create, present and secure grants for your remote learning technology needs. Download Now
5. They can be used like traditional computers.
With the addition of a keyboard and mouse — wired or wireless — tablets can easily convert to a traditional computing setup. Students can use G Suite apps such as Google Slides and Google Docs to do just about everything they'd do on a laptop or desktop computer, including type essays and create slideshow presentations. This versatility appeals to students who want the portable comfort of reading textbooks on a tablet but need the keyboard and software capabilities of a laptop. Some districts choose to provide tablets for their younger students and add a keyboard and mouse as students start to acquire typing skills.
With several Samsung tablets, including the Galaxy Tab S5e, there is also the option of connecting the tablet to a monitor to power a full desktop experience with Samsung DeX.
For any student computing initiative, you have to consider device management. When students' devices are dispersed across your district, you need a way to keep track of where they are and how students are using them. With an enterprise mobility management (EMM) solution such as Knox Manage, you can configure settings on all student devices, deploy apps, track device location and restrict access to certain apps to help students avoid distractions and stay on track. You are also able to remotely troubleshoot device issues and even take control on the device to fix a problem, so that students can get back to learning sooner.
Not just for elementary students
Remote learning presents unique challenges for students in grades K-3 because they haven't yet learned keyboarding and other advanced computer skills. Tablets help to bridge that gap for the youngest students. But their versatility and portability also make tablets a good choice for older students as well, especially as most of today's high schoolers have their own smartphones and are already very comfortable with the touchscreen interface.
Discover more education technology from Samsung that can enhance your students' remote learning. And for students studying from home without a laptop, see how Samsung DeX can help.