Six months into the new work-from-home (WFH) norm, it's an appropriate time to survey your teams to find out what's working and what's not. Here are seven key questions to ask, and some important follow-up ideas:
1. Are you achieving a good work-life balance?
If everyone says yes, great. But for teams that are new to working from home, it's easy to burn out. Staff no longer have the clear distinction of being in or out of office to signify when they should stop working. And the feeling of crisis that surrounds the pandemic makes it easy to forget to relax.
For staff, your goal is to make it clear that the job itself hasn't changed; all that's changed is where it's done. Wherever possible, shift to outcome-based management rather than clocking online hours. This change may be more stressful for managers than for the staff they supervise. Make sure managers understand that this isn't an opportunity to get more work for the same cost, but to empower the whole team to accomplish what needs to get done — flexibly.
2. Are you able to collaborate effectively?
Collaboration is hard to begin with, even when there isn't a global health crisis going on. If staff report problems with collaboration, offer them formal tools like file sharing, drive synchronization, chat, videoconferencing and virtual meeting solutions. Many of these options will already be in your existing kit, but don't hesitate to try some more advanced cloud-based collaboration tools. With extended trial periods and per-user pricing for tools such as G Suite and Paymo, you can easily test whether these work for your team.

Digital natives may be totally comfortable switching to purely online collaboration, but not everyone falls into that category. You can help teams work together comfortably — and reduce isolation — with informal collaboration as well. For example, some companies have started putting top executives in the hot seat with "Ask Me Anything" Q&A sessions, company-wide podcasts on work topics and open channels in their videoconferencing systems where people can drop in and chat. Keep in mind, these solutions may take a few tries to not feel strained or artificial, but they are worth the effort in breaking down communication barriers.
3. How are your ergonomics?
This question may require more digging (and can open up a financial can of worms), but people need properly designed workspaces at home just as much as they need them in the office. Be prepared to provide ergonomic furniture or technology — whether on loan or as a gift — to keep staff healthy while they're using their homes as an extension of your office for 8 hours a day. Dual monitors or ultra-wide screens, for example, are inexpensive investments that pay off with greater productivity and comfort, even if the screens don't all eventually come back to inventory.
Consider also having your HR team email WFH staff a daily or semiweekly ergonomics tip, like a reminder to take a break, to pay attention to how they're sitting and to practice correct posture, chair height and table height.
4. Are you getting the administrative support you need?
Sending people home to work cuts them off from the office's infrastructure, including support and administrative teams. Find out whether staff are doing the administrative part of their job efficiently; they need administrative support while working from home just as much as they did while in the office. There are still vacations (or staycations) to be planned, insurance questions to answer, time sheets to file and so on. If your organization hasn't moved to a fully online self-service system for administrative support, make sure that staff know how to connect with their administrative support teams. At the same time, consider looking at more automated or cloud-based tools, such as TimeTracker and signNow.
Go mobile-only with Samsung DeX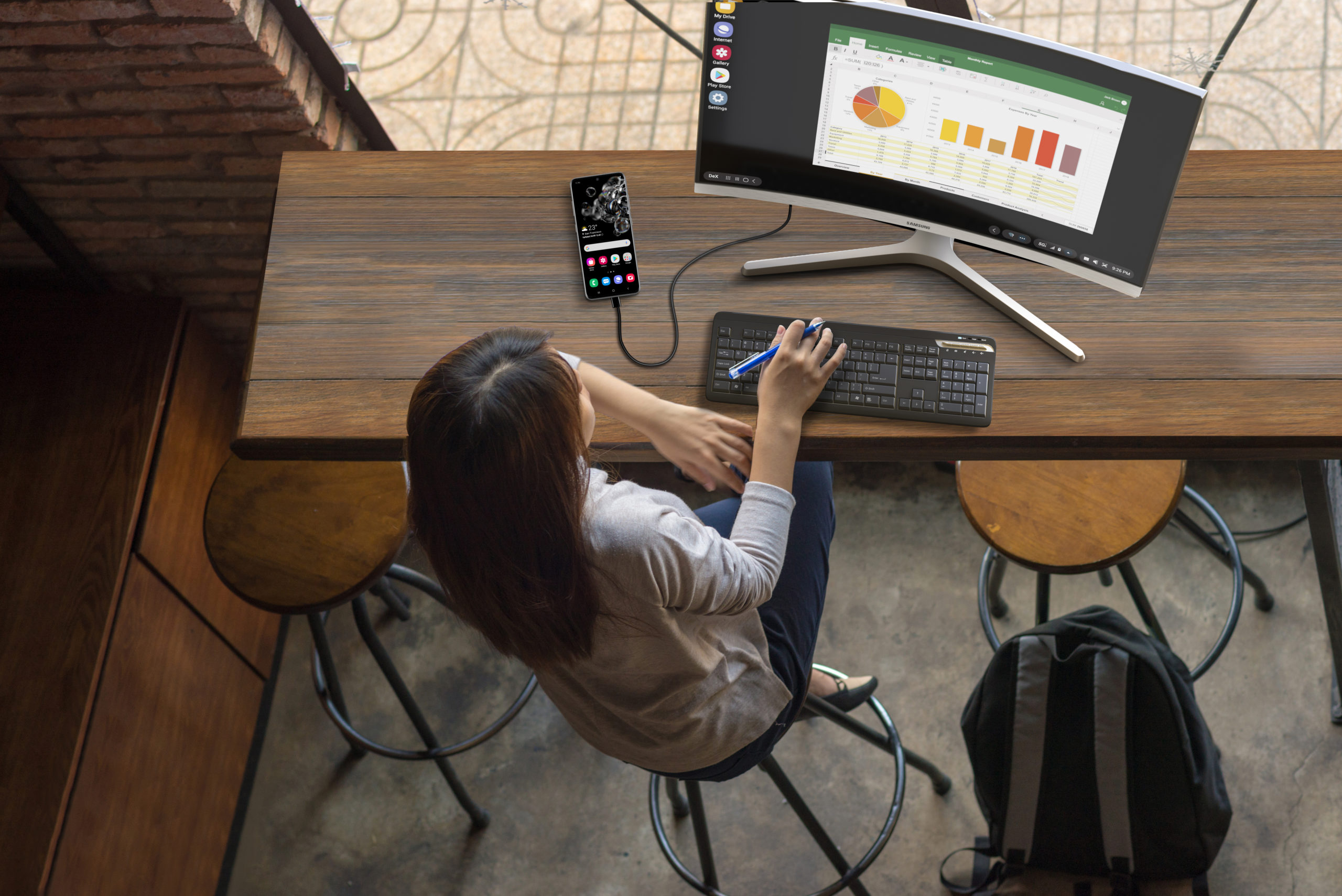 Your comprehensive guide to rolling out a mobile-only solution for your workers. Download Now
The question of support isn't only for administrative needs. Staff also need support from their managers. Supervisors need to understand how to manage people they now only get to see in videoconferences. You may also want to ask staff about their satisfaction with management. Some managers may need retraining on how to give WFH staff direction, supervision and encouragement — as well as how to ensure accountability for tasks.
5. Do you have the technology you need?
When someone works with a poor headset, an outdated desktop or mobile device, a balky webcam or a bad internet connection, it negatively affects their productivity and the productivity of everyone they collaborate with. Money is tight for many businesses during the pandemic, but inefficiency is even more expensive. But you don't have to just throw money at the problem. You can show people the available alternatives — which they may already have in their pocket. For instance, a smartphone can act as a hotspot when internet fails or scan scan documents in a pinch. And with solutions like Samsung DeX, that same phone can power a full desktop experience.
6. Are there roadblocks in your workflow?
Every organization has some inefficient and poorly designed processes. These roadblocks have a magnified effect when the environment's more stressful and staff's time is more precious. While people are away from their usual work environment, it's an excellent time to identify any processes — old or new — that you can make more efficient. Dig deep to identify what can be streamlined or even eliminated. On the IT side, for example, check whether you've gone overboard with a new ITIL change management process, or whether you still need a wet signature for a PC to be deployed to a user.
7. Are you getting things done?
In a sense, this sums it all up: Are staff accomplishing what they used to accomplish in the office in this new setting? If the answer is no, then this is your opportunity to dig deeper and find out what needs to be adjusted to maintain productivity. Some problems may be out of your reach, like home environments that aren't conducive to work or staff who just can't manage to self-direct in isolation. But the real goal — quality work and efficient use of resources — remains the same. If things aren't adding up, don't take a knee-jerk reaction and try to pull everyone back to the office. Investigate carefully so you understand what's not working and why. This type of knowledge will come in handy no matter where staff are sitting.
Learn how Samsung is partnering to create new remote work solutions to boost collaboration and workforce efficiency. And see how Samsung predicts corporate leadership will evolve in the post-COVID age.