With work-from-home (WFH) arrangements becoming the rule rather than the exception, millions of workers are now looking around their apartments, condos and houses to sort out where they can plug in their PC and what they need to remain productive, efficient and comfortable.
Operating from the kitchen table or the couch may work for a few days, but to be effective long-term, employees need a permanent office or workstation that suits their tasks and preferences. One important piece of technology that can make a difference in this regard is the computer monitor. In many cases, the smart call is to use multiple monitors in order to secure enough visual display space for work that demands multitasking.
Anyone who follows the financial markets has seen desks with two or more monitors showing financial indicators and news. Stitching all of that together often requires specialized equipment, but a WFH arrangement can easily feature multiple monitors at a single desk through the use of daisy chaining, which eliminates the need to constantly manage tangled connection cables.
Expanding working display space can support greater efficiency and convenience for a variety of work-related tasks. The types of monitors used and how they should be set up will likely be influenced by the job at hand, a person's working arrangements and the physical setting of their home office.
How desktop monitors are production hubs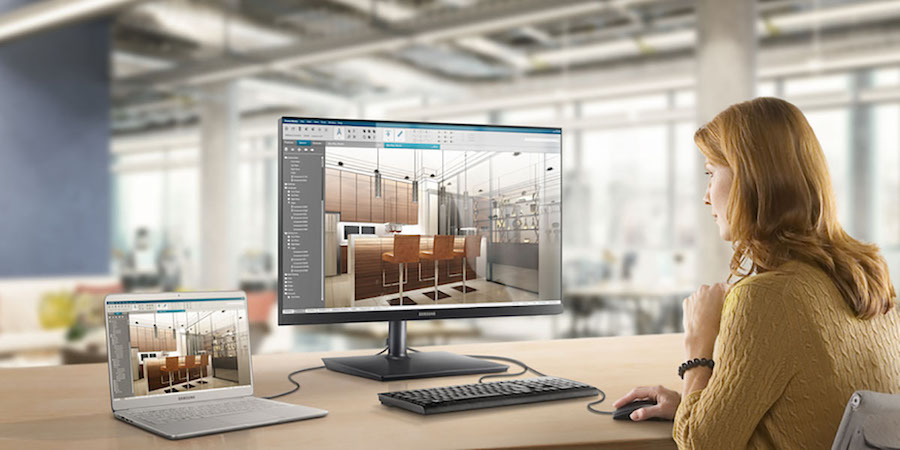 Monitors aren't just displays. Learn how USB-C, HDMI and Thunderbolt 3 enable full workstations. Download Now
Working from home
Working from home is not a new phenomenon. While the 2020 global health emergency has forced many offices to close and many employees to work from home, remote work is a well-established and fast growing trend. By the start of 2020, there were already some 7,000,000 U.S. employees operating from home offices, and pollster Gallup's most recent "State of the American Workplace" survey found that 43 percent of white collar employees in the U.S. were already working remotely at least part of the time. Separate research, reported by FlexJobs, suggests that the number of people working remotely has grown by 44 percent in the past five years.
There are numerous reasons for the shift to remote work beyond the need to address the health and safety concerns of the pandemic. For business owners and managers, WFH arrangements can reduce operational and capital costs associated with purchasing and maintaining office equipment or furnishings, as well as costs associated with office leasing and overhead. Research also shows that WFH arrangements can boost productivity and reduce absenteeism brought on by sick days.
For employees, working from home can lower stress levels (no long commutes), contribute to a better work-life balance, and increase overall income, as it can reduce costs like parking, transportation and takeout coffee or lunch considerably. In industries where businesses have to compete for top talent, WFH is both a recruiting perk and a great way to hang on to staff.
Expanded canvas
Few contemporary jobs ask workers to perform one duty using one tool all day long. For most positions, there tends to be a core software application related to the job, an email account, collaboration tools, presentation software and social media platforms. Users who manage all of these with a single screen must frequently open and minimize different applications just to see everything and keep up.
Selecting a single widescreen monitor can offer one solution. Such displays are particularly helpful for creative design, editing and project management tasks that involve viewing lengthy documents or schedules on the screen.
Another effective option for expanding the working canvas is daisy chaining two or more screens together. A single output runs from the PC to the monitor, which then relays or extends the PC signal to as many as three adjacent monitors in a chain. The DisplayPort signal cable plugs into the first monitor, and a DisplayPort outport from that monitor links to the input for monitor two, and so on.
Samsung's daisy chain-enabled monitors, such as the Samsung SH850 Series, can connect as many as four Full HD monitors — or two quad HD (QHD) monitors with a single connection between them. Users can also extend a desktop with multistream transport (MST) or duplicate it with single-stream transport (SST) technology.
The right setting
Remote work may have always been part of the full-time plan for people with dedicated rooms where they can set up and stay on task. But many others have found themselves in new and unplanned working arrangements — and in settings where they have to create offices or workstations.
The availability of desk space may directly influence decisions around monitors, and this is where carefully selecting the right monitor is of paramount importance. Daisy chaining support is not universal, so buyers should ensure their monitor supports it if they have immediate or long-term plans to add additional displays.
When space is tight — if the workstation is wedged into a bedroom corner, for example — daisy chaining can allow monitors to be set in a V side-by-side, or even stacked.
Monitors that fully support the USB-C protocol can further reduce cable clutter and lower start-up costs by turning the monitor into a docking station and USB hub. For instance, a monitor with full USB-C support can connect to a range of peripheral devices, send video signal to a monitor and draw on display power to keep a laptop charged simultaneously. It can also transfer data twice as fast as older USB standards.
It takes two
T-shirts and jeans may have replaced formal business attire, and the new office mates may be cats instead of colleagues, but workers still need to be able to focus on their duties, regardless of their surroundings. Most contemporary jobs require people to work with multiple applications and jump seamlessly between them, and one monitor can do the job, but two or more screens can make a considerable difference in productivity and WFH satisfaction.
Discover how monitor color technology powers a creative and fast-paced workspace in this free white paper. Then connect your monitors with USB-C and daisy chaining.