In the sign industry, partner programs are nothing new. In fact, it's common for sign manufacturers to offer discounts to dealers based on sales volume: Sign company ABC sells 300,000 displays a year, and the manufacturer offers rewards and incentives based on those numbers.
But to Prismview, that traditional partnership model seemed limited — so they designed a new one, from the ground up, that's less transactional and more relationship-based. "The idea behind the new program is to develop deeper relationships with partners that stretch beyond sales volume," says Brett Unzicker, Prismview's EVP of sales. "Our goal is to take a broader, more holistic approach to helping them grow their business and brands. This program benefits both those long term relationships we have as well as those which are newer and which have aligned visions on explosive growth."

From calculating transactions to cultivating relationships
In keeping with the relationship-building approach, Prismview's new channel partner program is all about supporting partners throughout every phase of the sign selling and servicing process. That means providing partners with a robust training and education center, access to preferential leads, opportunities to purchase demo equipment and the chance to become an authorized service company that services their own displays.
The program is for everyone. "We want to support small partners that only sell a few signs, to larger partners that sell millions of dollars' worth," says Brett. "If your behavior mirrors a model partner, regardless of your size, we recognize that — and reward you for it."
Collaborating to create experiences that engage
The program is rooted in a desire to create engaging, one-of-a-kind experiences that inspire audiences to act. "Whether it's a sports team, casino, church or school, everyone is trying to engage the people they serve in unique ways," says Brett. "We work with our partners to design bespoke experiences that truly fit their needs. For a sports teams, that's about getting a fan off the couch and into the stadium. For a restaurant, it's about getting a customer to come in, rather than order off Uber Eats. Every project is different."
As a Samsung company, Prismview combines the expertise of both traditional LED sign manufacturer and traditional A/V business. This means the company is able to craft experiences that are as technically advanced as they are media-savvy. Taking a largely consultative role, partners work with the Prismview team to integrate all the moving pieces (designers, creatives, end users, contractors and more) to find the right solution.
How to plan and deploy LED digital signage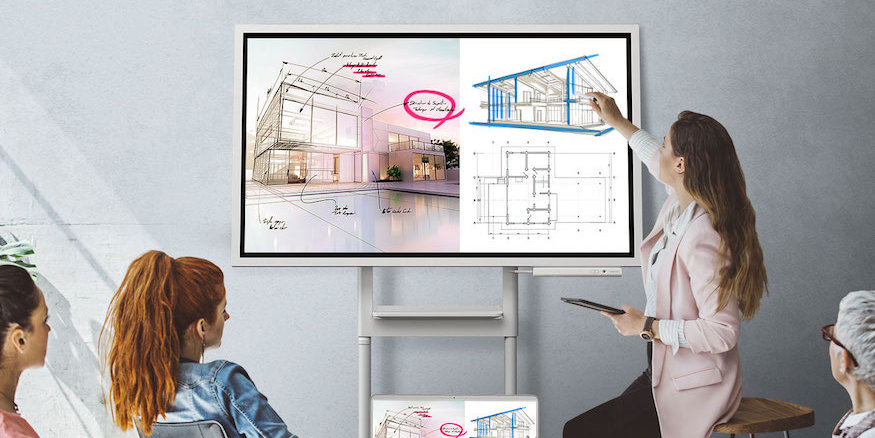 Discover the unique advantages of direct-view LED technology over traditional LCD displays. Download Now
Leveraging a longstanding commitment to quality
Of course, a great collaboration is nothing without superior products and services. Fortunately, delivering that level of quality is what has built both Prismview and Samsung's pristine reputations. "Lots of competitors have come and gone over the years," says Brett. "They hype up a new product, bring aggressive pricing and offer a 10-year warranty. But the irony is, you've got a 10-year warranty from a company that's only been in business for two years and will be out of business in less than five."
As for Prismview and Samsung, both bypass the hype and focus instead on developing quality products and nurturing long standing partnerships. "It comes back to the idea of putting relationships over transactions," says Brett. "Over the years, that's the lesson we've learned time and again, and we want to continue doing what we know works in deeper and more robust ways."
Finding the next big thing together
Captivating experiences and best-in-class quality are musts. But sometimes, you also need to take things one step further, and discover a solution light years beyond what competitors are offering. "Samsung also has a vast amount of market data that we can make available to our partners," says Brett. "Together we can identify previously hidden trends and opportunities to help drive revenue and create new user experiences across a wide array of vertical markets."
A good example of that next generation solution is the Samsung IF Product line: cutting-edge LED displays with an interior fine pitch that's under 4-millimeters in resolution. "These large-format video displays are the future of indoor visual displays," says Brett. "They're replacing projections and traditional LCDs. Although this is not a market our traditional partners have pursued, the market is moving quickly in that direction so it's a huge growth opportunity. We work to help our partners bring these types of next generation solutions to their customers."
A partner that supports now, and into the future
A lasting partnership is built on trust — and Prismview is committed to working with all channel partners in a straightforward manner. "We'll never cut you out of a deal and sell direct," says Brett. "Period." Above and beyond all the valuable opportunities and incentives the program contains, partners can feel good knowing they're dealing with a company that's honest.
Knowing that free time is a luxury in the day-to-day of running a sign business, Prismview has made the process to become a channel partner incredibly simple. Signing up for what is arguably the most robust program in the industry takes less than five minutes.
Learn more about Prismview's unique signage lineup and how to become a partner.