October 13, 2018, was a momentous night for Syracuse, New York. The beloved Syracuse Crunch opened their 25th season at War Memorial Arena. But the fans weren't just there to see their favorite AHL team.
The nearly 70-year-old War Memorial Arena had just undergone a substantial $10 million renovation — complete with new shiny tech from Prismview — and locals were clamoring to see the results.
With six new luxury suites, a digital marquee, a crystal-clear center-hung LED display and extended ribbon lighting, the 7,000-seat arena was totally revamped, while still keeping its heritage and history. A perfect marriage of old and new, the restored building is ready to excite fans for years to come.
Upgrades face challenges
When it comes to retrofitting updates into an older building, there are always challenges. "Every nail has to be checked and every bolt has to be accounted for," says David Frost, minor league sports sales manager at Prismview. "You have to make sure the structural integrity is intact when you're hanging a center-hung that's 10,000 to 12,000 pounds."
Far more than your average retrofit, War Memorial Arena had some truly unique obstacles. Built in 1949 to commemorate the heroic World War I and II veterans in the area, the stadium earned its status as a protected, historic space in 1988.
"When we came in, the old was in heavy need of the new," Frost reiterates. "We're talking about bringing 2019 technology to a building that's coming up on 100 years. You have to be careful keeping the infrastructure in place, while more importantly, honoring the history of this specific building."

What's more, unlike big NBA or NHL renovations that have vast resources, government contracts are driven entirely by budget. "These minor league teams are going to go 10 to 12 years before they redo their screens again," Chris Olinger, sports sales at Prismview says. "So they're really thinking about future-proofing: Spend the money you need now so the screens will never look dated."
When Prismview went in to bid, they had to be strategic and give management the biggest bang for their buck. "Because we're the manufacturers, we can customize a project to fit the needs," says Neil Hawley, Prismview director of project management. "For this project, we're really talking about longevity and making sure the screens are as beautiful in 5 to 10 years as they are now."
But beyond just seeing challenges and red tape, Prismview saw an exciting opportunity.
"We've been involved in a lot of new construction," says David Frost. "But to get our hands on an old girl like War Memorial Arena — a building that's coming up on 80 years — to be chosen and given that trust, it's really humbling."
A revamped fan experience
At the time Prismview got boots on the ground, the LED technology was over 15 years old. "There have been so many technological advances in LED that the management didn't even know what they were missing out on," says Hawley.
Advancements in tech have significantly impacted how audiences view sports. "We're now used to seeing high-quality pictures and video at the palm of our hand," Frost says. "The expectation of the guest is at an all-time high."
How to plan and deploy LED digital signage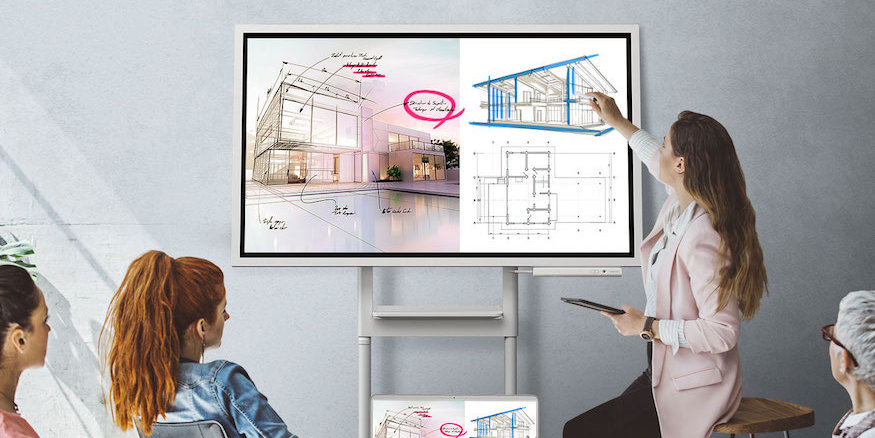 Discover the unique advantages of direct-view LED technology over traditional LCD displays. Download Now
To meet the high demands, Prismview implemented the first 4-millimeter pixel-pitch center-hung display for an AHL team. They also added ribbon lighting surrounding the seats and a modern digital display to replace three old-school marquees outside the building. Plus, they added new exterior displays to the Convention Center and marquees at the nearby theater.
The impact on the fan experience — and Syracuse as a whole — has been significant. "Most people, when they think about this building, they remember it in a certain way — pretty much the way it's been for 50 years," says Vance Lederman, general manager and CFO of the Syracuse Crunch. "Now with the upgrades, they're seeing it in a different light."
"You can see much better. I mean it's the same seats, same position. It's just magnified," one happy Crunch fan told Spectrum News after the home opener in October.
"I've been with the team since day 1. The upgrades have been dramatic. It's phenomenal," says Lederman. "Seeing what we have now it really warms my heart."
More than just a crowd-pleaser, the technological upgrades pose a substantial opportunity for revenue, as digital advertising facilitates a more engaging experience. But the biggest impact is on minor league hockey as a whole.
"The change in technology in that building really took it from one of the lesser in the league to one of the top minor league arenas if not the top arena," Frost says. "The AHL is a small fraternity. Renovations like these are absolutely a domino effect."
The icing on the cake? The Crunch just signed a 12-year extension in Syracuse. They'll be representing the city on ice at the newly revamped War Memorial Arena through 2030.
Bring your customers a more engaging experience with the latest in digital signage.