Since introducing its first Android-powered tablet back in 2010, Samsung has continued to diversify the Galaxy Tab portfolio, launching models suited to different business needs and environments. Whether you're looking for a powerful tablet to replace employee laptops, a rugged device for field use or an affordable solution to create a digital kiosk or collect data, there's a Samsung Galaxy tablet designed for the task.
Samsung tablets have become incredibly versatile mobile computing tools, thanks to added features such as the S Pen for note-taking and Samsung DeX, which lets you enjoy a PC-like interface while still taking advantage of your tablet's ultraportable form factor.
Here's a rundown of the entire Galaxy Tab lineup to help you decide which is right for your business. You can also take our six-question interactive assessment to find the best tablet for your needs.
The laptop replacements
The Galaxy Tab S7 and S7+ are Samsung's best-in-class tablets for multitasking and mobile productivity. Perfect for replacing a traditional laptop computer, the Tab S7 features an 11-inch LTPS LCD screen, while the Tab S7+ offers a larger 12.4-inch Super AMOLED experience with HDR10+. Both devices feature Samsung's DeX technology, allowing you to tackle work with a desktop environment — directly on your tablet or by connecting it to a larger display.
With the Tab S7 and S7+, an S Pen is also included in the box, so you can mark up documents and take notes on screen. An optional book cover keyboard provides you a physical keyboard and trackpad with laptop-like ergonomics.
21 tests Samsung's rugged devices survived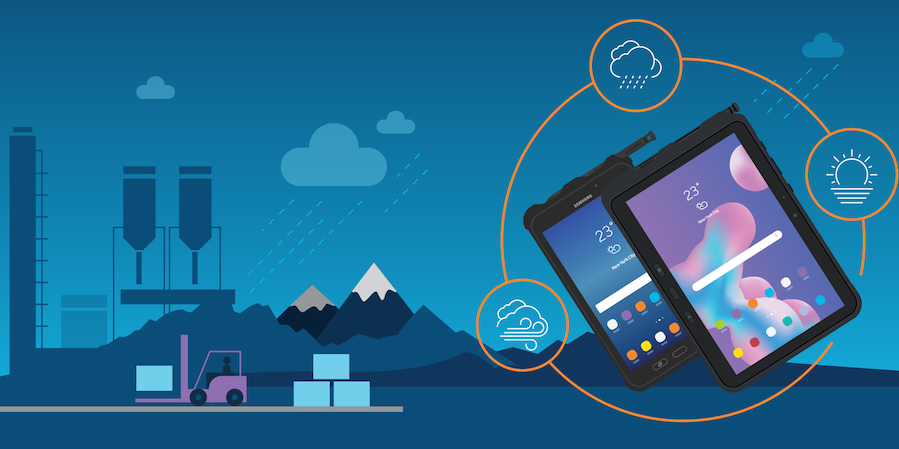 See a full rundown of the MIL-STD-810G testing Samsung's rugged tablets passed in this infographic. Download Now
An upgrade from the previous Tab 6 lineup, the S7 lineup now features 5G cellular connectivity — it's the first tablet available in the U.S. with 5G — allowing you to get work done even when you're away from the office. The Tab S7 models are loaded with Samsung's highest-end tablet internals, including a Qualcomm SDM865+ processor, up to 8GB of onboard memory and up to 256GB of storage.
2019's Galaxy Tab S5e is another excellent option for a laptop replacement, as it also features Samsung DeX technology. With a 10.5-inch screen, up to 6GB of RAM and 128GB of storage, it delivers powerful multitasking in a slim, light form factor.
Rugged, field-ready solutions
Working outside can be tough on technology. That's why Samsung built its equally tough lineup of Galaxy Tab Active devices. Both the Galaxy Tab Active Pro and Galaxy Tab Active2 are designed to handle rough field environments. The devices have been tested against the Department of Defense's MIL-STD-810G standard, covering environmental conditions like repeated drops, constant vibration, immersion in water and icing, extreme temperatures, low-pressure operation, salt fog and more.
The Galaxy Tab Active Pro offers a large 10.1-inch display, ideal for viewing construction plans or other diagrams on site. By contrast, the Active2 display, at 8 inches, allows you to use the device easily when on the go.
Both devices come with an S Pen that slots into the rugged case and can be used with gloves, thanks to its Enhanced Touch displays and tactile, programmable buttons. The Tab Active Pro supports DeX, allowing field-based workers to dock it to a monitor when returning to the office to complete desktop work.
The Tab Active devices also make an excellent choice as durable point-of-sale systems, thanks to their rugged exterior and built-in near-field communication. When your tablets are running low on power, utilize the heavy-duty pogo pins for drop-and-charge compatibility. Both devices come in Wi-Fi only and LTE capable variants — critical for outdoor work.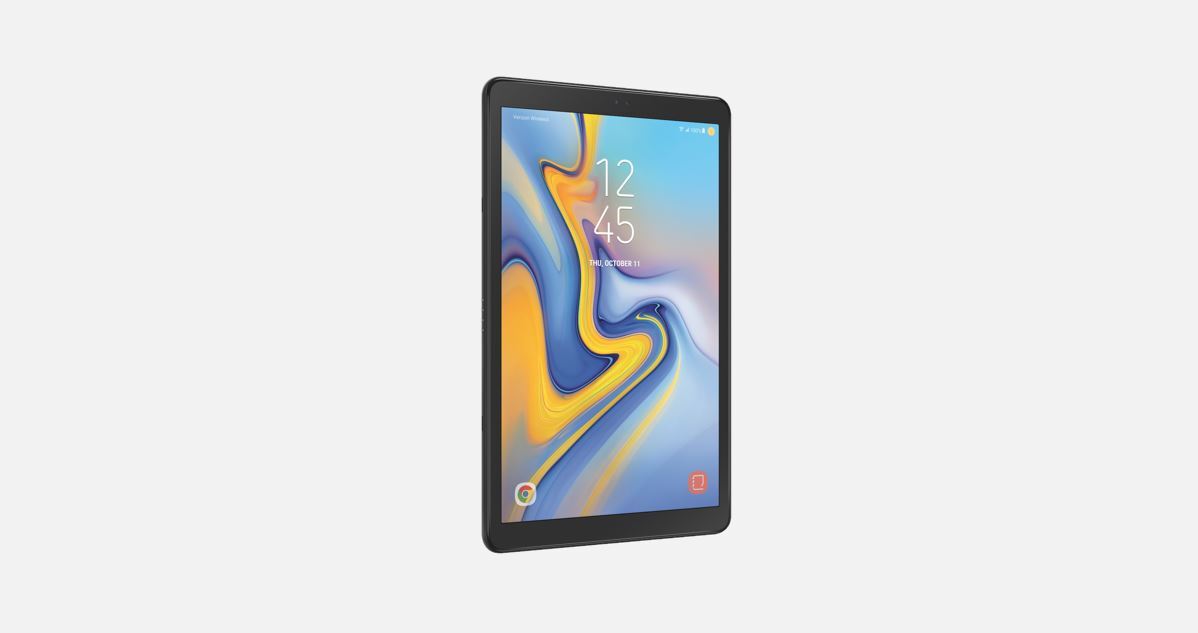 The digital workflow enablers
The affordable Galaxy Tab A lineup is ready to move your business forward into a paperless digital workflow. You can replace intake forms in a healthcare practice, streamline orders in a restaurant, ensure manufacturing contractors always have the latest plans and allow retail customers to access self-help kiosks. Galaxy Tab A devices offer dependable performance and long battery life — up to 13 hours with the largest model, the Tab A 10.1-inch. They'll keep you connected, thanks to 4G LTE connectivity on select models.
Among the Galaxy Tab A 8-inch, Tab A 8.4-inch and Tab A 10.1-inch, you can choose the best blend of portability and screen size for your work environment. The ultraportable 8-inch can slip into your back pocket, while a sizable 10.1-inch tablet is preferable for viewing multiple documents at a time.
The Tab A 8.4-inch doesn't just add a bit of screen real estate; it also adds optional LTE connectivity so you can be productive from anywhere. And if you find yourself needing more storage after purchase, you can use the expandable memory slot to keep your work flowing and worries away.
The Galaxy Tab S6 Lite is another excellent choice if you need to multitask, thanks to additional processing power from its Octa-Core processor and 4GB of internal memory. The Tab S6 Lite even supports more advanced features such as the use of Samsung's S Pen for jotting down notes, marking up documents or signing contracts.
All Galaxy tablets also include Knox security and optional mobile management services and solutions so you can manage devices at scale.
The right Galaxy tablet for your needs
Choosing the best Samsung Galaxy tablet for your needs comes down to finding which device can best tackle the work you need it for. If you need a powerful laptop replacement with a keyboard, trackpad and DeX technology, consider the Tab S7 or Tab S7+. If you're working in the field and need something that can handle the heat, the Tab Active Pro and Tab Active2 are ready to go. Or, if you're just looking for an affordable, dependable device to move your business into a paperless future, the Tab A 8, Tab A 10.1, Tab A 7 and Tab S6 Lite can deliver.
Browse the entire collection of Galaxy tablets, and find out how you can use them to get the most out of Samsung DeX.