Whether in a cubicle or home office, the monitors employees use are central to productivity — and by extension, the prospects of the business.
Great monitors, fit to size and tasks, allow workers to get things done, without compromise. Monitors that aren't well-suited for the job can slow work down, causing frustration and forcing people to take more breaks.
A new Samsung series of workplace monitors — Samsung TU872 — uses many of the latest display optimization technologies to make work better and more productive, results that can have a direct impact on business performance.
A show stopper
The cornerstone of the 31.5-inch monitor is the support for Thunderbolt 3, a cable connection standard that offers lightning-fast data transfer and streamlines desktops. Thunderbolt 3 enables data transfer speeds of up to 40Gbps, double that of previous generations of connectors.
Built around the industry-defined USB-C connector standard, a single Thunderbolt 3 cable takes the place of multiple cables and connectors. Engineered to be compatible with PCs and Macs, a Thunderbolt 3 cable connection can transmit a digital display signal, data (USB) and Ethernet (LAN), while simultaneously charging a device, like a smartphone or even a laptop.
Thunderbolt 3 also unclutters desktops and turns a monitor into a USB hub, removing the need, cost and maintenance for an external version. The TU872 displays have two USB ports in the back, and the display has two Thunderbolt 3 ports.
Rich visuals
Users can get the same 4K experience they see on home TVs on their desktop, with 4K UHD resolution providing four times the resolution of a standard Full HD monitor. That density of pixels provides incredibly crisp, rich detail — particularly useful in jobs as varied as medical research and seismic imaging in mining.
Display technology is evolving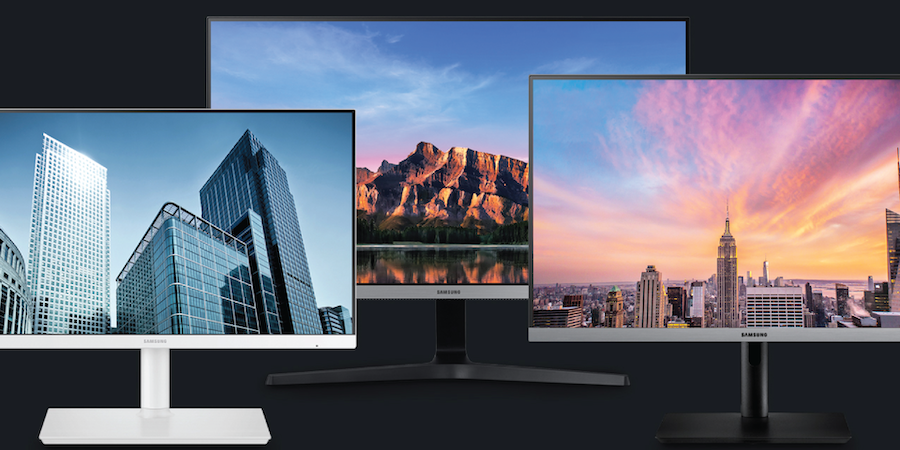 White Paper
Learn how monitor color technology and refresh rates support your fast-paced, creative workplace. Download Now
Having a 4K output complements display properties like 1 billion color support, 99.9 percent sRGB (a measure of available colors) and HDR10, a technology that helps reveal the full range of lifelike colors and shades in the brightest and darkest elements of a scene. If you've watched a moody movie and struggled to see what was happening in a dark scene, HDR10 reveals that lost detail.
Form and function
TU872 displays are almost frameless on the top and sides, making it possible to tile a pair of screens side by side and realize a near-gapless digital desktop — ideal for busy multitaskers. In a multiscreen setup, built-in daisy chain support via Thunderbolt 3 means a pair of 4K monitors, or six total display devices with lesser resolution, can be driven and relayed from that single input cable.
The series also supports split-screen picture-by-picture (PBP) and picture-in-picture (PIP), which makes it possible, for example, for a software developer to code in one window and see the results in a separate window in real time.
The monitor also has built-in flicker-free technology and an eye saver mode that minimizes the amount of harmful blue light emanating from the display. Both technologies help reduce eye fatigue and strain. Adding to ergonomic benefits, the stand allows for easy adjustments like tilt, swivel and height — all to optimize viewing comfort.
Sweet spot
At 31.5 inches the TU872 is ideal for most workplace environments. Stylish and slim, it has enough screen space to make multitaskers happy but not so much that it consumes the workstation's available space. If there's a sweet spot for the dimensions, look, cost and capabilities of today's office monitors, the TU872 is in it.
Discover how refresh rates work for monitors. Then learn more about the impact of color technology and refresh rates on monitors and how that impacts productivity in this free white paper.